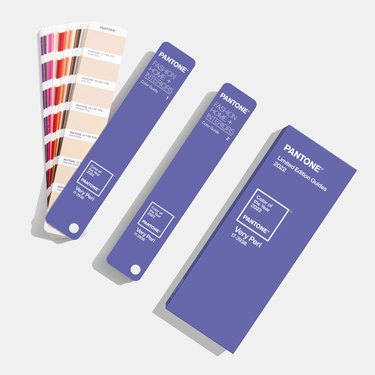 Before you start heading into full holiday mode, there's one more thing to keep in mind for the upcoming new year: color. And who better to lead us into the the new year's trends than Pantone, the color institute that sets the bar for home, fashion, and more?
2022's Color of the Year has been unveiled and it's a purple-blue hue that's ​a new hue —​ a first for Pantone. Normally, the COTY is selected from the company's existing library, but this year marks a new approach.
Very Peri is described by the company as "a dynamic periwinkle blue hue with a vivifying violet red undertone blends the faithfulness and constancy of blue with the energy and excitement of red."
It's certainly a departure from 2021's ​double​ Color of the Year: Ultimate Gray and Illuminating. The grey-and-yellow combo was divisive amongst design lovers, with plenty of IG users voicing their disappointment in the comments. If you peek back at 2020, however, there's more of a through-line, with the company's choice of Classic Blue.
Still, there's something to be said about the company creating a totally new color. There's definitely an emphasis on forward movement and creativity when it comes to that choice.
"Creating a new color for the first time in the history of our Pantone Color of the Year educational color program reflects the global innovation and transformation taking place," Laurie Pressman, Vice President of the Pantone Color Institute, said in a press release. "As society continues to recognize color as a critical form of communication and as a way to express and affect ideas and emotions and engage and connect, the complexity of this new red-violet-infused blue hue highlights the expansive possibilities that lie before us."
In a recent webinar, Pantone explained that the company looks back at colors since 1999, when COTY started. As a whole, it strives to choose colors that tell a story over the years — 2022 called for something different, thus the new color. The ways we shop and how we use our free time are elements that have changed dramatically in the last year and Pantone's focus on this also fed into the color selection process, as explained in the webinar. Very Peri is a look towards the future.
Are you a fan of the hue or were you expecting something different? We can't wait to hear all sorts of reactions.