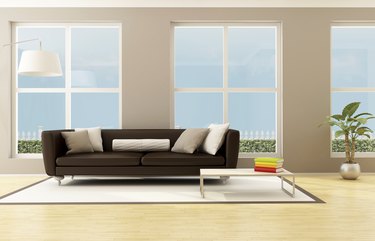 Brown leather furniture complements numerous decorating styles, from traditional to modern, depending on the design of the furniture. Brown is a neutral color that can be worked into a wide range of color palette options.
Wall Color
For a monochromatic palette, consider various shades of cream, beige, tan, caramel or mocha. Add interest by choosing two wall colors, using a darker shade under a chair rail, on an accent wall or combine two contrasting light and dark shades for a color-wash effect.
White walls contrast sharply against dark brown leather and paired with dark wood trim, they provide a very traditional look. In a contemporary setting, gray is an excellent choice for wall color. Practically any shade of gray works with brown leather, including grays with warm brown undertones or those with blue, green or purple undertones.
Earth tone colors provide a beautiful backdrop for brown leather sofas and chairs. Muted shades of blue or green appear natural and organic, balancing the warmth of the brown with a cool background. A burnt orange accent wall enhances the warm tones of brown leather, as do mustard yellow or rusty red walls.
Pillows, Rugs and Throws
Metallic shades of gold, copper and bronze on accent pillows add a luxurious feel to brown leather furniture. For an exotic touch, go for animal print in leopard, cheetah, brown zebra or giraffe on pillows or an area rug. Go rustic with brown-and-white cowhide print or geometric Native American designs in warm, earthy shades of orange, brown, terra cotta and red on pillows or a throw.
Tapestry style fabrics on accent pillows in beige and gold pair elegantly with traditional style brown leather sofas and chairs. In a casual setting, choose cotton, denim, twill or burlap in light colors such as white, beige, khaki and cream. Add a spot of color with pillows in blue and green or orange and yellow.
Window Treatments
Repeat the dark brown color of the furniture on drapes, woven-wood matchstick blinds or plantation-style shutters in a traditionally styled room. Drapes and shutters lend an upscale look, whereas woven wood blinds impart a casual feel.
Fabric shades offer a clean, streamlined look with modern leather furniture designs. An ikat pattern in teal or turquoise pairs well with dark brown leather. Other complementing fabric colors include gold, taupe, beige, peach, sage and gray.
Lighting and Accessories
Table and floor lamps with rawhide or amber mica shades fit perfectly with rustic brown leather furniture. Accent the clean lines of modern brown leather pieces with drum-style lampshades in white, cream, orange or yellow.
Accent a brown leather sofa with brilliant orange or coral flowers placed on a coffee table. A large painting of yellow-orange sunflowers or crimson red fall leaves mounted behind the sofa adds an extra layer of warmth to this analogous inspired palette.
---
Michelle Radcliff owned a retail home furnishings business for eight years. Radcliff offers decorating advice on her blog, Home Decorating News, is a regular contributor on interior design at LoveToKnow.com and earned certification as an interior decorator from Penn Foster College in 2013.