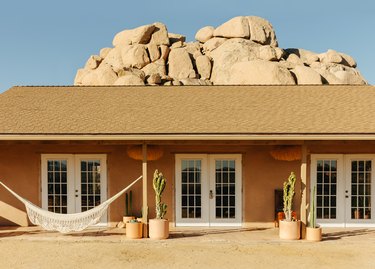 The cacti. The swirling sands. The turquoise. The sunsets. Ah, the desert. We pretty much love everything about the desert (except maybe those creepy crawlies that cross our paths during hikes), but above all else, we ​really​ love desert style homes.
Whether you live out West and you're looking for new digs, you're considering relocating, or you dream of trading in city life to rough it in the desert someday, we have plenty of inspiration for you. Desert style homes often nod to their surroundings, drawing upon the visuals of Native American dwellings, materials that protect homes from the hot sun, and the colors of the surrounding landscape.
Known for exposed timbers, geometric shapes, and midcentury, vintage-centric aesthetics, desert style homes are the definition of warm, relaxed, natural, and so darn cool. Here are eight ideas that we can't get enough of.
Stucco is a form of plaster that's frequently used throughout the Southwest. It acts as a protective coating for homes blasted by scorching sunlight, and we happen to enjoy the look of it as well. White stucco is especially chic, as seen in this desert style home with a Mediterranean vibe, constructed by Modern Nest Homes.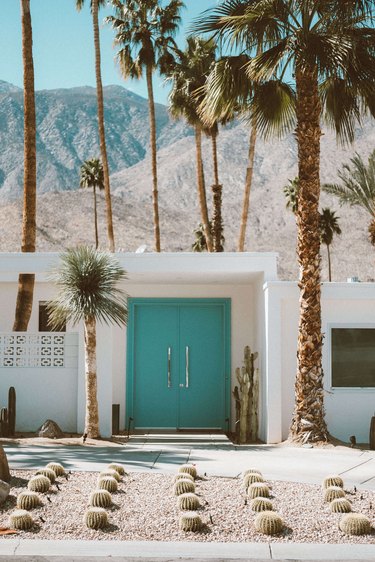 Breeze blocks are a mainstay among desert style homes. With their slick, geometric shapes, they allow the "breeze" to pass through and they also look pretty darn cool, too. We adore the way Studio Prineas repeated the use of this patterned accent in a backyard for added shade, privacy, and visual interest.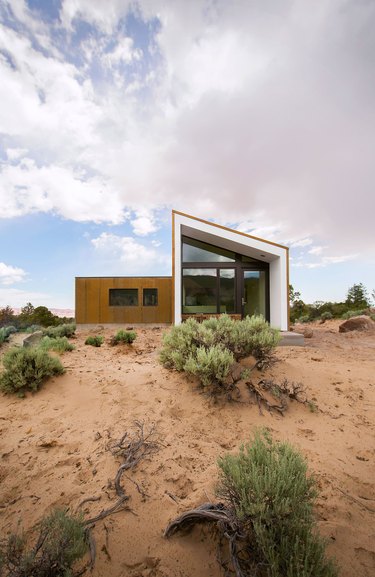 With all those midcentury homes nearby, it's no wonder that modern architecture has sprung up as well in residential neighborhoods. This time, designers push the space-age envelope a bit more with sharp, angular shapes that juxtapose beautifully against the soft desert sands, visuals that have been mastered by the team at Imbue Design.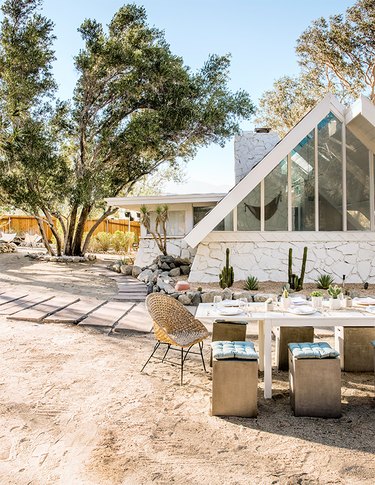 Sure, A-frame architecture can be found all over the United States. But when they're out West, they suddenly transform into unique and eye-catching desert style homes, with their quintessential A-shaped framing, exposed stonework, and white hues. Sarah Sherman Samuel turned this delightful A-frame into a desert masterpiece with the help of some white paint and touches of stylish decor.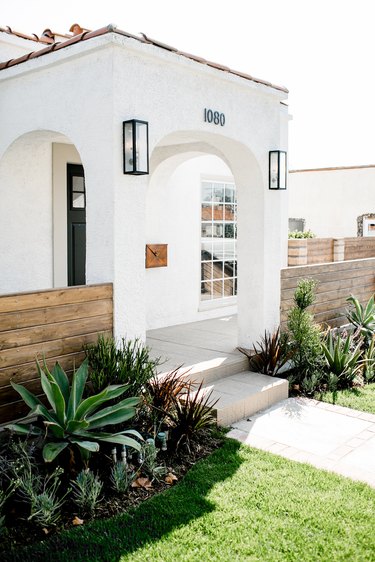 The desert is dotted with Spanish-style cottages, fondly referred to as bungalows. Many date from the turn of the 20th century with their terra cotta roofs still intact, and other more contemporary options carry on the charming look and feel we've come to adore. This lovely home perfected by Maverick Design and showcased on The Haven List is a picture-perfect example.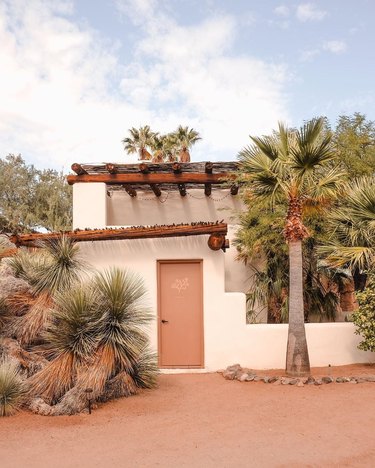 Although they were originally constructed using dried mud by the Pueblo Indians over 1,000 years ago, nowadays, current homes borrow from the adobe look with exposed timbers, flat roofs, earthy materials, and round-edged corners, elements that are seen at The Joshua Tree House belonging to Sara and Rich Combs.
Large, sprawling estates, at times referred to as compounds, have no trouble finding land to stretch out in the desert. These are desert style homes of a different kind, often made up of multiple structures with an open and sprawling layout. This residence in particular is a unique compound in that it features a vintage Airstream alongside the house.