It's no secret that neutrals have reigned supreme in interior design over the last decade, but we can't help but wonder: How many of us are defaulting to neutral colors because they're our preference, and how many of us are choosing them simply because selecting a color palette is a daunting task? If the latter scenario rings a bell, then allow us to introduce you to one of our favorite design tricks also known as analogous colors.
While the term may not sound familiar right away, chances are you've seen plenty of interiors that apply this exact color theory. An analogous color palette is made up of three hues that sit directly next to one another on the color wheel — including one primary color, one secondary color, and one tertiary color. Though these shades are similar to one another, they create a bold, eye-catching look when paired together in a single room. Best of all? They make color selection virtually foolproof. Keep scrolling for five of our favorite analogous color ideas that are sure to add zest to any room in your home.
1. Yellow, Yellow-Green, Green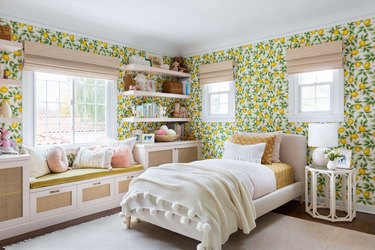 Thanks to patterned wallpaper that effortlessly ties in both green and yellow, this kid's room by Ginny Macdonald makes a bright and colorful statement. A chartreuse-colored window seat brings in the combined shades of yellow and green, while the golden yellow hued bedding keeps the overall look sophisticated.
2. Green, Blue-Green, Blue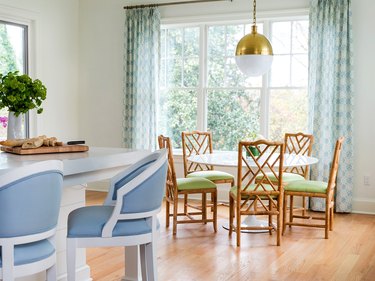 3. Red, Red-Orange, Orange
If warm colors are more to your liking, look no further than this vibrant living room by Annie Sloan for inspiration. To keep the mix of red and orange details from feeling overwhelming or harsh, pair them with neutral, large-scale pieces that will create a refreshing sense of calm against an energetic palette.
4. Blue, Blue-Violet, Violet
This striking living space by Arent & Pyke is a perfect example of how to make a bold analogous color palette feel approachable. To recreate the look, opt for soft blue walls that offset a blue-violet accent rug, and bring in just a hint of pure violet with a simple vase, perched on a dining or cocktail table.
5. Orange, Orange-Yellow, Yellow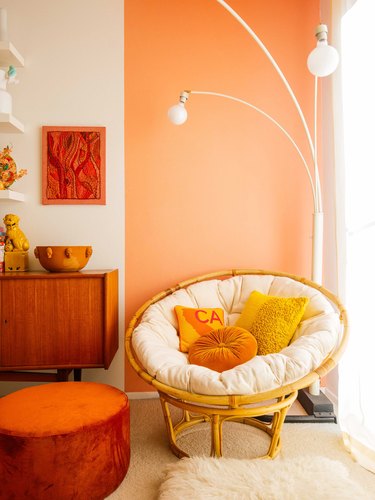 Leave it to Dabito of Old Brand New to flawlessly execute an analogous color living room. The orange velvet ottoman and orange-yellow accents perfectly balance the pop of sunny yellow decor. Bringing in rich hues, like the warm wood finishes, keeps the entire space feeling grounded and grown-up.
---
Caitlin is the former social media manager and staff writer of TheEverygirl.com in Chicago, now working as a freelance writer from her laptop in New Zealand. She loves soulful, collected interior design that feels like a warm hug, English Breakfast tea, and trips to the theatre.
View Work