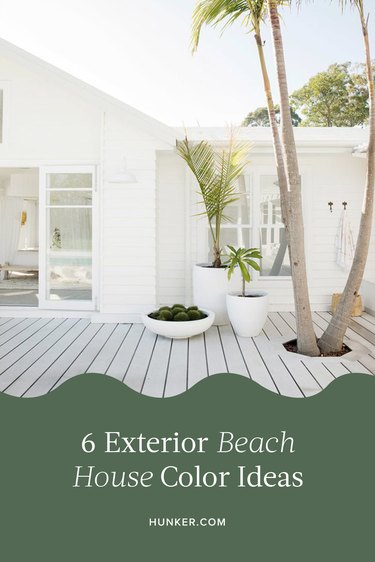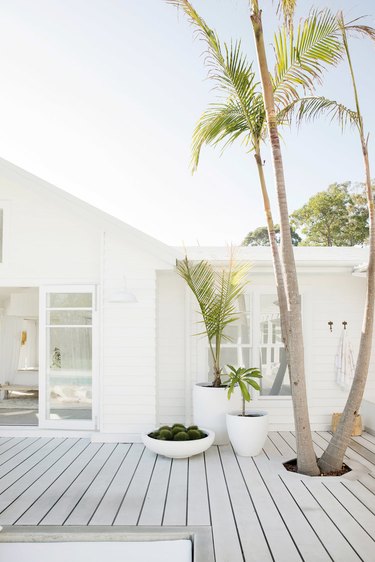 Here's something fun — close your eyes and picture the beach house of your dreams — the scenery, the sounds, and especially, the colors. Whether you're within grasp of turning this fantasy into reality or you just wish you could transport your current home to the sea, you can consider these exterior beach house colors in the meantime.
Designing a seaside home, even one in your mind, is no easy feat. It requires plenty of attention to detail and just the right amount of coastal flair to make it all come together. Luckily, there are tons of color combinations to ponder as you make your imagination come to life.
From neutral combos like classic blue and white to palettes on the wilder side of the spectrum, we're here to help you choose the picture-perfect look for your home's exterior.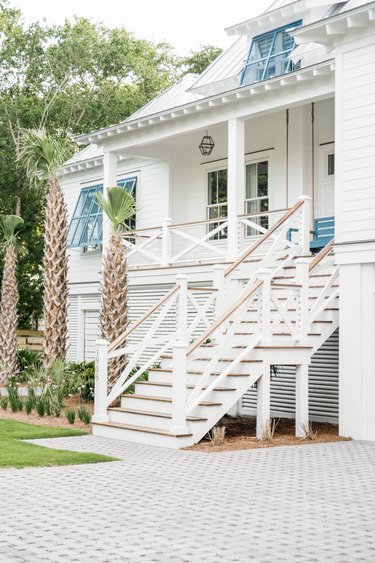 Does it get any more coastal than blue and white? To make your beach house look oh-so-nautical, turn to fresh white siding and sky-blue shutters — a palette that Byron of Barrow Building Group mastered for this home's exterior.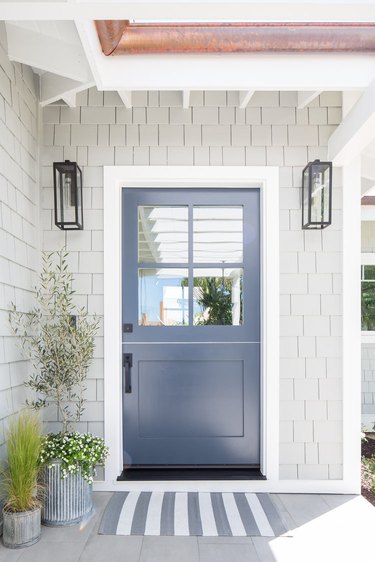 White is a completely coastal color choice among home exterior ideas, but let's say you'd like to try something different. In this case, we recommend pairing navy blue and gray. As proven here by Allison of Allison Merrit Design, the color combo works together flawlessly.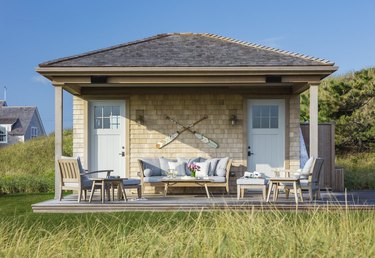 When thinking about exterior beach house colors, if you feel more inspired by the color of the sand than the blue ocean water, consider wood-finish shakes. The look will achieve an ideal neutral appearance while nodding to the adjacent shore. This front porch by Emily of Pinney Designs is flawless with the wood shakes providing the perfect backdrop.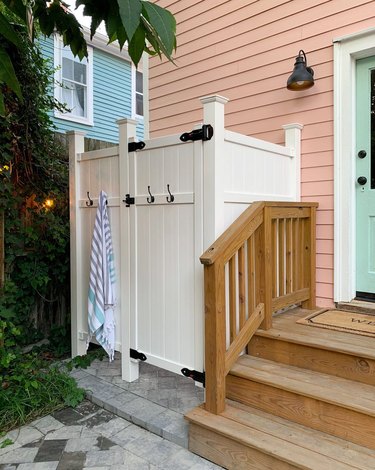 There are few beach house color palettes as summery as pastel green and pink. The duo instantly makes us think of palm trees and strawberry daiquiris, which explains why we highly suggest this mix for your future refuge. John and Sherry of Young House Love took full advantage of the pairing and the result is perfection.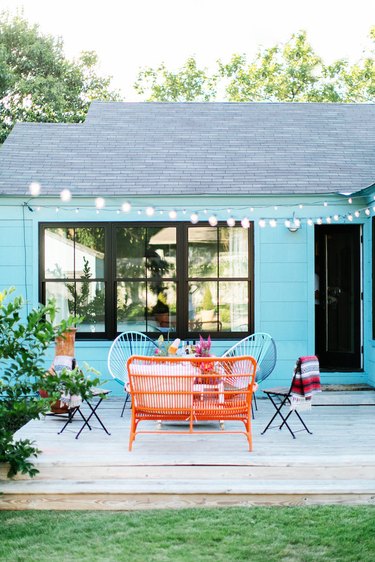 If you really want to go all in with exterior beach house colors, look no further than turquoise à la this home that was featured on Camille Styles and belongs to Bonni Taylor. As you look at the vibrant patio, can't you just hear the waves lapping in the distance? The orange loveseat and string lights are the icing on the cake and complete the magical scene.
At the end of the day, when selecting an exterior beach house color, you literally can't go wrong with white — top-to-bottom, all white. It'll look just as airy as your surroundings, proven by this palm tree-lined paradise designed by Bonnie, Lana, and Erin of Three Birds Renovations.