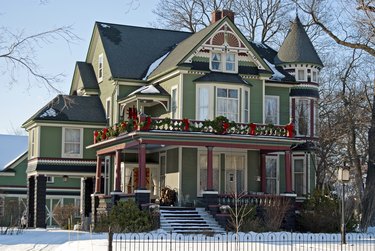 A Queen Anne home -- one of many styles classified under the broad heading of Victorian -- was built primarily during the latter part of Queen Victoria's reign from 1870 to 1910. As the last Presbyterian Stuart who held the throne, Queen Anne reigned 135 years before Queen Victoria. Even though a well-known furniture style that developed during her reign has her name, it would be more than 150 years before she had an architectural style named after her. The decor style is specifically known for its complex, ornamental curvilinear turrets and towers and steeply pitched roofs.
Victorian Home Types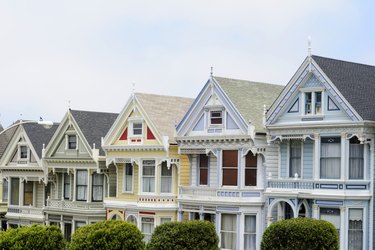 Victorian homes are marked by multiple distinct architectural styles during and just after the era. Each style has features that separates it from other Victorian-styled homes. The styles include: Gothic Revival from the period of 1840 to 1880; the Italianate style built from 1850 to 1890; and Stick-Eastlake homes, primarily built in 1860 through 1890. Second Empire Victorian homes, built between 1865 and 1880, preceded the Queen Anne style of Victorian home built primarily from 1870 to 1910. After that came the Shingle style, 1875 to 1910, and finally the Richardson Romanesque that spanned the 10 years between 1880 and 1890. Sometimes you can find elements of these other styles in Queen Anne homes.
The Queen Anne Home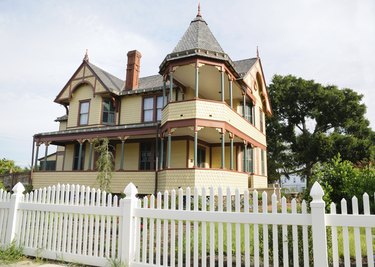 The home most people think of when they imagine or see a Victorian home is actually a Queen Anne home. Typically outfitted with a turret or tower, the home often has wrap-around porches and is made from brick, wood or stone, many with clapboard siding. The Queen Anne style is known for its graceful curves and paneled insets. Look for angled bay windows, steeply pitched roofs with finials, stained glass and handcrafted chimneys. Other features include patterned shingles, decorative trim and intricate spindles, bannisters and staircases. Queen Anne homes have a storybook quality to them.
Richardson Romanesque ala Queen Anne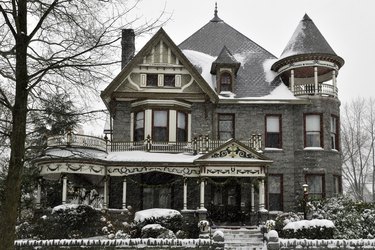 Henry Hobson Richardson, an American architect, broke away from the more traditional European Victorian homes when he began designing homes based on influences from medieval architecture and the emerging Arts and Crafts movement, led by philosopher John Ruskin and textiles designer William Morris. Medieval influences can be seen in the stonework that contained low Roman arches above windows, doors and on porches. Even so, many of Richardson's designs had their roots in the Queen Anne style.
Victorian Folk Homes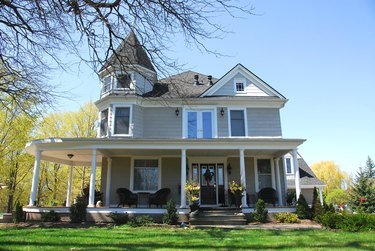 A common trait among Victorian homes was the architectural adaptation from other styles to create a distinctive look. While many of the upper class built Queen Anne homes out of brick and stone, those in the middle classes turned to inexpensive dimensional lumber, taking design elements from Queen Anne homes, Gothic Revival and even adding Eastlake-style gingerbread-type ornamentation. The Italianate and Second Empire homes bear similarities to the Queen Anne, but they have flat roof lines instead of high-pitched gable roofs.