The farmhouse is a classical home style that provides both space and function. Farmhouses are particularly popular in areas of agriculture, but they are also found on smaller plots of land across the country. They are most popular in areas like the South and the Midwest. Farmhouses come in all shapes and styles; there are many different types. On occasion, farmhouses are also referred to as country homes.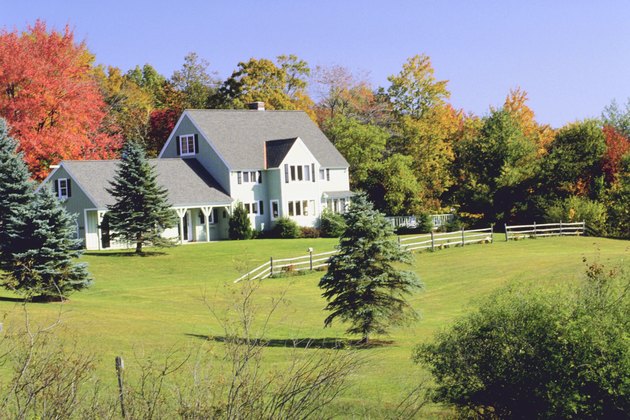 While there are many different types of farmhouses, many are marked by similar features such as large kitchens and living rooms. Large porches and wrap around porches are also characteristic of farmhouses of all types. The exterior of the home is typically clapboard wooden siding. The home may also multiple fireplaces throughout with living areas downstairs and bedrooms on the second floor. Farmhouses are also marked by sectional peaks, called gables, that point in opposite directions.
Plantation homes are the largest and most extravagant type of farmhouse. These large homes are reminiscent of the days when large families and servants occupied the house. Plantation homes will have large wraparound porches that span both the north and south sides of the house. The architecture of a plantation home can be simple, or it can draw inspiration from Greek or Roman designs.
Classical and Greek Revival
The Greek revival farmhouse can be large or moderate in size. The home is distinguished by classic Greek columns at the front of the home, either supporting the porch or a balcony that extends from one of the top floors. The classical revival is another type of farmhouse, inspired by Italian architect Andrea Palladio. The classical revival is a farmhouse made up of three prominent sections. The middle section is the main part of the home, with balanced wings that extend out from either side.
The cracker style farmhouse is the smallest type of farmhouse. This style harkens back to the time when early settlers needed fast, economical shelter. The cracker farmhouse is a simple, casual style with a metal roof and cedar siding. This cabin-like home has a deep shade porch and windows designed to catch cross breezes on hot summer days. The cracker style farmhouse is typically elevated from the ground for storage beneath the home.
The Victorian farmhouse is a classical home. Drawing design inspiration from homes at the turn of the 20th century, the Victorian farmhouse is both functional and elegant. These homes offer a full front porch. Porches are adorned and decorated with columns and brackets. Steep gables and colorful exteriors are also characteristic of the Victorian farmhouse.
Pennsylvania Dutch and Piedmont
Pennsylvania Dutch farmhouses are distinguished by fine stone masonry at the exterior and timber detailing. This farmhouse type garners its name from the popularity of this style in Pennsylvania Dutch country. They were originally built by German stonemasons. On the other hand, the Piedmont farmhouse is characteristic of farm homes in Virginia and the Carolinas. These homes have handmade brick foundations, steep gables and large brick chimneys.