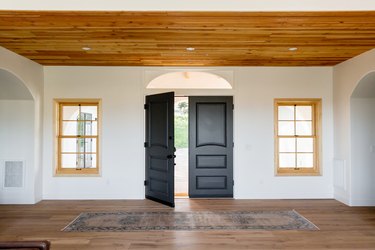 With the year undeniably in full swing as we cruise through March and soon into April, many homeowners and renters alike are already thinking about spring cleaning. As always, people have taken to the internet to begin searching for ideas and guidance related to the spring cleaning season, including searching for home renovation inspiration.
The team over at Google Trends has dug into their data to provide an inside scoop on what people are most keen on right now in the home improvement space. One of the trends they are seeing involves front door colors. With this in mind, the Google Trends team analyzed their user data and revealed the top 10 most-searched front door colors right now:
Black front door with glass
Yellow front door
Pink front door
Blue front door
Black front door
Green front door
Brown front door
Orange front door
Teal front door
Sage green front door
We love to see bright colors, like yellow and pink, among the ranks at the top of the list, as they make for a bright and fun first impression on a house's facade. It's noteworthy that those vibrant hues are in stark contrast to the number one most-searched door color, which is a muted and subdued "black front door with glass."
It's clear from this list that even within the same season, multiple popular trends can vary significantly from one another, with different folks preferring different strokes. That age-old truth will always be in vogue.