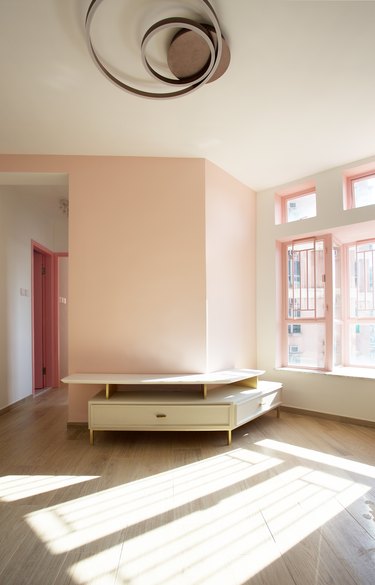 Molly Ringwald's unforgettable portrayal of Andie — a high school outcast in the 1986 John Hughes film Pretty In Pink — inspired a generation of young women to don flower hats, make handmade jewelry, and of course, embrace the color pink with her "volcanic" ensembles (as her best friend Duckie described in the film). And you know who else was inspired by the '80s flick? Hong Kong-based architectural firm Sim-Plex Design Studio, who actually went so far as to design a Pretty In Pink-influenced apartment. They transformed a mundane 493-square-foot space into a calm and feminine home exuding just the right amount of colorful charm.
Located in Tsuen Wan, Hong Kong, Sim-Plex's goal was to create a space that reflected their young client's personality. To that end the residence, complete with a dress-up corner and a vanity table, is covered in light pink and gray wall paint and is accented with gold-frame furnishings.
More often than not, newly-built apartments in Hong Kong are cramped, featuring mundane interiors. The designers at Sim-Plex, however, wanted to create an interior that felt spacious and intimate with plenty of natural light and minimalist furnishings that fit their client's personal needs. A home that began as a cramped two-bedroom was transformed into a space that any Pretty In Pink fan would adore.