As it turns out, there are tons of ways to beautify an area of your home that often gets passed over. When it comes to staircase ideas, the sky's the limit — or the second story of your home, that is. With eye-catching paint colors, galleries of family photos, and treatments like board and batten or wallpaper, decorating your stairs is easier than you think.
Whether you have a modern, vintage, or farmhouse-inspired space, we have staircase ideas for you that will look flawlessly in line with the rest of your home.
1. Get creative with paint.
With a narrow strip of wall, a staircase offers an opportunity to get creative — and even a little risky — with paint. As opposed to a giant accent wall, a wall of your staircase is actually an ideal spot to experiment with color blocking. We especially love the thick black stripe heading up the stairs in Olivia of Lust Living's.
2. Center on a main focal point.
For your stairs decoration, if you'd prefer to simply focus on one showstopping piece, by all means, we say go for it. It'll be just enough to liven up your staircase. The vintage painting hanging on the wall in this bright space spotlighted by Clé Tile is a perfect example. Bonus points for those amazing tiled stair risers.
3. Get sentimental.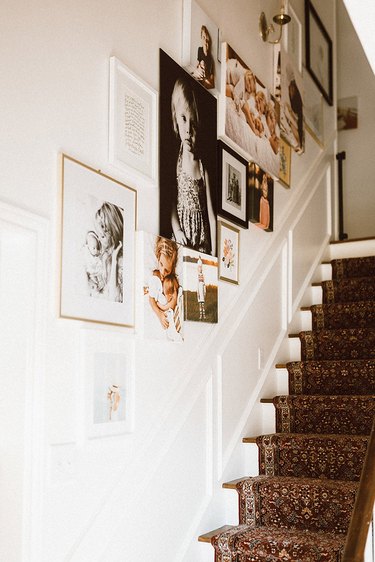 A lot of homeowners use family photos to deck out their staircase, and for good reason. You'll be able to look at those lovely memories every time you walk up and down the stairs. Plus, you can arrange them artfully as a gallery wall, which is what Casey Leigh Wiegand did in her home.
4. Board and batten is a classic choice.
Board and batten panels are a great staircase idea. They're trend-proof and add the exact right amount of visual interest without overpowering an area as small as a stairwell. Additionally, they work beautifully when paired with minimal decor, as proven here by Cristina of Home on Mount Forest.
5. Consider small furniture pieces.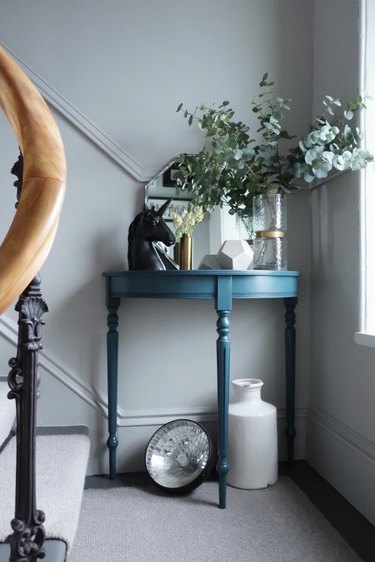 If you have enough room on your landing, contemplate a small console table, otherwise known as a picture-perfect place to display decor. Malcolm of Design Sixty Nine incorporated a bold blue table into this staircase idea, to showcase a mirror, vase, and a few other cherished decorative objects.
6. Make the walls pop.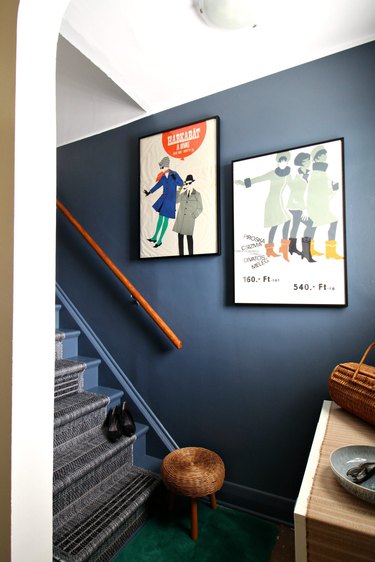 When it comes to your stairs' decoration, allow the wall connecting the first floor to the second to act as an accent. We recommend choosing a head-turning color to make it stand out. For instance, Tanya of Dans le Lakehouse picked navy blue for this staircase wall, which serves as a backdrop for vintage posters.
7. Embrace vintage flair.
Do you have several flea market finds that have yet to find a home? What about using them to create a gallery wall in your staircase? Liz Marie of Liz Marie Blog has mastered the art of farmhouse with this arrangement including: antique signs, reclaimed architectural details, and bits of pretty greenery.