Hunker may earn compensation through affiliate links in this story. Learn more about our affiliate and product review process
here
.
There are some design elements that get taken for granted and dare we say might even get neglected altogether. When was the last time you really paid attention to stair railings other than to grab one for balance? Well, lately we've noticed that when they're incorporated into the bigger picture of a home, they can dramatically impact the overall look and feel.
Check out these seven stair railing ideas to see what we're talking about.
1. Paint it black.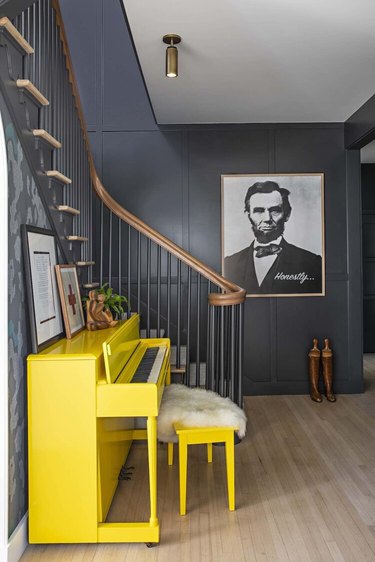 Make like the Rolling Stones and paint it black. A curvilinear stair railing gets a dramatic makeover and takes a decidedly masculine bent when it's coated in the moody hue — a stained wood handrail is a refined counterpoint. Designer Raili Clasen, who's known for her playful, modern interiors, punches up the monochrome landing in this home with an unexpected canary colored piano.
2. Try something sculptural.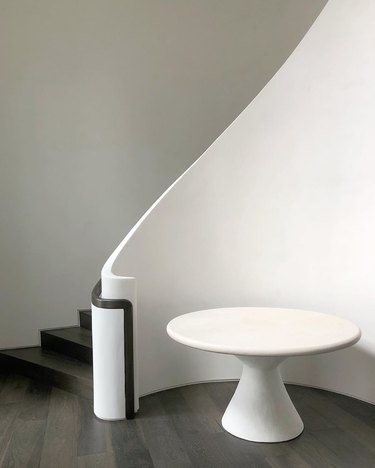 For an understated statement, consider a sculptural staircase idea like this poured plaster showstopper by Simo Design. The pared-down organic shape elegantly anchors the space and stands on its own, while dark wood floors and an integrated banister introduce contrast.
3. Make it ornate.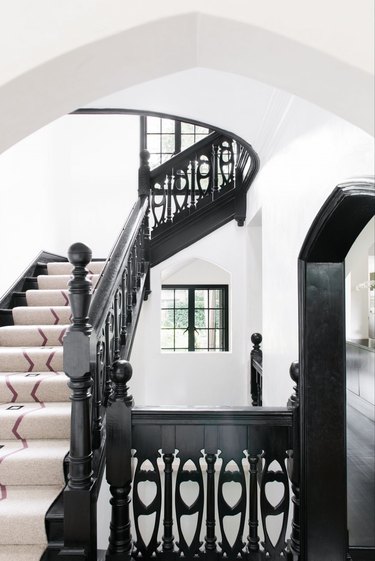 Intricately carved staircases bring a sense of history and charm to homes, but you don't want to compete with their eye-catching design — streamline the rest of your decor and let them take center stage. Cortney Bishop Design shows us how it's done: She lets the white walls speak for themselves and then paints the stair railings black for a high-contrast look that really emphasizes the intricate detail.
4. Add a textural component.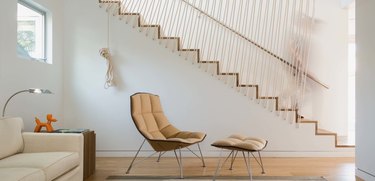 Natural materials like leather, wood, and rattan, go a long way when it comes to adding warmth and texture to a home, and using them in unconventional ways creates unique opportunities to personalize your space. The team over at Riley Projects added depth and a subtle nautical vibe to this minimalist design with a woven rope partition and a wood stair railing to complement the steps.
5. Choose color.
Blanket your entryway in white and let your stair railing sing with spindles painted in an ombre range of cool hues from sky blue to navy, like this staircase belonging to Angie of Angie's Roost. A dark wood banister complements the steps and and anchors the colorful design.
6. Go for traditional with a twist.
Traditional interiors are timeless and widely embraced for their use of calming colors, refined materials, and attention to detail. Emily Henderson used many of these classic elements including wall paneling, brass finishes, and pronounced molding in her Portland project, and then infused a contemporary edge with an architectural staircase featuring metal balustrades.
7. Create the feeling of space.
Staircases eat up valuable real estate and make spatially challenged homes feel particularly confined. Floating stairs like the ones in this bohemian abode are not for the faint of heart (or for those raising little kids), but if you're seeking ideas that enhance a feeling of openness, this design paired with a simple wood stair railing is a home run.