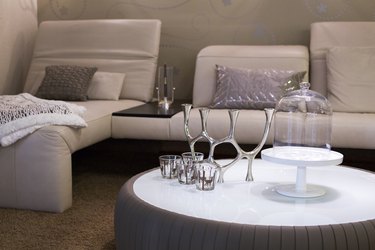 In spaces with brown carpet, the rich neutral seems to dictate a limited, earthy palette. While nature-inspired color schemes are warm and inviting, brown is a surprisingly versatile hue that won't keep you limited to the outdoors for inspiration. Every shade of brown contains notes of all three primary colors -- red, yellow and blue -- which helps the natural neutral coordinate well with a vast number of tones.
Brown Basics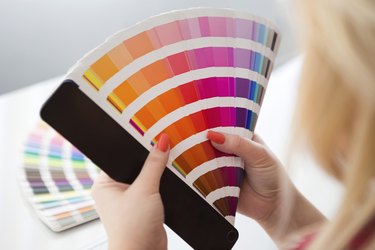 Brown paint is created by mixing all three primary colors together at varying ratios to create different shades. Browns with more blue in the base are cooler, while shades with stronger red or yellow notes are warmer. Before determining a color palette to coordinate with your carpet, first determine its exact shade of brown. Narrow in on the exact shade by comparing the carpet color with paint chip deck or sample cards from a houseware store's paint department.
Stay Toasty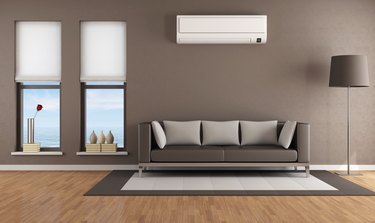 Keep the palette in the color family with a monochrome scheme that features only browns, tans and creams. Sticking with a gradient palette may seem simple, but an all-brown room can appear muddy. If there too many shades of warm and cool browns in the space, the colors will compete and reflect off one another, making them appear to be an entirely different hue. For example, cream placed next to sienna brown takes on a yellow tint, and taupe paired with a reddish chocolate takes on a gray cast. For best results, find the carpet's hue on a gradient color chart, and then fill the room with both lighter and darker versions of its color.
Vivid Citrus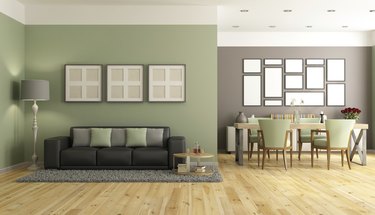 Consider lime green walls, which incorporate a blue undertone, to balance warm brown on the ground. Select lemon yellow furnishings with contemporary lines to avoid any unintentional 1970s throwback vibe. Accent the space with citrus orange accessories, such as throw pillows, lamps and artwork. Add in touches of white to relieve the explosion of vivid hues. As a tamer alternative, consider crisp white walls as a backdrop for citrus-hued furniture and accessories.
Balancing Blues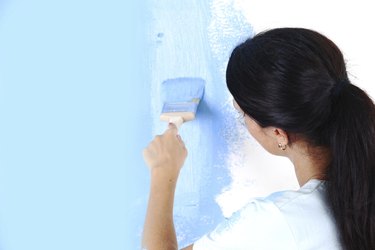 Versatile blues work well with almost any shade of brown carpet. The cool color has shades, such as ice and steel blue, to balance reddish browns, along with warmer hues, such as teal and robin's egg, to accentuate cooler browns. Go bold with royal blue on the walls and fill the room with rich furnishings of a paler neutral color, such as wheat or eggshell. When selecting blues for both the walls and the furnishings, choose hues on opposite ends of the spectrum to create contrast. For example, choose a sky blue paint color to off set a midnight blue sofa, or Prussian blue walls to accentuate a powder blue bedspread.
Precocious Pinks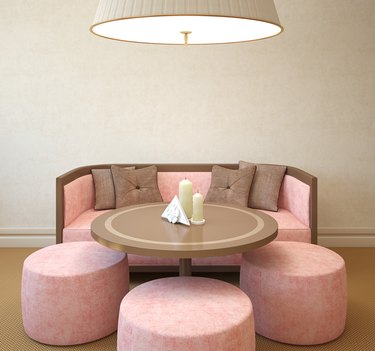 Give masculine brown carpet a feminine touch with a pink color pairing. Some versions, such as cotton candy and hot pink, may be too immature to feature heavily in an adult space. However, the delicate color has a number of grown-up variations to accent cool brown carpeting. For instance, consider walls of champagne pink as a backdrop for a taupe upholstered dining room set and deep coral or soft puce place settings.
---
A former art instructor, high school counselor and party planner, Christine Bartsch writes fashion, travel, interior design, education and entertainment content. Bartsch earned a Bachelor of Fine Arts in communications/psychology/fine arts from Wisconsin Lutheran College and a creative writing Master of Fine Arts from Spalding University. She's written scripts for film/television productions and worked as the senior writer at a video game company.