Although it's a cool, watery tone, seafoam green's vibrancy can make it a bit intimidating to work into your design. The ocean-inspired hue is a blue-green hybrid similar to but slightly grayer than turquoise. Take the fear out of using seafoam by knowing which colors go -- or don't go -- with it.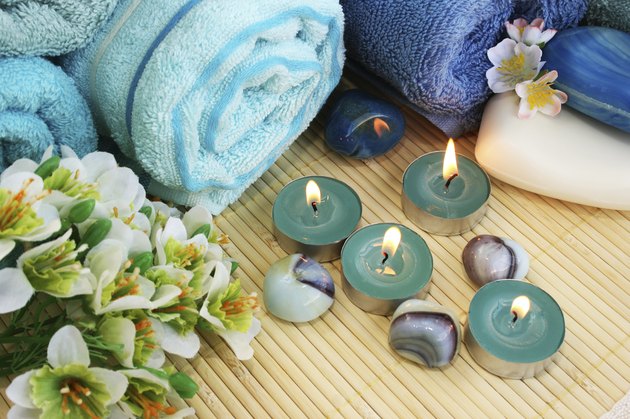 credit:
ruzanna/iStock/Getty Images
Cool pastel colors can be as refreshing for the eyes as springtime is for the soul. Blend light seafoam green with pale shades of its parent colors: icy blue and hazy green for an almost monochromatic effect. Such a relaxing combination is better suited to nurseries, bedrooms or bathrooms than bustling kitchens, for example. If you prefer an even more diluted effect, pair pale seafoam with neutral cloudy white or light silver; neutral tones with a hint of smokiness meld with seafoam's slightly gray undertone.
In a predominantly seafoam-green space, punchy accessories provide a place for the eye to land. Forge a "trail" of vibrant violet, opulent burnt orange or coral, through a blue-green-gray space with the accessories -- cushions, flowers, curtain tiebacks wall decals -- for the greatest impact. If your looking for a more romantic, chic effect, rosy-pink accents provide it.
Unless you're going for a monochromatic scheme, color ratio is about as important as color combination itself, especially when you're working with a visually cool but slightly bossy seafoam green. Seafoam walls ideally make up about 60 percent of a room's scheme. Furniture and drapery in a secondary hue, such as dark navy or grassy green, should own roughly a 30-percent portion of the design, while standout-color accessories make up the remaining 10 percent.