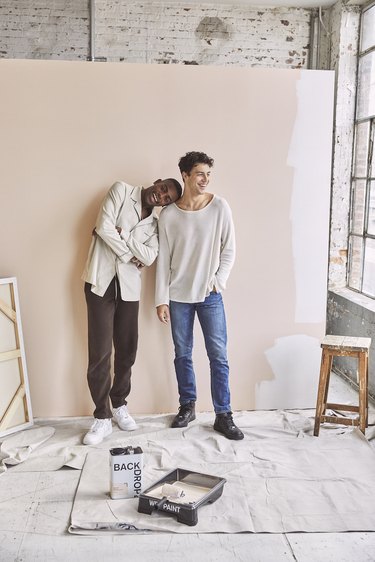 If you happen to live in a space that you can paint, there are few greater joys than seeing a room transformed by a new hue. Whether you're switching up the look of your kitchen or trying something new in your dining room, a little color goes a long way.
With that in mind, here are some of the color trends that the experts recommend you try for the new season:
1. Relaxing Green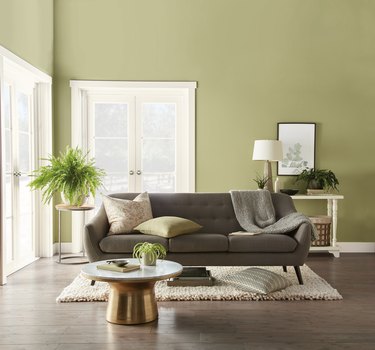 While you might think of dark greens as characteristic of fall, take inspiration from the other shades found in the season's falling leaves — like this lighter shade of green.
"Behr's 2020 Color of the Year, Back To Nature, a restorative, meadow-inspired green, is perfectly fit for a fall refresh," Erika Woelfel, color expert at Behr Paint, tells Hunker. "As we look to the autumn months ahead, blues and greens will continue to be a popular choice among homeowners like Bluebird, Dragonfly, Back To Nature, and Secret Meadow."
2. Laidback Lavender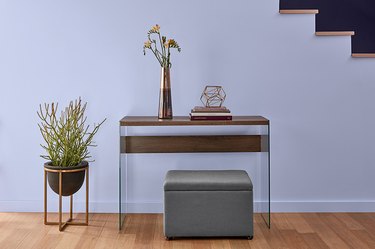 Sue Kim, color marketing manager for Valspar Paint, also recommends thinking about versatile colors that will not only help add that fall mood, but also work all year-round.
"Elegant and moody, Twilight Mist 4004-9B, is a shade of lavender that is emerging this fall," Kim tells Hunker. "Soft with a dose of vibrancy, this shade is versatile, perfect when you're looking to add a dramatic effect to a living room or bedroom."
3. Shades of Orange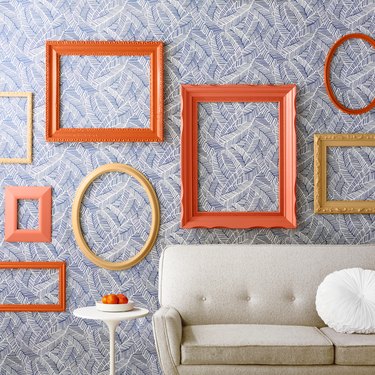 Of course, there's always the option of gravitating toward classic fall colors. Switch things up by experimenting with new shades, like this orange look.
"Knowing the palette of colors that is traditionally thought of for a season, but changing out a few for some lighter tones of those colors can certainly lighten the palette up for that project," Rachel Skafidas, Krylon's senior color designer, tells Hunker. For this look, Skafidas recommends Gloss Pumpkin, Matte Summer Wheat, and Matte Sunrise.
4. Muted Millennial Pink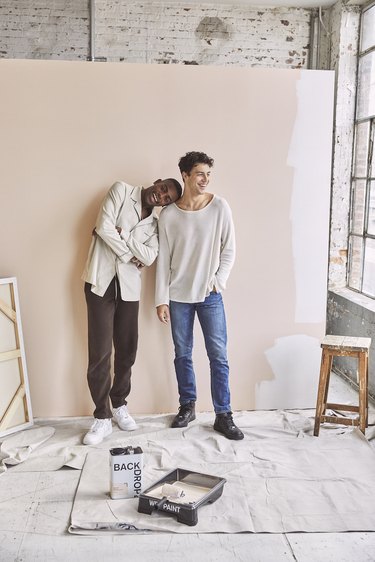 Even though fall is a good opportunity to switch up the look of a room, that doesn't always mean darker shades. Consider muted colors like Backdrop's Modern Love.
"The outside world turns a bit darker during the fall, days get shorter, and leaves change, which means you might want to offset a bit of the gloom with a space that is actually a bit lighter," Natalie Ebel, co-founder of Backdrop, tells Hunker.
5. Stone-Inspired Neutrals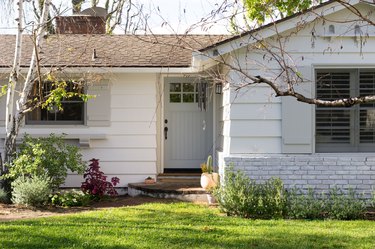 Before you hang that fall wreath, consider how you might also switch up the look of your front door.
"Having colors that are neutral enough to accent with warm or cool tones is the trick," Jamie Davis, co-founder and owner of Portola Paints & Glazes, tells Hunker. "I do however love to repaint my front door semiregularly." Davis recommends exterior paint colors like Portola's Stone 1 and Stone 3 (seen here on the house's shutters) and Half Dome (used on the front door) to achieve this look.
6. Unexpected Color Combos
New season, new aesthetic? Consider a moody yet bold makeover by pairing deeper hues with a splash of color.
"Dishy Coral adds a bold contrast to the deep Naval hue, adding interest and intrigue to an everyday nook," Ashley Banbury, senior color designer for HGTV Home by Sherwin-Williams, tells Hunker. "Integrate florescent lights to highlight the fun colors throughout your home."
A pop of color is a good option if you're on the fence about a dark hue. "If you're concerned those shades will be too dark you can pair them with lighter hues of yellow and greens," Banbury says.
7. Wine Red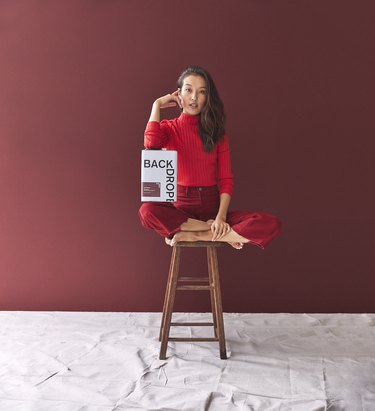 If your heart desires nothing more than a darker shade for your walls to feel the most cozy, there are a few options for that, too. Ebel suggests a "dark red that has depth," like Backdrop's Self-Portrait.
If you're feeling overwhelmed by the color possibilities, Woelfel recommends starting with what's already around you.
"To find a new color for your space, I recommend looking at textiles that you already love like a rug, lamp, or pillow," Woelfel says. "Pulling colors from an item you already love is an easy way to bring new hues into your room, while still keeping a cohesive look."
Here's to embracing the upcoming season.