As we gear up for the months ahead, we find ourselves ready to elevate our porch game with all the gourds and autumnal trimmings the season has to offer. Painted pumpkins and bushels of foliage are foolproof ways to get the look, but ensuring a well-styled finish that doesn't double as an eyesore can take a little finessing.
Luckily, we've rounded up a list of our favorite ideas for fall porch decor that are guaranteed to up your curb appeal. Whether you're an avid observer of Halloween or simply looking to infuse your entrance with a little seasonal flair, these fall decorating ideas are sure to inspire.
1. Devise a fresh focal point.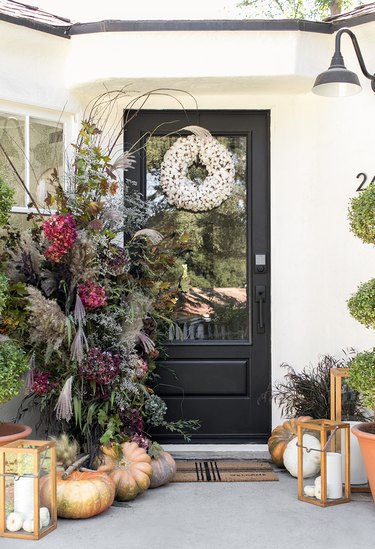 2. Create a cozy atmosphere.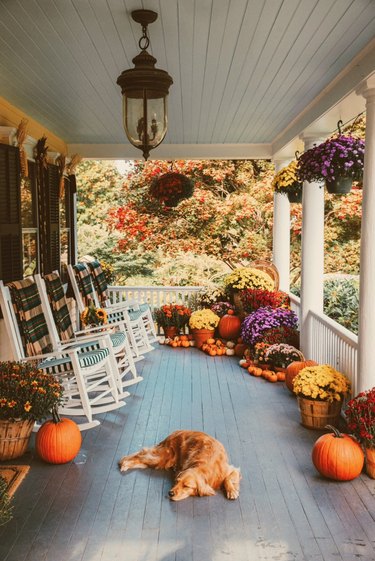 File this one under idyllic fall porch decor. Classy Girls Wear Pearls' approach is all about highlighting the best of the season with a vibrant combo of pumpkins, colorful mums, sunflowers, a handful of dried corn with husks, sleeping pup, and all. Rocking chairs outfitted with warm throws go without saying.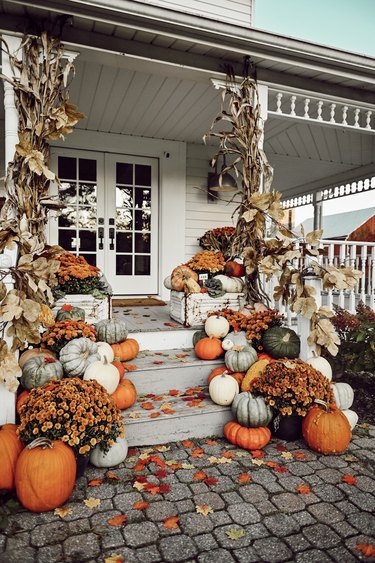 If you're looking to make a statement, and aren't afraid of going all out, allow this larger-than-life spread by Liz Marie Blog to serve as inspiration. When it comes to pumpkins, assorted colors are key to establishing a visually dynamic finish. Potted mums filtered in between offer a complementary detail while the dried foliage and branches reserved for the railings take the scene to the next level.
4. Keep it simple, but chic.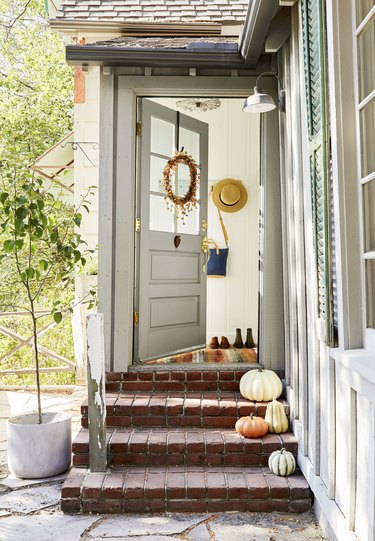 Not all spaces are created equal, but that's hardly a reason to miss out on festive fall porch decor. Emily Henderson proves that no stoop is too small for a little seasonal flair, with a colorful array of gourds (pro-tip: use faux ones so they last longer), and a matching wildberry wreath.
6. Experiment with color.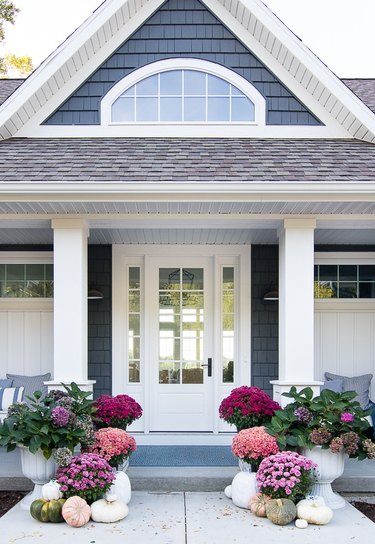 Mums take center stage on Lily Pad Cottage's charming front porch, offering a welcome change from the expected orange and yellow palette. Follow Kelly's lead and flank your entry with a few plants — stick to a tonal scheme to keep it cohesive — and finish the look off with pumpkins in a variety of sizes to hide any unsightly planters.
There's more to fall decorating ideas than pumpkins and mums — just take Deeply Southern Home's decked out stoop as proof. Accessories, such as lanterns, add height to the display and mood lighting at night while wreaths invite a fresh pop of color and texture to the entry.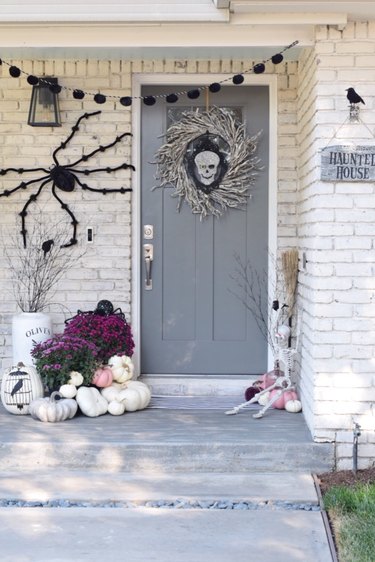 If your idea of fall porch decor entails a spooky element or two, Crazy Chic Design's spin on the traditional (read no orange in sight!) is the way to go. Painted pumpkins in shades of pink and white set the tone for the complementary florals that follow, with a fair share of creepy-crawlies and skeletal motifs to boot.