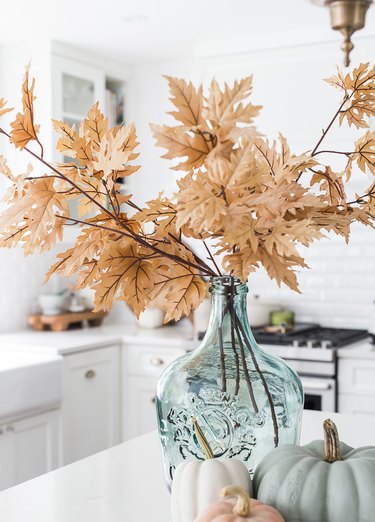 Autumn naturally brings to mind evening bonfires, caramel apples, and cozy sweaters. But, if you live somewhere that feels like summer even in the middle of October (or it's cold outside but you're in denial that the seasons are changing), there's a solution for your seasonal decorating: coastal fall decor.
Coastal style is famous for its blue, green, and white accents, seashells galore, and easy-breezy materials like rattan and sisal. Although these things don't sound especially "fall-like," there is a way to bring some seaside flair to your autumnal decor. Think branches of fall leaves tucked into turquoise vases, pumpkins flaunting cool colors, and driftwood wherever you look.
Whether you live by the sea or just want to hang on to that summer feeling, here are seven coastal fall decor ideas that will deck out your space for the season.
1. Incorporate seaside hues.
For coastal fall decor, we suggest not going with the typical orange and yellow autumnal palette. Instead, embrace watery shades like fresh blues, vibrant greens, and bright whites, as shown in this leafy centerpiece crafted by Kristy of Starfish Cottage.
2. Give pumpkins the coastal treatment.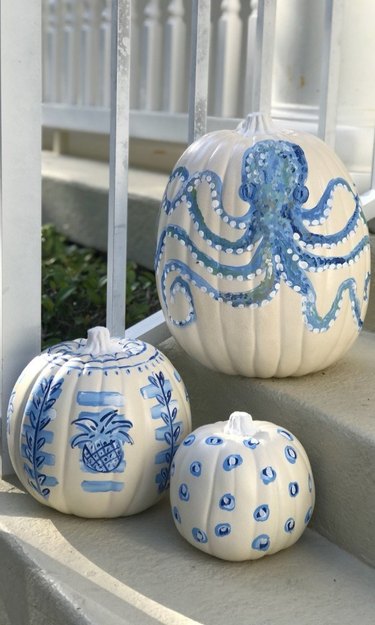 So, we definitely love carving spooky faces into our pumpkins. But to make them look a bit more coastal, we recommend painting them instead, in varying patterns and motifs à la these works of art by The Pineapple Girls.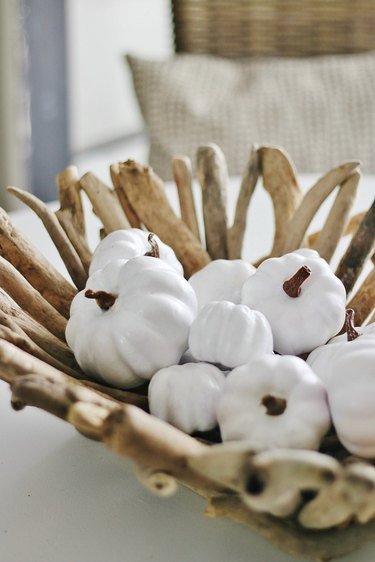 4. Bring the outdoors in.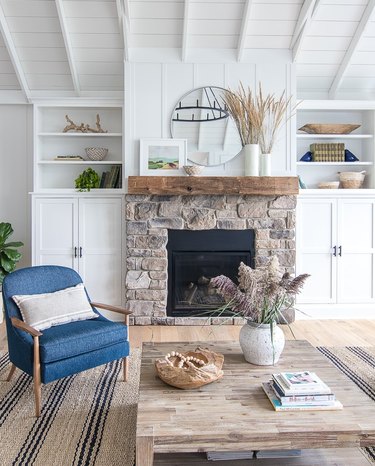 Fall is arguably one of nature's prettiest seasons. And you can be sure to give the great outdoors and your favorite time of year a big nod with the help of coastal fall decor. Consider including dried grasses, a jute area rug, pieces of driftwood, and landscape artwork, like Kelly of Lily Pad Cottage did in her beach-chic living room.
5. Create an ocean-inspired tablescape.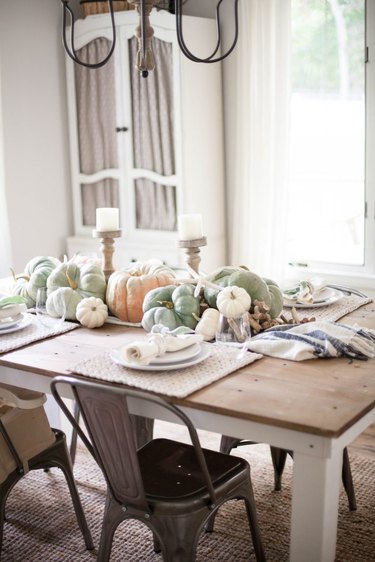 When you set your Thanksgiving table, showcase a tablescape brimming with light-colored pumpkins and a few starfish here and there, a look that Lauren McBride has clearly perfected.
6. Balance the two styles.
7. Turquoise glass is a must.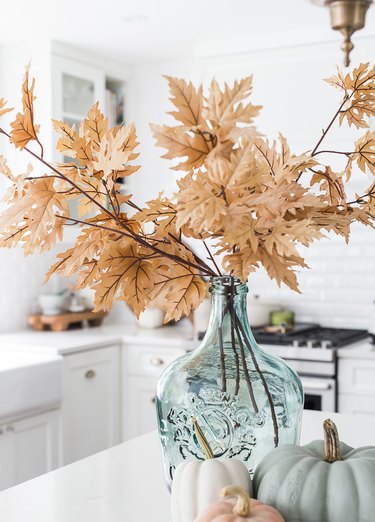 Turquoise glass bottles and vases are basically a must-have when it comes to coastal style, and coastal fall decor is no exception. Just place a bunch of faux leaves into a bottle or urn and voilà: you have a seasonal look with seaside flair — something that Jamie of So Much Better with Age did in her kitchen.