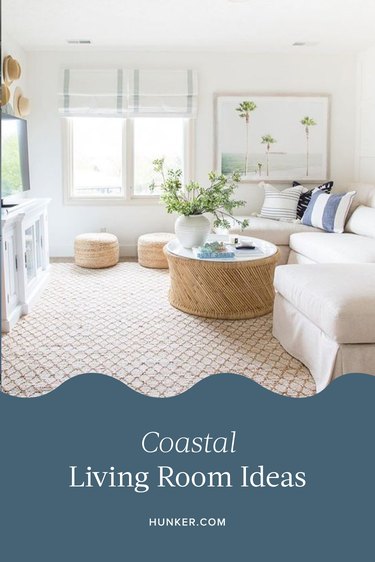 Ready to spruce up your space? You can start by leaning into a light and breezy look with a coastal living room. It's all about creating a relaxed and comfy space filled with cool tones and year-round summertime vibes.
A coastal living room should be calm and clutter-free with beach house feels and maybe even some nautical accents. The good news is you don't have to live at the shore to make this look work. Just lean into the lightness of it all and ... relax.
Here are some coastal ideas that will help you turn your space into something truly tranquil.
1. Expose what's natural.
When adding a rug to your coastal living room, lean into natural textures like jute to tie the look together. The material will instantly add a comfy feel to your space.
3. Keep your windows simple.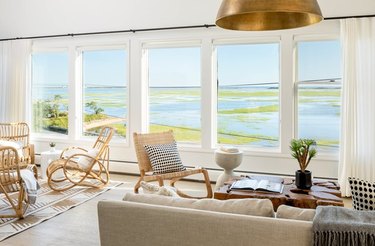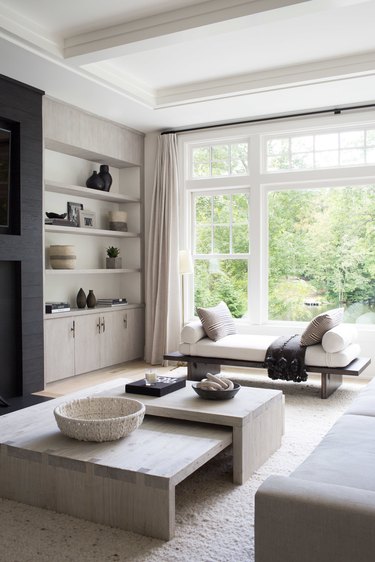 5. Keep it light and easy.
Want another way to showcase exposed beams in your coastal living room? Paint all the walls, ceiling, and wood planks a bright white. The color change will instantly open the space and provide the perfect empty canvas for all of your carefully curated coastal pieces. Go for light-colored accent furniture as well.
When it comes to creating a coastal living room, put comfort on the top of your list. Paint the space white, and add a sectional that you can sink into. You'll want the maximum amount of comfy seating for chill time.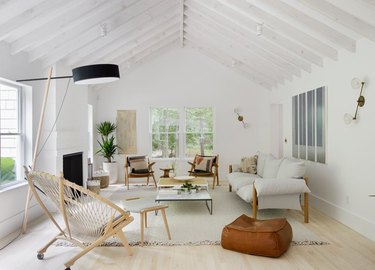 Choose colors that are white or off-white for your walls. But then mix in sun-bleached wood floors and a few rich leather pieces to create a coastal living room that's dynamic and timeless.
---
As an Emmy Award winning creative director, writer and producer I have worked on content for brands like Disney, BravoTV, TBS, Universal, E! and MTV. But I mostly love rearranging furniture and repotting plants at home.