Autumn has become virtually synonymous with all that inspires comfort and warmth. As the weather begins to cool, we look to staples that channel the best of the season to transform our homes and encourage peak R&R — the kitchen is no exception. Outside of being the designated spot for a morning cup of coffee, meals with family and friends, and late-night snacks, the cook space lends itself as a prime locale for showing off everything the cooler months have to offer. Think vibrant florals, patterned gourds, and textiles in every imaginable hue from ochre to sage.
Now, fall kitchen decor can be as simple as incorporating a few flowers or it can be as extravagant as changing the wall color. Regardless of where you land on that spectrum, the following eight autumnal ideas are sure to inspire.
1. Be mindful of materials.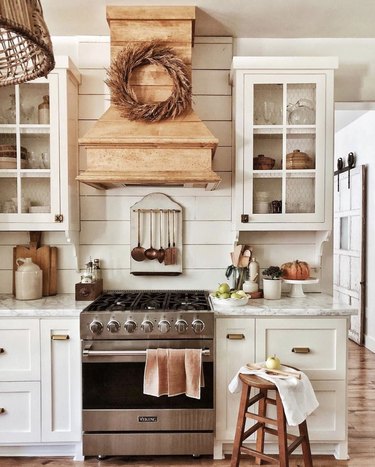 Autumn is all about ushering in a fresh batch of textures — think raw and earthy elements such as pampas grass or natural wood accents. Color plays an important role as well, and maintaining the essence of the season means sticking to a palette of neutrals with pops of red, orange, and yellow. Take a cue from Jaime of Whitetail Farmhouse and go for fall kitchen decor in the form of a wheat wreath and soft-toned linens to create an inviting feel.
2. Make metals work harder.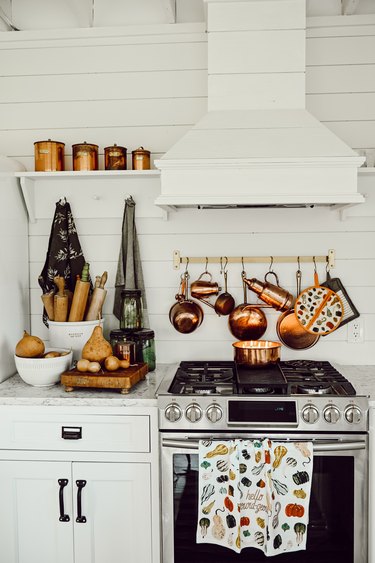 Liz Marie is here to prove that even culinary accessories and appliances can count as fall kitchen decor. The blogger's artful display of copper pots and pans (not to mention the matching canisters above) invite a burst of warmth and luster to the space, perfectly complementing the cheeky yet on-theme linens that surround them.
The fall kitchen decor in this dreamy home belonging to House on Longwood Lane takes the cake for mastering an autumnal refresh with minimalism at its forefront. A cake stand becomes the perfect platform for showing off a freshly picked pumpkin while a cheeky message board pays tribute to the season with a touch of effortless cool.
4. Bring the outdoors in.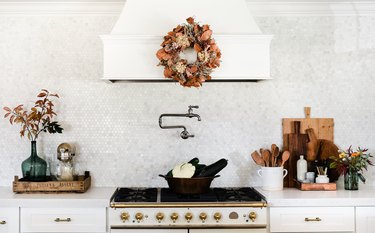 Chloe of Boxwood Avenue schools us on the art of fall kitchen decor with a vibrant mix of dried florals and foliage that drive home the theme without feeling glaringly obvious. A jug filled with leafy branches gives dimension to the setup while the wreath above inspires a splash of contrast that's simply unrivaled.
5. Create a festive centerpiece.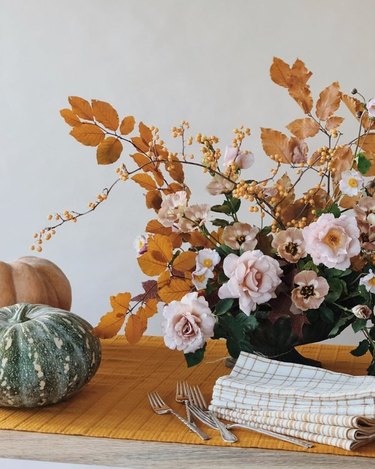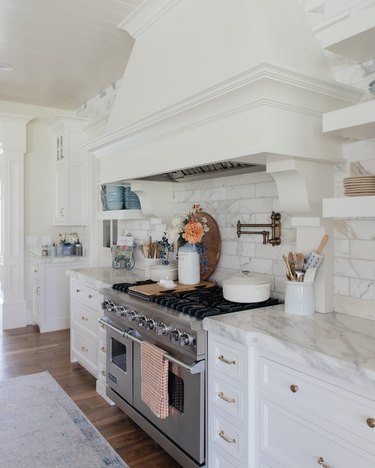 These days, the kitchen stove tends to double as the proverbial hearth, so it should go without saying that giving it an autumn-worthy revamp will have a major impact. The creative behind Home with Holly J took a less-obvious approach to fall kitchen decor, opting for a reserved palette of on-theme hues and florals to encapsulate the essence of the season. An addition as simple as an orange checkered tea towel seals the deal.
7. Touch on all the senses.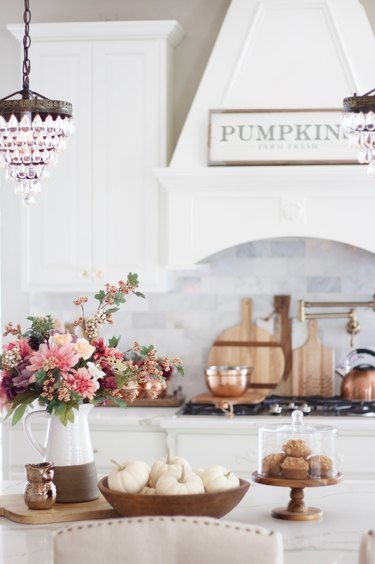 Scent is also important when it comes to fall kitchen decor. Pumpkin spice lattes, anyone? Outside of the standard candle or bouquet, whip up a batch of spiced muffins to truly create some seasonal ambiance. We're all for following Styled with Lace's lead, and tripling down on dahlias, a decorative bowl of pumpkins, and baked goodies to boot.
Wreaths may double as a year-round accent — and are typically reserved for the front door — but they sure make for the perfect fall kitchen decor. A piece as vibrant as this lively number can brighten up even the snooziest of schemes, and would look perfect propped against the window above the sink or hanging on a cabinet knob.