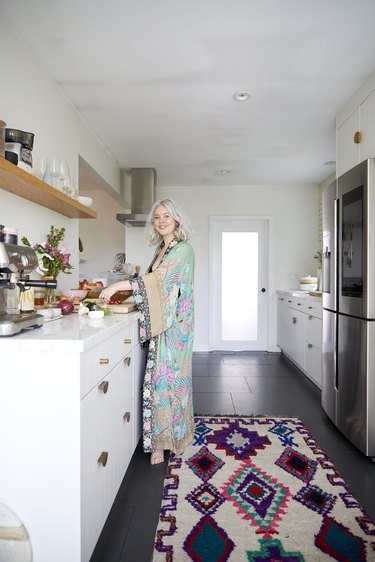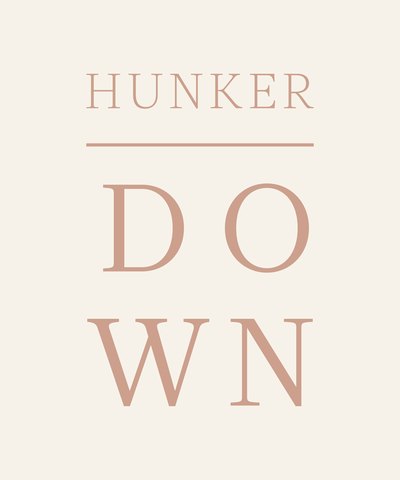 Join design editor Ariane Moore for Hunker Down as she gets to know the creators and designers she's followed for ages.
We all have our go-to places for inspiration: The Insta account that you scroll through, whiling away an entire afternoon; the blog that you get lost looking at for days on end; or the magazine (you remember, those printed books with pretty pictures?) that you keep for months at a time to spruce up your coffee table. Well, Designlovefest easily, and consistently, lands at the top of that list as one of our must-follow sources for all things droolworthy. Whether you're looking for dreamy travel tips, clever DIYs, mouthwatering recipes, or mesmerizing interiors (including her own freshly remodeled digs, of course) Designlovefest is a one-stop shop for design inspiration.
Who is the oh-so-stylish creative director, product designer, blogger, and all-around mastermind behind this seriously addictive (not kidding, her Insta page alone boasts 770K followers!) online destination? That would be Los Angeles-based creative spirit Bri Emery, who began DLF in 2009 as a way to share her love for type and images. As luck would have it, we were able to hunker down with the busy newlywed to see what everyday life is really like in her perfectly styled abode.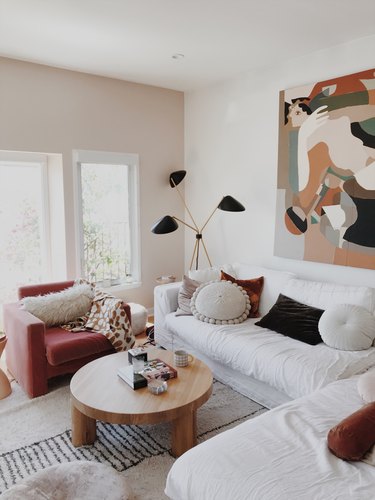 Hunker: How would you describe your home's style?
Bri: Bright, sunny, California, eclectic, inviting, and comfortable!
Hunker: Which room in your house is your favorite and why?
Bri: It's a hard tie between sitting on my couch looking out the window at the pretty bougainvillea tree OR our kitchen (especially on a slow weekend cooking all day!).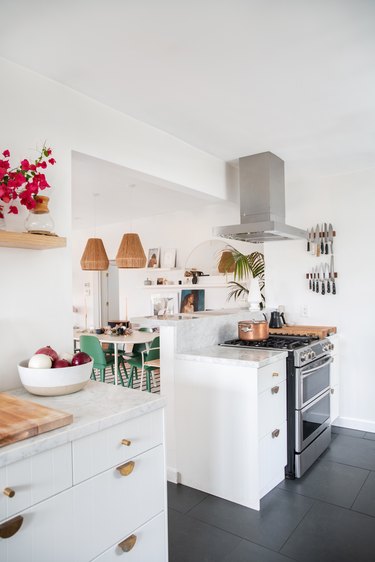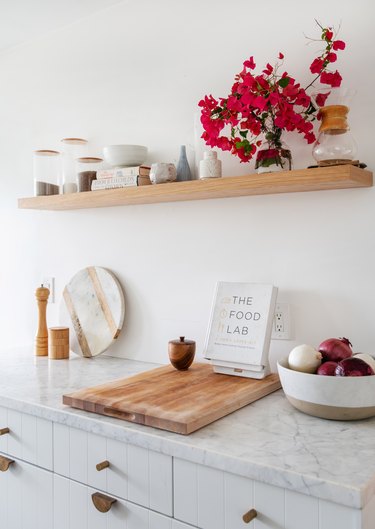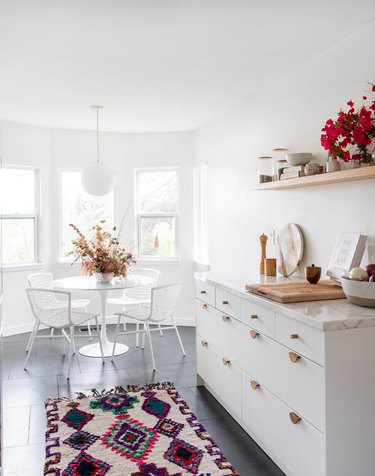 Hunker: What is the last thing you splurged on for your home and where did you get it?
Bri: The backsplash tile in our kitchen is a beautiful brass inlay from Tabarka Studio! It adds a special, shiny touch to the space.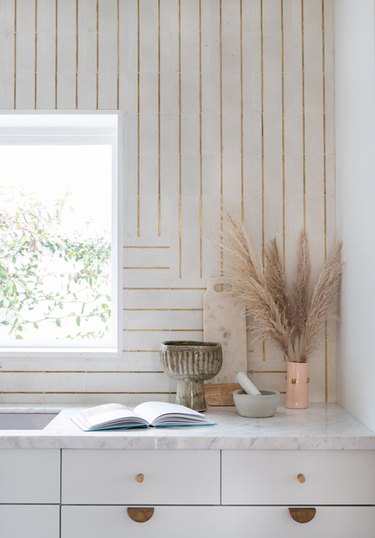 Hunker: Is there anything in your home that looks expensive but was really a bargain find or DIY?
Bri: This pendant lamp in our bedroom looks chic, casts a pretty light, and it's only $69.99 from IKEA!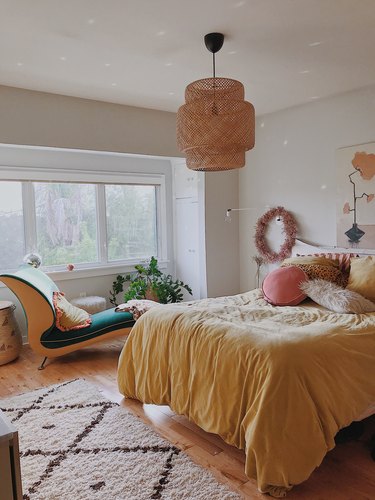 Hunker: Do you have anything in your home that has been handed down? Would you mind sharing the story/history behind it?
Bri: I have a lot of thrifted items, but nothing handed down that I can think of.
Hunker: What book is on your nightstand and/or coffee table right now? What show are you binge-watching right now?
Bri: I am reading Eckhart Tolle's The Power of Now again. It's really so mind-opening and gives me such a great perspective on living in the moment. I just binge-watched The Act on Hulu, although I prefer the documentary version on HBO. I can always get down with a good crime series or podcast.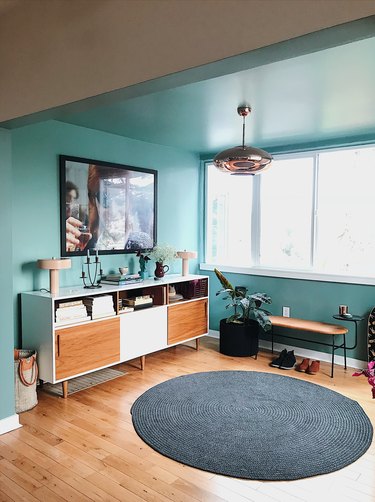 Hunker: Where do you go for inspiration? Do you have any favorite stores, brands, designers, apps, websites, magazines, etc.?
Bri: I find most inspiration in quiet, reflective places like on an airplane, driving alone in my car, sitting outside in nature, and, of course, seeing new things traveling and wandering around aimlessly. I truly believe you can find inspiration every day if you are mindful. Even the smallest things, like a shadow pattern on the wall. I also love having little meet-ups with a creative friend, having some wine and takeout and just openly talking about and writing down random ideas and seeing where it takes us.
Hunker: What are some design do's and don'ts that you live by?
Bri: Your gut knows best! Trust it! Learning to follow my intuition is really important to me. And try not to put all of your eggs in one basket — with work, with friends, with dating, with life! Learn to love yourself FIRST and experience love in many different ways. Each person will teach you something new and valuable. I learned this lesson the hard way, a few times. Putting my all into one friend, or one boyfriend, and ending up shattered. Finally, I learned to pour all of that love into getting to know myself and feeling comfortable alone. That's when life started to flow a lot easier for me.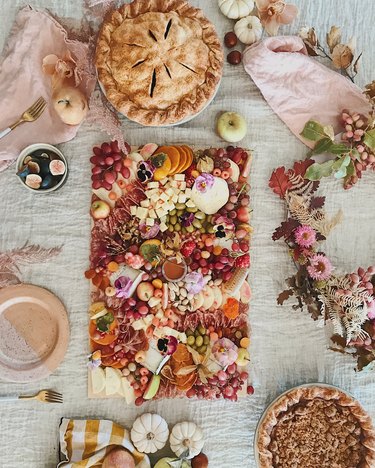 Hunker: What are your must-haves/must-dos when entertaining guests?
Bri: I guess I don't have any hard rules, but there are a few things that make the night special. I like to greet people with a drink, or an appetizer to snack on, and then continue to cook and chat in the kitchen. People like to see the food come together, it feels lively and fun. On casual nights, like our "Sunday dinners" I like to get our guests involved in the kitchen, while the music is playing, so it feels like we are all a part of the meal. It feels like family! Candles always. No paper towels or packaging on the table. We eat with our eyes, so put that extra effort into the presentation.
Hunker: Describe a typical Saturday morning at home.
Bri: Usually I wake up around 8:30 a.m., Justin makes us cappuccinos, I make some sort of savory egg breakfast, and lately we have been enjoying sitting on our front patio in our pajamas, enjoying the view. The past few months we have been doing wedding planning on the weekends, but now we are married so we will have a lot more time to just CHILL!
Hunker: If you were strapped for cash, what is one home decor item that you would still splurge on?
Bri: Three things: fresh white paint; the couch ... It's where I zone out, relax, and spend quality time with people I love — so comfort is key; I also think changing out light fixtures to something more stylish makes a big impact in a home.
Hunker: Since you remodeled your home, what are some words of advice for people who are thinking about transforming a space in their house, too?
Bri: No need to rush or feel overwhelmed! I like to take it one room at a time and focus on that until it's done. When I leave the whole house up in the air I feel like I never actually complete a room fully. And it's really satisfying to walk into a room that has that finished feeling. Make a plan with one room, create a mood board, and stick to a timeline if you can.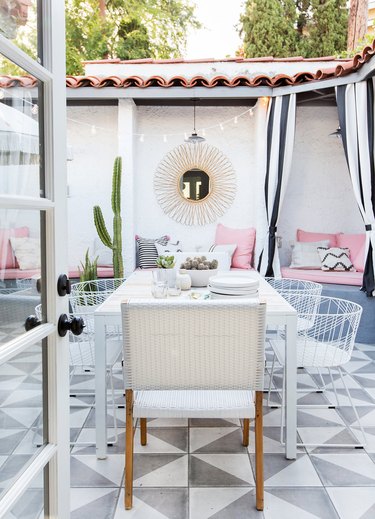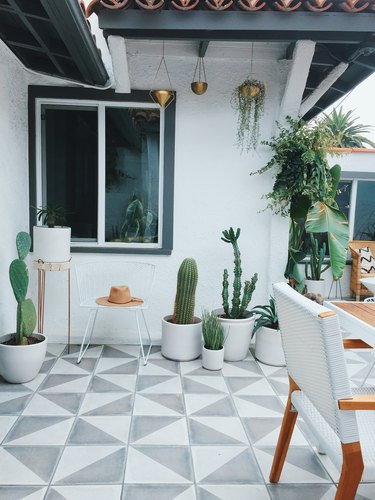 Hunker: What home decor trend are you obsessed with right now? Have you implemented it into your own home?
Bri: Been loving terrazzo tile for a while now! I have a lot of bowls and plates with the design.