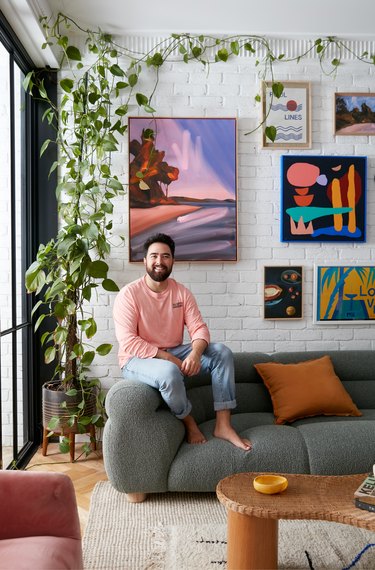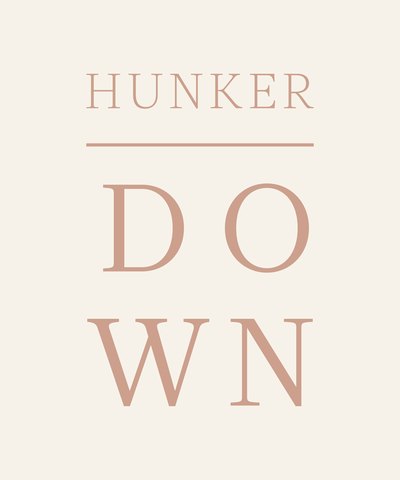 Join design editor Ariane Moore for Hunker Down as she gets to know the creators and designers she's followed for ages.
For those of you who are fans of ​Inside Out​ magazine (and let's be honest, who isn't?!), or if you regularly tune in to the ​House of Style​ podcast (and who doesn't?!), then the oh-so-charming Jono Fleming probably needs no introduction. But on the off chance that you've never had the pleasure, allow me to introduce you to the talented Sydney native.
Seemingly a genius at multitasking, Fleming wears many hats from interior designer to stylist to podcaster to occasional cook. And it would seem that his partner, Ryan McGregor (also an interior designer, 3D artist, and creative director at Studio + Surry), is cut from the same cloth. I know what you're thinking, ​What dreamy digs would be worthy of such a stylish power couple?​ The answer: A single story, two-bedroom/two-bathroom apartment designed by the renowned Australian-based firm SJB, of course. "When I saw it, I knew it was home for me," Fleming recalls. And with details such as herringbone wood flooring, exposed brick walls, and traditional cornices, it's easy to see why.
Needless to say, I couldn't resist reaching out to Fleming to invite him to hunker down with me and dish about their posh pad and his envied sense of style.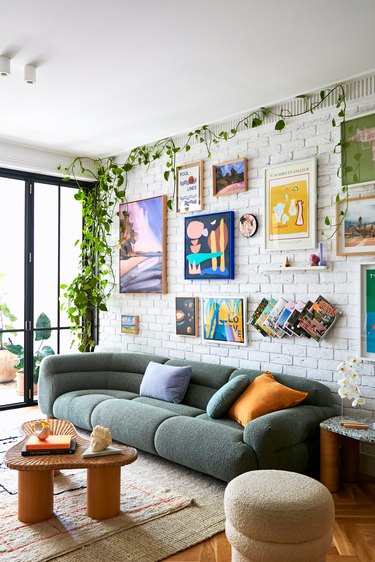 ​Hunker:​ How would you describe your home's style?
Jono Fleming: I like to consider myself a 'curated maximalist.' As a stylist, I tend to collect and pick up lots of objects and items along my travels. I like to think that it's all for work, but low key, I'm a bit of a hoarder — call it an occupational hazard. Everything that is out and on display at home is very considered — chosen and curated to have its place. It's layered without being fussy, and I love using color to create mood and balance in the space.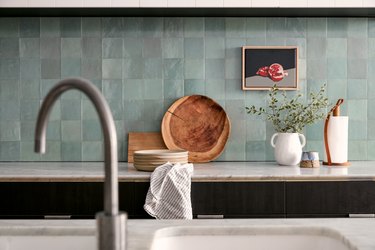 ​Hunker:​ Art clearly plays a big role in your home and life in general — last year you launched your shop, Palette by Jono Fleming. Can you talk about the art direction in your home and why it plays such an integral role in your life?
JF: I've always loved art but used to think it was a bit unobtainable due to the price tag it can come with sometimes. After working as style editor for ​Inside Out​ magazine, my world opened up and I was introduced to so many incredible artists. Over the years, I've slowly collected artworks by local Australian artists. It brings color and life into the home, and it's been growing piece by piece. I launched Palette by Jono Fleming because I found there was a lot of the same type of artwork on the market and I wanted to show that art can be special and feel unique without a hefty price tag.
​Hunker:​ Your home showcases lots of interesting details, yet still feels light, airy, and uncluttered. What's your secret to successfully pulling off a layered look?
JF: It's all about creating little moments and vignettes at home, collections that guide the eye. I admittedly have to edit myself every now and then, but it's part of the fun of styling your home. I like to move things around and change things regularly. I think the key to achieving this look is about choosing which moments you want to have in the home. Not every surface needs heaps of items, you need the minimal to balance out the collections.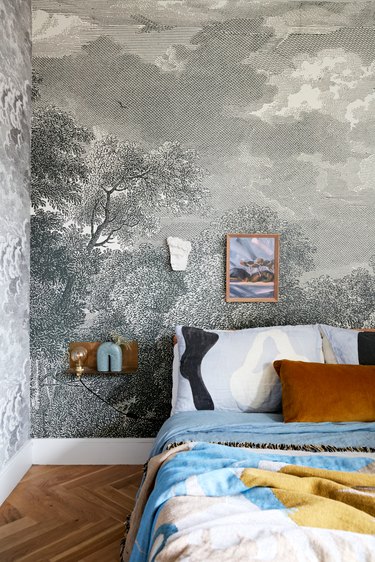 ​Hunker:​ What room in your house is your favorite and why?
JF: It has to be my living room. It's filled with art, color, and the beautiful devil's ivy climbing up the wall. Working from home, I always start with the best intentions and start in my study, but inevitably I end up on my sofa. It's a place of comfort and inspiration for me. I open up my balcony doors and let the breeze and sun pour into the room — my absolute happy place.
​Hunker:​ What shops/brands do you turn to when you're looking for furniture and decor?
JF: There are so many great Australian brands I've had the pleasure of getting to know over the years. Our sofa is the "Valley" from Jardan, a favorite brand amongst designers here. They craft all their furniture in Melbourne, and it's so rare nowadays to have products that are sustainable and Australian made. I interviewed the founders Nick and Renee Garnham on my podcast ​House of Style​ and really connected to their creative and business story. I also love Jumbled, one of the most beautiful stores in rural NSW (New South Wales) that is run by my friend Pip Brett. It's an explosion of color and fun and I've gotten some of my art from there. I like to shop high and low, mixing old and new. It adds to the eclectic nature of the home. One of my favorite pieces is a Memor vase from Cincinnati-based artist Maxine Midtbo. It's one of those decor items that doubles as a practical object and a beautiful piece of sculpture.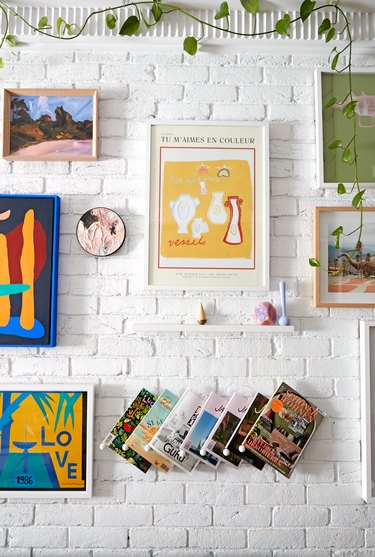 ​Hunker:​ How do you start your day? Do you have a morning routine or ritual?
JF: I unashamedly check Instagram the moment I wake up. It might not be the best habit, but it's where I get a lot of inspiration and it gets me excited for the day. Then it's off to the gym and back home where I build up the energy to get into office mode. As a freelancer, working from home was nothing new for me but even with experience, I still take a moment to get motivated to get into my office and get to work. On the plus side, the boss does allow an afternoon nap every now and then.
​Hunker:​ Do you have anything in your home that has been handed down? Would you mind sharing the story/history behind it?
JF: Something we brought out during our lockdown in Sydney was my grandmother's crystal wine glasses. I inherited these and I remember when I was younger seeing them always displayed in her cabinet, not to be used, only for special occasions. While we were stuck at home, we decided it was time to bring them out of storage and use them, every day was a special occasion — no excuses needed. We use them all the time now and I love it!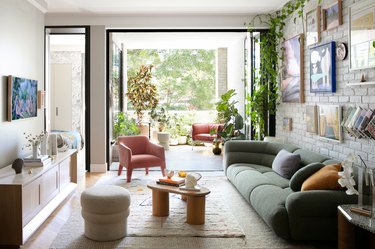 ​Hunker:​ What design feature or detail in your home is your favorite and why?
JF: I can't take credit for it but the cornices at home are just dreamy. With a simple ribbed detail, it makes [the] apartment feel almost European in style. What I love about them, is [that] by finishing off the home with this design [accent], it elevates the whole space into something really special and adds so much personality on such a small scale.
​Hunker:​ Is there an item in your home that looks expensive, but was really a bargain find or a DIY project? If so, what?
JF: I get a lot of my vases from H&M Home. I find they always have very on trend pieces as well as classic staples you cant go wrong with. There's one that I have that is an almost Romanesque bust, with the top of the head cut off as the opening to the vase. It's a really beautiful piece and people are always surprised to know it was such an affordable item!
​Hunker:​ Do you have any design-related pet peeves or faux pas that drive you crazy?­­­
JF: I have to admit, I'm not too big a fan of a cushion with a severe 'karate chop.' Sometimes people can go a bit overboard with a big slice in the center of the cushion, sacrificing the design and pattern of the textile. I prefer a more 'relaxed' look. When I'm styling I like to give the cushions a bit of a push to relax the filling, making it feel more lived in [rather] than too staged.
​Hunker:​ Where do you go for design inspiration?
JF: I'm an Instagram addict, I can spend hours scrolling through design accounts. Beyond that and the other obvious outlets — [like] Pinterest [and] magazines — my biggest inspiration is probably film and television. I'm a huge fan of film, from all eras. They give so much context for interiors, fashion, and style in a specific period of time. Some of my favorite films that I keep revisiting are ​Funny Face​, ​Blade Runner​, ​Barry Lyndon​, ​In the Mood for Love​, and ​The Fall​.
​Hunker:​ Since we have all been staying at home more than ever over the last year, have you started/rediscovered any hobbies or pastimes?
JF: As my side gig, I cook and style for Italian/Australian food writer Silvia Colloca. I've worked with her on five books and four shows so lockdown was a great time to revisit so many of her recipes I hadn't cooked in a while. We spent a lot of time in isolation out of the city at my farm so it was the perfect backdrop to get into the kitchen and make some fresh pasta.
​Hunker:​ What book is on your nightstand and/or coffee table right now? What show are you binge-watching right now?
​Catch Season 3 of Jono Fleming and Kerrie-Ann Jones' podcast "House of Style" available for download now on all major podcast platforms.​