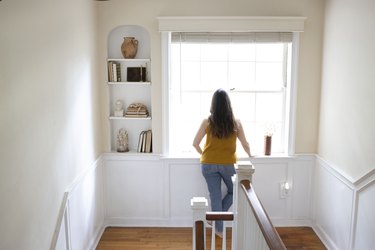 With the impact of recent world events, I've found myself interested in how people are using their homes since our lives have literally become more inward-facing as opposed to outward.
​Being Home​ is a series that focuses on spaces in people's homes that genuinely reflect who they are — a dedicated spot where they go to recharge or to "tune in" — where they feel their most creative, safe, joyful, or true. Where they settle into the act of "be-ing."
This is not about what looks perfect … it's what ​feels​ authentic. To quote Oprah Winfrey, "I think that when you invite people to your home, you invite them to yourself." So, let's get to the heart of the matter.
​Hunker:​ Where is that space, or spot, in your home that is uniquely your own … where you feel your most ​you​? And what do you do there?
​Trisha Sprouse:​ The spot where I feel most calm and at peace in my home is the bay window on my second story landing. It looks out onto our almost century-old oak trees that are dripping in Spanish moss, and the small citrus grove just beyond that. It's such a quintessentially Southern scene, and just beckons the mind to wander back in time and wonder about the history of those who lived here before us.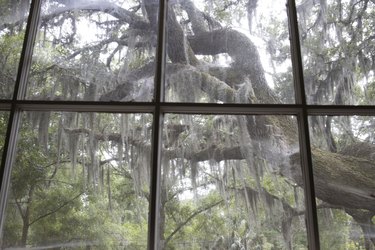 My favorite thing to do is just sit on the ledge and watch the wind blow through the trees. If it's raining, even better. I'm not well-versed in any formal methods of meditation, but I definitely find this space to be a meditative spot, where I can just detach for a while and find a bit of stillness (not an easy feat for this mom of twins!)
​Hunker:​ Why does this particular space have meaning for you?
​TS:​ After living in Los Angeles for nearly 20 years, my husband and I decided to relocate to Florida to be closer to family. Leaving the city where we met, got married, had kids, made amazing friends, and had jobs we loved was one of the most difficult decisions we've ever had to make. So, wherever we moved had to make it worth giving all that up. The house we live in now is a 1941 Colonial-style home, with many charming original features, but the towering oak trees covered in moss are what really sold me on it. They just really speak to the romantic in me, I guess. So, whenever I'm having a serious case of FOMO from my LA life, having a large picture window overlooking the old oaks makes me appreciate where we live and reminds me that family — and health — truly is everything.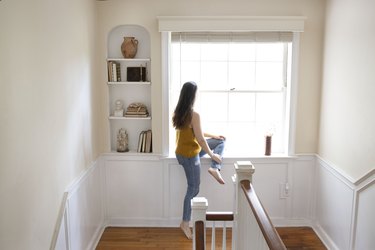 ​Hunker:​ What is something you like to do in the space that might surprise people?
​TS:​ I'm constantly re-opening the blinds that my husband is constantly closing behind me. Ha ha! I guess he hasn't gotten the city living mindset out of his system yet because he's still concerned with privacy. But with views like this, there's no way I'm covering them up with blinds!
Also, I like to read … out loud … sometimes in a British accent. Embarrassing, but true.
​Hunker:​ What do you like to surround yourself with in this space? And why is it important?
​TS:​ There is a small arched built-in right next to the window that I like to style with my favorite things. I often swap out items or flowers each season, and also add festive pieces for the holidays. In my work as a DIY content producer, I'm constantly making something, so I like to layer in and update the shelves with things I've made (​hello, #shelfie!​). It keeps the creative juices flowing to have things in this space and around the house that I've made with my hands.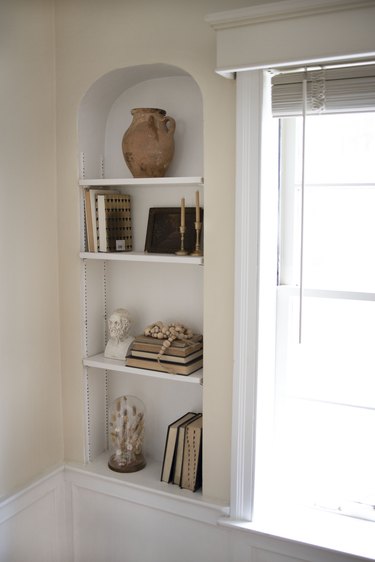 ​Hunker:​ What are three things in your home that hold the most value to you? ​(Excluding people or creatures, because of course!)​
​TS:​ My vintage crystal salt cellar that was my grandmother's. My old family photo albums. Salt dough ornaments of my kids' 1-year-old handprints.
​Hunker:​ Finish this sentence, "Home is where …"
​TS:​ "… you feel loved and welcome."