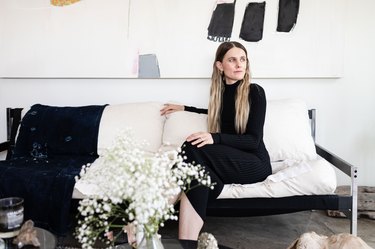 Who: Sacha Strebe
Where: Silver Lake, California
Style: Modern, vintage, moody mix with a relaxed vibe
LA-based Editorial Director Sacha Strebe has that ineffable cool girl aesthetic that is not easily replicated. Her personal style feels effortless, so it's not surprising that her home has that same chic-yet-laid back quality. The Silver Lake apartment features an assortment of artful objects, books, and records that make you wonder, "Where did she find this? How did she think to put it there?" Her unique sensibility was cultivated and inspired by her time writing home tours for MyDomaine with big names like Nate Berkus and Jeremiah Brent, and designers Anine Bing and Kelly Wearstler. "I feel like all of those homes helped to evolve my design style into a more informed, considered, and educated aesthetic," she says.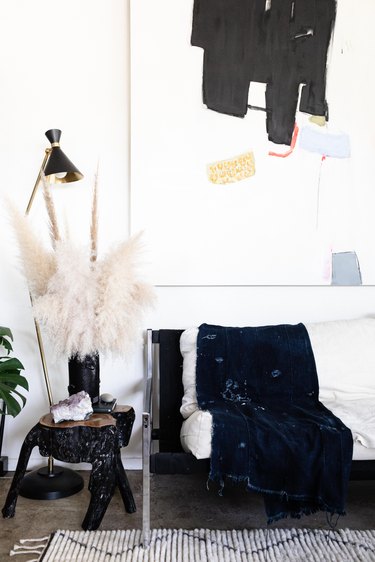 When she and her husband first moved into their apartment, it was completely bare. "It had no character but a lot of potential," Strebe says. "There aren't any remarkable architectural details — it has a low '80s style spitball ceiling — so we had to work within the space and find a way to bring in some warmth, character, and style." They filled the space with vintage finds from monthly trips to the Rose Bowl, she says, "the idea being that each item I purchase is something that tells a story, is made with quality materials to stand the test of time, and a classic design that will last." Working within the confines of a smaller space forces her to be thoughtful about what goes inside.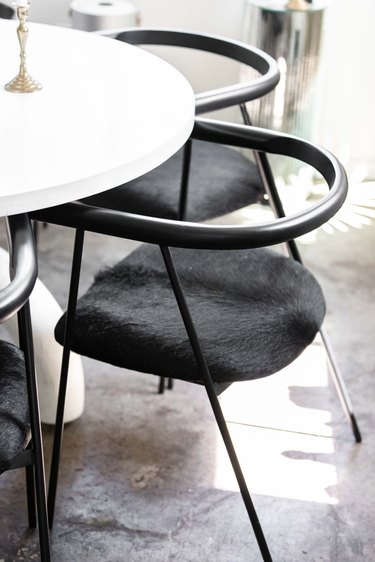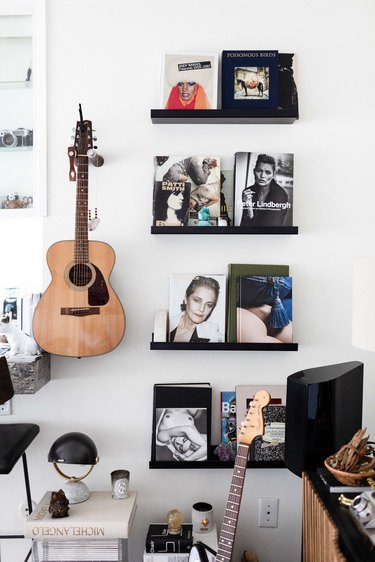 Strebe and her husband collaborated on the entire design process. "This was our first time co-designing a space, so we wanted to create a space that was warm and cozy yet elevated and cool, but also felt true to us and told a story," she says. They worked with interior designer Tali Roth to bring their vision to life. "She wanted to fuse our vintage and antique decor with modern pieces to create a space that was uniquely us," Strebe shares. "We loved the experience [so] we're now working on our bedroom together." Their most cherished piece is a large scale abstract painting in their living room. "It's by Holly Addi and it was commissioned especially for our living room. It's such a unique statement and really set the tone of the space, while bringing much-needed cohesion, too."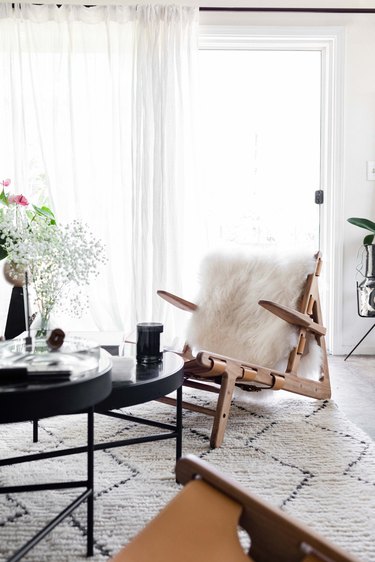 Having spent so much time in the interior design space, Strebe's an expert when it comes to designers and influencers she loves, citing Athena Calderone, Jeremiah Brent, and Colin King. "I love Athena Calderone's style. How she blends both her culinary affection with her design affinity. She has an incredible eye that has really been honed over time so that every single piece she chooses is impeccable design. I also love Jeremiah Brent. He has a real knack for tonal blending — he uses textures to layer similar hues against each other and create visual interest without monotony. It's beautiful. I'm also obsessed with Colin King's Instagram. He has a really moody take on design and his lighting is just enviable."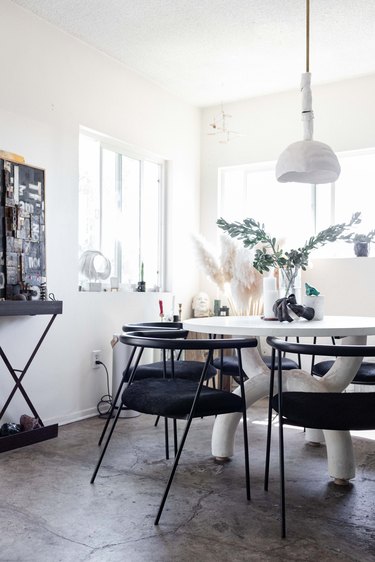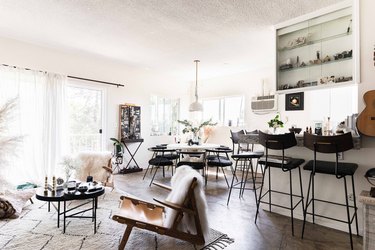 According to Strebe, Jake Alexander is one to watch. "He infuses his British roots into the design with darker paint colors and palettes overall than we typically see in LA. I think it's a welcome change from the very clean and stark Scandinavian look that took over here for so long or the Cali-cool boho vibe that I do love but has been overdone and is in need of a shakeup. Jake is really spearheading that."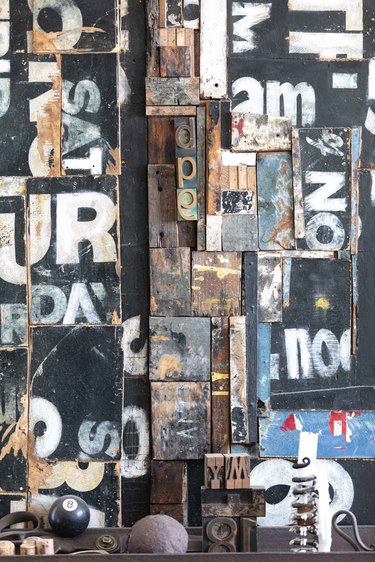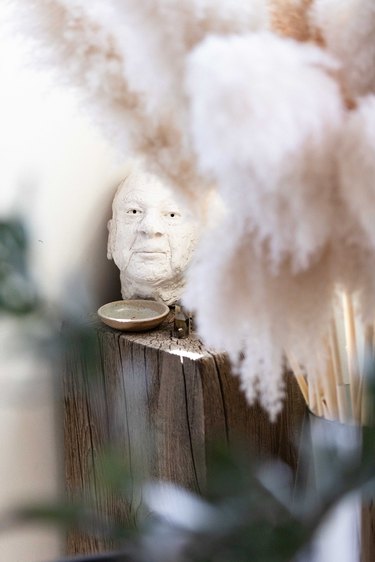 Since writing about interior design, Strebe's transitioned into a new role as the Editorial Director for Create & Cultivate, an online platform and conference series that empowers women in life and business. "I am really enjoying the shift and being able to shape the content at C&C through a media lens," she says. "We cover such a broad range of content categories and are looking to expand into decor, parenting, and other lifestyle topics under the overarching umbrella of career and entrepreneurship. There is so much potential with the C&C brand and I'm excited to see where we can take it." In addition to managing all things editorial for C&C, she publishes a design newsletter called Stylexicon, focusing on design news, home tours, and features on her favorite interior designers.
While establishing herself within LA's design community as both a writer and tastemaker, Strebe's realized the community itself is quite small. "LA might have a large population but the creative community, once you're in it, is actually quite small, so everyone knows each other and pays it forward, supporting the next one coming up underneath them." She credits that sense of camaraderie to the rising success of local designers. "We have incredible furniture designers here now too like Stephen Kenn and Chris Earl, but also artists and fashion designers," she says. "There is a real creative energy here and people love to collaborate, knowledge share, and support one another."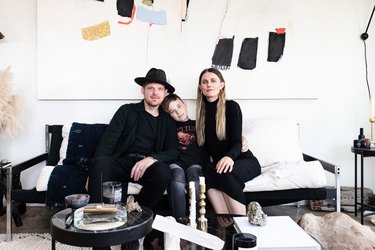 A big theme at Create & Cultivate is self-care, which is often something that busy creatives can easily neglect. For Strebe, finding a balance is crucial. "I have days where it's more work and less play, and others where it's more play and less work. It's not always evenly balanced but the key is not to let the guilt creep in," she says. A big advocate for proper skincare, she enjoys winding down by treating her skin. "My self-care is taking a long Himalayan or Epsom salt bath. I'm also a big skincare enthusiast so I love to do my 12-step routine in the bathroom and really massage my face, get the toxins out, invigorate the skin, and sometimes I'll even gua sha my face, focusing on the lower jaw line and TMJ joint to release tension and stress. It works."
Best furniture: Big Daddy's Antiques, Nickey Kehoe, Galerie Half, the Rose Bowl, Blackman Cruz, and the apparatus showroom Parachute
Best restaurants: Pine and Crane (Dan Dan noodles are a favorite), Botanica ("Insane breakfast")
Best coffee: Roo, La Colombe
Best wine: Silverlake Wines ("Every bottle is delicious.")
Best juice: Moon Juice ("The silver strawberry smoothie is bomb!")