Who: Chris and Amber Earl
Where: North Hollywood, Los Angeles, CA
Style: Modern craftsmanship meets family-friendly
Furniture designer Chris Earl and his wife Amber certainly had their work cut out for them when they moved into Chris' grandparents' 1940s home in North Hollywood. Transforming the home his father grew up in required some serious renovations in order to achieve their vision of an inviting, communal space for friends and family. The state it was in left much to be desired, but their shared appetite for design and entrepreneurial spirit buoyed them through the initial structural growing pains. They completely gutted the interior and started over, from knocking down walls to re-doing the floors, while still retaining some of the midcentury charm of the original structure. The result is a home that reflects their elevated design sensibilities, while still paying homage to family tradition through classic, timeless pieces and original elements throughout.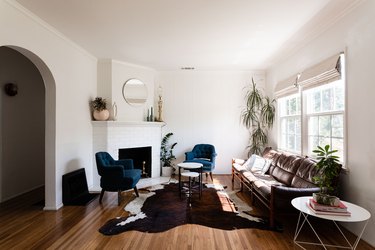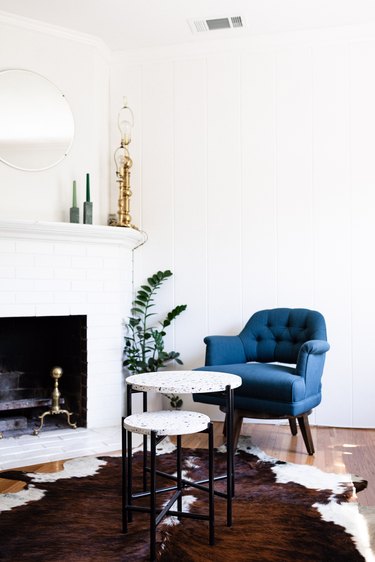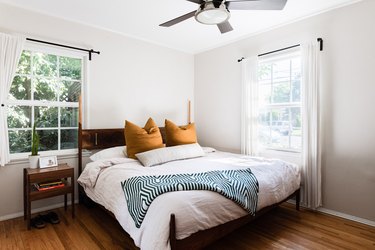 Not only does the home function as a regular gathering place for friends and family to host dinner parties and events, it's also the home base for Chris' furniture, ceramics, and home goods business, complete with a wood shop and ceramics studio in the backyard. The multipurpose space was a true collaboration between Chris and Amber, who manages the business side of things. While the products are Chris' designs, he credits Amber with growing the business and making sure it's running smoothly. The operation also includes Daniel, the shop assistant, and local production support that they pull in for larger scale projects and manufacturing. Amber truly is a magnetic force; with their third child on the way and their two young daughters running around the house, she takes us from room to room, excitedly detailing her plans for their next round of future renovations in order to create an additional bedroom and maximize their space. Her capacity for reimagining spaces and figuring out what it takes to pull it off is truly exhilarating.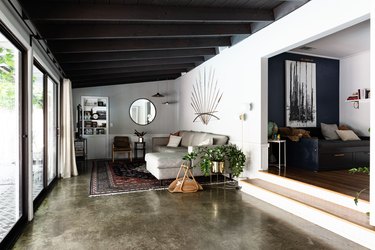 As a craftsman, Chris' approach to furnishing the space was similarly thoughtful. "I tend to be very particular, so if it was left solely up to me, we would still be living in an unfurnished place just waiting to find the exact right pieces," he says. "Luckily, Amber is much more pragmatic and has made sure that we have all we need to invite others in and make them feel at home." While a lot of their furniture was built by hand, they love Midcentury LA for Scandinavian furniture as well as 1st Dibs for unique treasures. While they share a vision, their tastes differ: Amber tends to prefer a slightly more colorful, warm, and eclectic aesthetic while Chris gravitates toward the more neutrally toned, clean-lined, and minimal. Yet, they both agree: their most cherished piece is their Arne Norell sofa in their living room.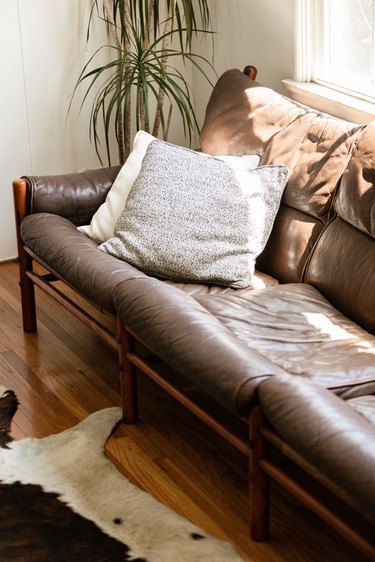 The Earls' home goods business focuses on nearly every touchpoint of home life, from decor and hosting to dining and furniture. Many of the pieces were informed by their family life, others out of sheer necessity. "There's something special that happens when people gather together around a table for a meal or sit down face to face to chat," Chris shares. "Furniture helps foster gathering; and when people come together, great things can happen. As an example of creating out of necessity: A few years ago we were hosting a Friendsgiving dinner and I had to scramble to build a table that could fit us all. I was able to finish it up the morning of the dinner and it's still our backyard table to this day," he said.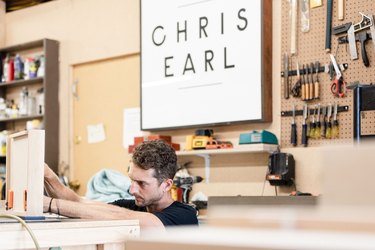 Chris' work is a hybrid of Scandinavian simplicity made with natural materials, with unique embellishments like metal accents and glass. The style was informed largely by his upbringing, which favored both aesthetics and utility. He says, "I think my individual perspective is generally informed by my Danish ancestry and from having grown up in Papua New Guinea. It must somehow be in the blood, because I have always been drawn to the clear perspective of Scandinavian design. Yet, I grew up in Papua New Guinea, a place where you have what you can make. There, you had to be creative in utilizing the materials at hand to build or repair what you needed."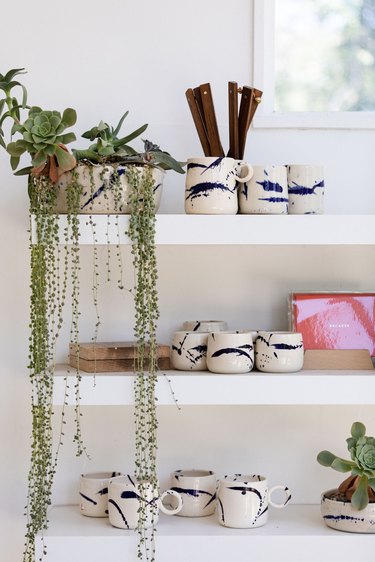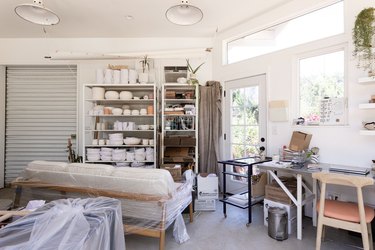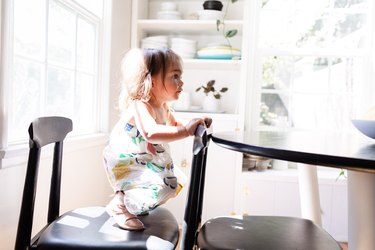 A big highlight of their property is their sprawling backyard, which includes a large pool, ceramics studio and wood shop, along with different communal and lounge areas to host gatherings. "We feel super lucky to have so much outdoor space," Chris says. "So, we have sought to use every inch we can." Their outdoor space continues to be a work-in-progress. "We're currently working on an area in the back where we're doing a terraced garden and letting some chickens roam," says Amber. "Chris is also breaking ground on building another structure back there to function as a guest room casita, along with a storage area for our furniture production."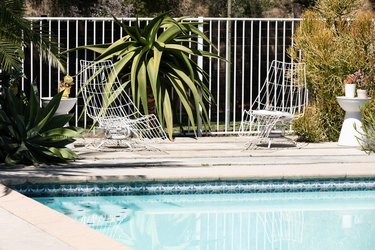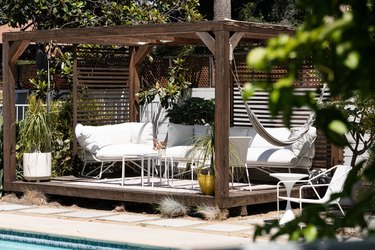 Aside from the business, the Earls have something of a reputation among their friends and peers in creative circles as world-class hosts. From like-minded entrepreneurs, brands and influencers to close friends and family, anyone who has been to a dinner party at the Earls knows just how dedicated they are to creating community through food. Amber says, "We believe communing over food is at the very root of so much that informs our relationships and culture." Even in a city like Los Angeles, where committing to anything is largely dependent on traffic, an Earl dinner party is one not to be missed. "It becomes a little easier to brave LA traffic when people know they are coming to an open-armed environment that will be filled with love, nourishment, and camaraderie," Amber says. Their goal is to make anyone who walks through their space feel welcome. "I think the most important thing is simply to make sure people feel welcomed, at ease, and are fed delicious food. We see every person that comes over as a potential new friend, and [we] are always excited to learn something from them."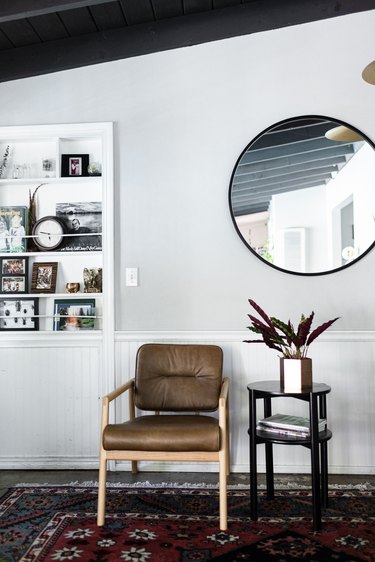 One of the most exciting aspects of their home is also their most secret: a speakeasy located behind a bookshelf, originally built by Chris' grandfather as an art studio for his grandmother. The space itself only fits a few people at a time and the dark interiors add to the mood and playfulness of the space. It was Amber's brother who had the idea to make it into a speakeasy. Not surprisingly, it didn't take long for the couple to bring the idea to life. Says Amber, "Chris converted the door to a bookshelf and we built out the interior the very next weekend!"
---
Nada Alic is a writer and editor living in Los Angeles.