Who: Clay Nutting, co-founder of Canon Where: East Sacramento, CA Style: Natural materials meets contemporary design
Located off the beaten path in East Sacramento, Canon is one of those rare restaurants that feels like a true hidden gem. A number of industry insiders warned Canon's co-founders, Clay Nutting and Brad Cecchi, that the location — a historic neighborhood a few blocks from midtown's bustling business district — was less than ideal, but the slightly secluded spot was exactly what they were looking for. "We always saw Canon as a destination restaurant, not just for Sacramento, but for California, and the fact that it's a bit hidden, even to the locals, adds to that vibe," Nutting tells Hunker.
Fast-forward two years and Canon boasts one of the most sought-after reservations in the state, thanks in part to earning a coveted spot on the Michelin Guide's inaugural Bib Gourmand list for California. In anticipation of the award-winning restaurant's two-year anniversary, Nutting and Cecchi turned to the design team at Colossus Mfg. to enhance Canon's overall look. "The food and beverage is so interesting, exciting, and creative, and we wanted there to be flourishes of that more vibrant vibe represented throughout the restaurant," explains Nutting of the vision for the redesign.
After six months of renovations, Canon has finally reopened its doors, so to speak — and it was well worth the wait. Scroll on to step inside.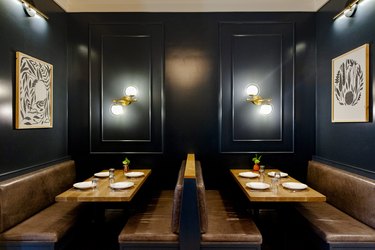 Canon's inviting interior masterfully juxtaposes elements of classic and contemporary design. "We wanted the restaurant to feel warm and welcoming, so there are a lot of natural materials like wood and leather, but some contemporary flourishes such as hand-crafted lighting from Studio Palanquin," says Nutting.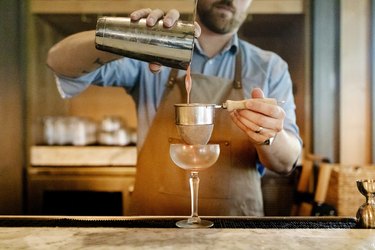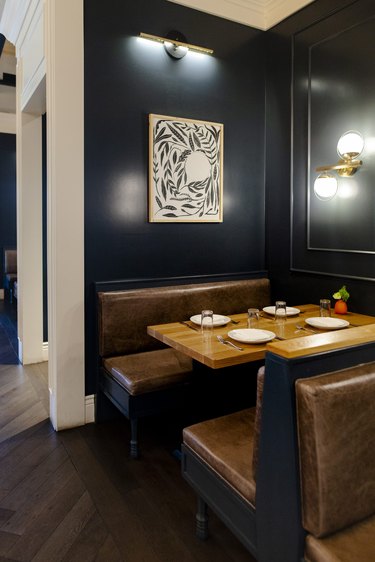 Though the space boasts a relatively neutral color palette, "lately, we have been adding more surprising touches of color through flowers, artwork, and other objects to better accentuate Canon's vibrant culinary experience," notes Nutting.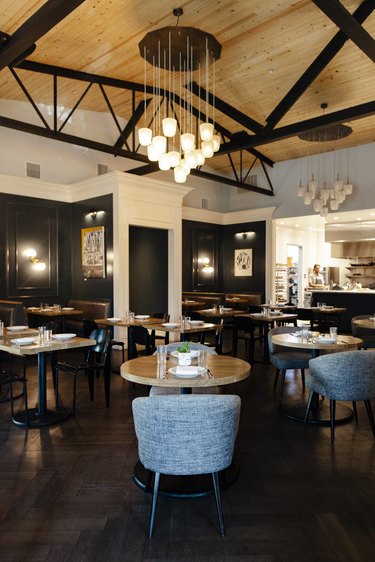 In the dining room, dark hardwood floors balance out light wood-paneled ceilings and ground the space. Statement-making chandeliers draw the eye up and accentuate the space's dramatic vaulted ceilings.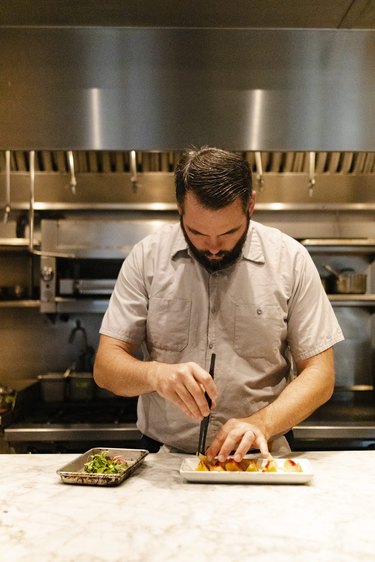 "I believe a space must embody what we love and stand for as business owners," explains Nutting. "That means the food must represent Brad's passion for creativity, details, and execution, and for me the guest experiences genuine, warm, hospitality, in a beautifully designed space. That is what we stand for as people, as business owners, and we hope the guest feels that every visit."
The restaurant's newly revamped private dining room seats twelve, making it ideal for gatherings ranging from celebrating a special occasion with family to hosting a formal business meeting over a Michelin-caliber menu.
While the restaurant's interior was revamped during the renovation, the patio was completely transformed. "Prior to the renovation, our patio was pretty sparse, with outdoor tables and chairs spread out over 1,100 square feet," explains Nutting. "It was perfectly fine, but because the patio is the first thing you see upon walking up to the restaurant, we were really missing an opportunity to make a statement."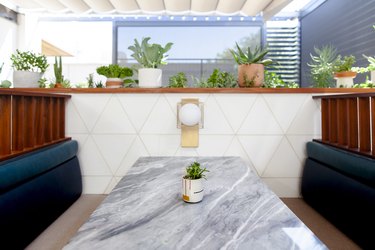 The new patio was designed with three distinct dining experiences in mind, explains Nutting. "In one section, we added a large, deep-seated bench set right in front of a long, custom-built fireplace and banquet seating to create a more casual dining area," says the co-founder.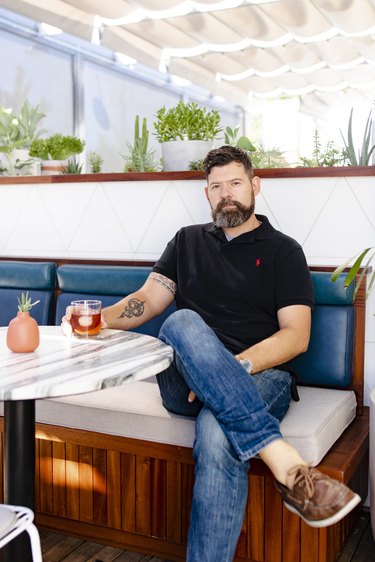 "A large tiled planter creates some separation between the next space, which has more of a formal dining feel," says Nutting, pictured above sitting at one of the more formal patio dining tables. "It includes three large booths and a row of two-top tables."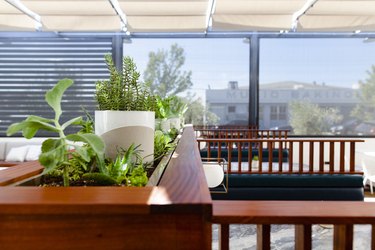 "Finally, we created a space that can be utilized for large parties, with a 24-foot curtain that can be drawn for a sense of privacy," he explains. "We are really excited about how it came out and offering a new, year-round outdoor dining option to diners."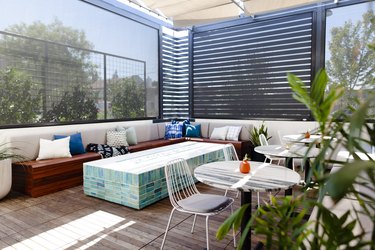 When asked about his favorite section of the patio, Nutting doesn't hesitate. "I really love the bench area by the fire pit," he confesses. "I think it will be a great spot to have a drink and unwind. It is the most casual space on the patio, but it has a great vibe." Honestly, we couldn't agree more.