For starters, it's best to avoid hues and prints that clash with one another, or sampling decorative accents from different eras — combining elements from Bauhaus with art deco and retro pieces from the '80s probably won't look all that great. Instead, begin by establishing a dynamic color palette and introduce textures and metal finishes that will complement the varied hues. Creating a lush yet comfortable space, that's functional and eye-catching, is the delicate balance that you want to strike.
1. Make pillows work harder.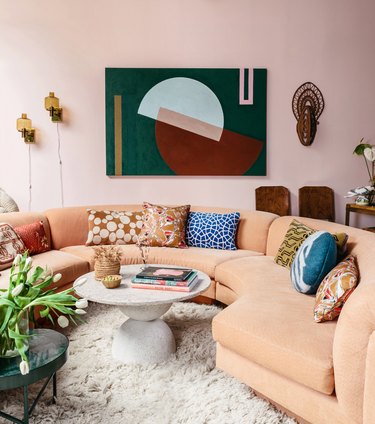 Transforming your living room with maximalism in mind can be as simple as pairing a sofa with a mix of patterned throw pillows. Naturally, painted walls will further the cause — as seen in Hollister and Porter Hovey's Brooklyn loft, spotted on A Cup of Jo — but if you're on a tight budget, there is a workaround. Purchase a set of pillows, or fresh covers if you have the fillers, and stick to a palette of around three hues to keep things cohesive. Layer them on the sofa and neighboring armchairs for a vivid textural addition.
Hollywood Regency and maximalism are mutually inclusive and if we've learned anything from this spot designed by Jenasie of Ms. Vicious Design, it's that the duo offers a modern and refreshing twist on the aesthetic. While there isn't an over-the-top use of color in this living room, the contrasting metallic finishes of the mirrors and wall art lend a major dose of glamour that complements the lush textiles and layered throws.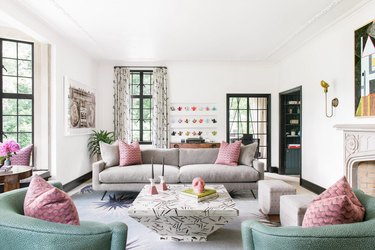 All-white spaces are few and far between when it comes to maximalism, but the best way to offset a neutral backdrop is by filling the space with a diverse range of patterns, just like designer Cortney Bishop did in this living room. When it comes to infusing your home with colorful prints, go beyond the usual suspects (like pillows and sofas), and opt for a graphic coffee table or a couple of ottomans. Matching window treatments are a major plus, too.
4. Mix styles with intention.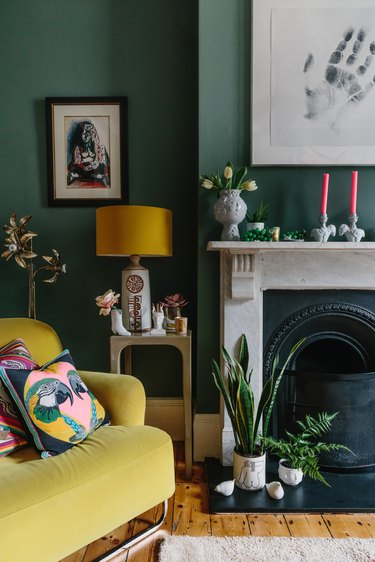 It's a widely accepted fact that color is a foolproof way to make a statement, and in a maximalist living room, it's more or less a requirement. Zoe Anderson's London home pulls motifs from the Victorian era and combines them with an array of contemporary and midcentury modern elements, resulting in a dynamic scheme that looks as if it's been collected over time. Whimsical accents, organized by color family and potted greens, up the diverse tonal characteristics of the room.
6. Be generous with texture.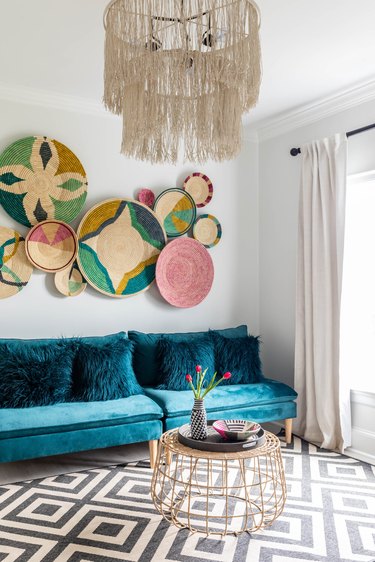 While the amount of furniture and decorative accents are comparatively modest in this color-charged seating area designed by House of Nomad, the presence of assorted textures transforms it into a truly maximalist living room. Decorative wall baskets make for a creative alternative to framed prints or canvas art, while infusing the space with a worldly and eye-catching element.
Hardwood floors are great and all but blue resin flooring, like the one in this Roman apartment, makes for a grounding effect that elevates the space. A set of luxe vintage armchairs upholstered in bright yellow and pink, a lilac rug, and surrounding greens complement the base, while illustrated Pierre Frey curtains tie the maximalist living room together with a cheeky twist.