The interiors of many New Orleans inns and restaurants have long flaunted a sultry, bohemian vibe with jewel-toned fabrics, arched windows, and high ceilings. Add to the list Maison de la Luz, a 67-room guest house tucked into the city's Warehouse District quarter since last spring — but with a bit of Parisian flair.
Within the shell of a 1908 building, Atelier Ace's Chief Brand Officer Kelly Sawdon and Pamela Shamshiri of Studio Shamshiri (in Los Angeles) birthed a look that we totally want to steal. From edgy, sculptural snake handles on the guest rooms' shower doors to blood-red walls in the downstairs Bar Marilou, check out the thoughtful sourcing its designers employed, along with our hacks on how to pull off the look. Nearly everything was custom-made just for the hotel. "We dreamed up a woman of the world who has travelled and immersed herself in numerous cultures, collecting pieces which help define her vision along the way," Shamshiri tells Hunker. "Upon return from her travels, she opens up her guest house, a space filled with precious personal findings."
From paint colors to furnishings, along with original art, here's how to get the look at home.
Lobby Chairs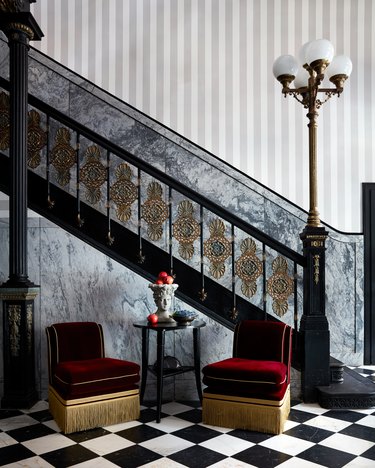 Velvet side chairs decked out with gold fringe make the ultimate luxurious statement in Maison de la Luz's lobby. Finding a store-bought chair with this particular combo will be tough. Either look to channel the deep red velvet, or go all-in on a fringed piece.
Lobby Artwork
Nautical artwork with knotted porcelain snakes are by Clare Crespo, a New Orleans artist, and unique to the hotel, but there are plenty of similar vintage and artisan-made pieces on Etsy.
Guest Room Artwork
Drawing upon themes of mortality and rebirth for original pieces (by local artists) in the guest rooms, Sawdon and Shamshiri chose a work by allegorical painter Rebecca Rebouché, also a designer for Anthropologie. (Here's a curtain design of hers, sold through Anthropologie.) It's on the far right of the trio photographed in this guest room. Rebouché's "Bad Blood" painting from her "1989" collection, with its swan and topiary-like tree, is nearly the same.
Guest Room Lighting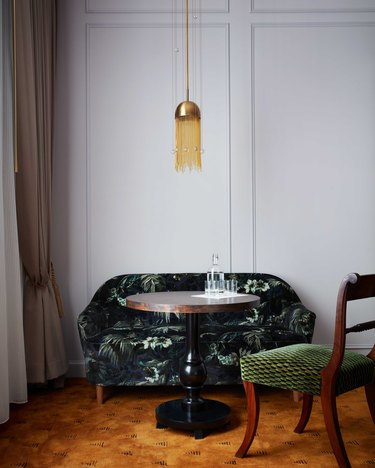 Seating areas in the guest rooms are Insta-worthy with pendant lighting reminiscent of a tassel necklace. When light hits the tassels, it bounces, creating a sparkly vibe.
Lounge Rug
Proving animal prints always — pardon the pun — come roaring back, the lounge's whimsical take on a tiger face evokes a bit of whimsy.
Lounge Banquettes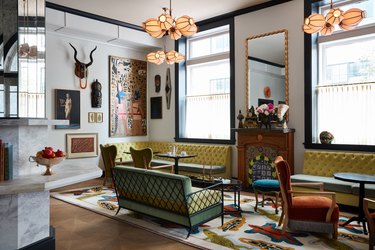 This living-room-like lounge — for hotel guests only — features walls adorned with Egyptian art and vintage masks. Those snake sculptures on the fireplace, by Jackie Rines, bring whimsy to the space. Buttery-yellow plush tufted-back banquettes keep the space from going too dark.
Lounge Lighting
The quirky "mushroom" table lamp on a sideboard is a nod to the '70s and the Atomic Age but crafted with high-end materials and resulting in smooth lines. It's by Matthias Vriens-McGrath of Atelier MVM (check out his ceramic mushroom lamps here).
Lounge Chairs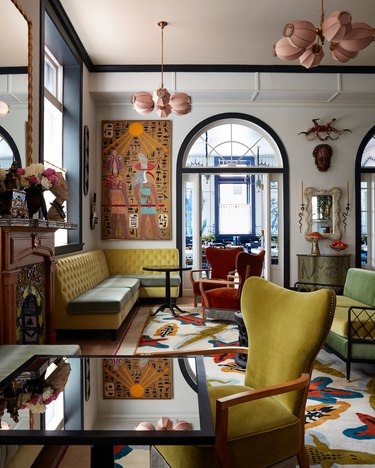 While a lounge is built for relaxing and dialing it down, statement-piece seating that's still comfortable is also key.
Guest Bath Shower Handle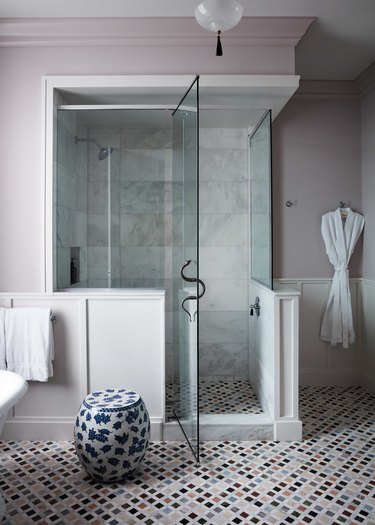 Rarely do you see door handles or drawer pulls — especially like these hammered-silver twisty snake handles for the shower door — woven into bath decor like this. Etsy shops carry near lookalikes.
Bar Walls, Built-ins, and Ceiling
Blood-red paint with a lacquer top coat makes Bar Marilou's built-ins at this former law library even more dramatic, especially when paired with wall-to-wall carpeting that's a duo-tone blend of animal print and an Aztec-inspired pattern.