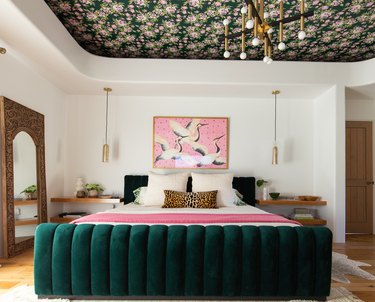 For some, more is more. And for those folks, maximalism, with its fearless combination of color, abundance of pattern, and infusion of texture is a match made in design heaven. On the heels of popular pared-down styles like Scandi and minimalism that emphasize muted palettes, functional furniture, and clean lines, this eclectic approach might feel a bit surprising.
Perhaps as a reaction to the "only what you need" ethos of more simplistic styles, designers are embracing maximalism's bright hues, unexpected combinations, and prolific yet curated collections that allow for freedom of expression and personality. And what better place to express yourself than in the most personal space in a home: the bedroom.
1. When in doubt, leopard it out.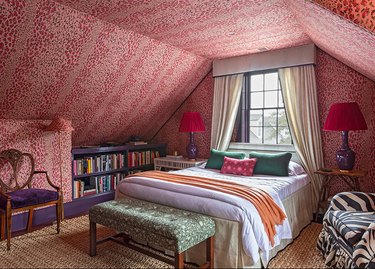 Animal print accents are embraced in many interior design styles — they add texture and pattern while introducing a bit of glam and edge. But successfully blanketing a bedroom in red leopard wallpaper and high-contrast regal purple trim takes guts and could only be the work of a skilled designer like Angie Hranowsky. She gilds the maximalist lily with a zebra-print chair, punchy accessories, and an unexpected classic floral bench.
2. Choose oversize patterns.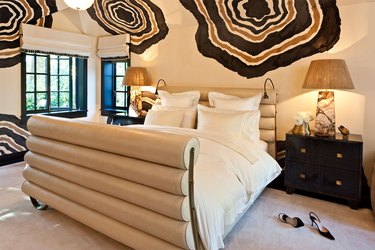 Are you intrigued by the idea of a maximalist bedroom, but overwhelmed by all the color? Go ahead and create one using neutrals like this beaut by Kelly Wearstler, a maximalist pioneer, who designed a tonal refuge with one-of-a-kind sculptural furniture, plenty of texture, and a repeating, oversize geode-inspired wall treatment that adds dimension and a fantasy quality to the space.
3. Opt for jewel tones.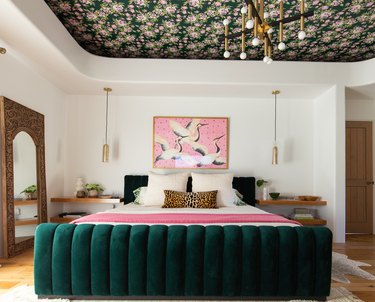 If you love rich jewel tones, a maximalist bedroom is the ultimate space to let them shine. White walls and wide plank wood floors provide a blank canvas that allows the channel-tufted emerald bed, vibrant fuchsia throw, and floral ceiling to take center stage in this room designed by Bari J Designs. Gold light fixtures enhance the elevated vibe.
4. Go for high-contrast.
Some find bold colors, especially cherry red, too stimulating to use in a boudoir, but a maximalist bedroom like this one makes a pretty compelling case to reconsider. After all, red is the color of passion and according to the principles of feng shui brings luck. So, go ahead and daringly combine paisley print wallpaper, cobalt blue trim, and a handful of floral accessories for a look that's uniquely you.
5. Choose a focal point.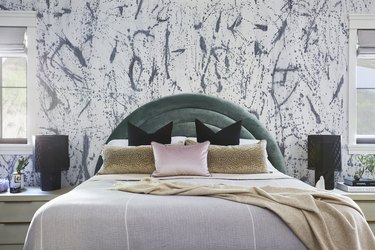 Anchor a maximalist bedroom with an eye-catching piece like this curved green velvet headboard and then build around it. Black Lacquer Design created a maximalist refuge that manages to be simultaneously soothing, yet still retain lots of character, thanks to an abstract patterned wallpaper and deer spot throw pillows paired with a cool, muted color palette.
6. Embrace pattern.
7. Consider a desert palette.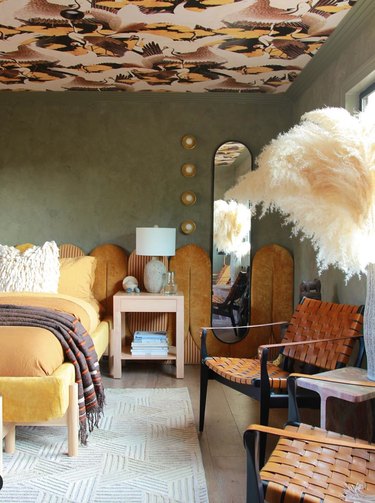 Earth tones are well-loved for the warmth and approachability they impart, but when they're used in conjunction with striking wallpaper, a custom headboard, and glam accessories with lots of texture, they can infuse a maximalist bedroom with personality and style. We love this bespoke design by Homme Boys that is equal parts sophisticated, fun, and flirty.