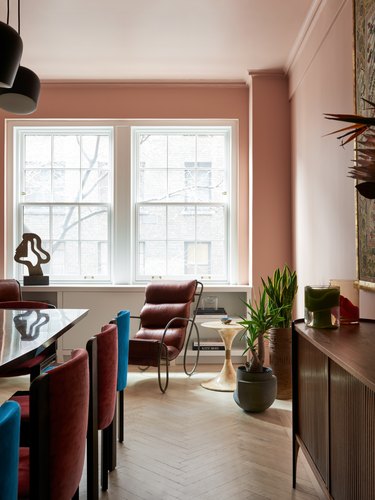 Few apartments in New York City are as coveted as ones in prewar buildings, where crown moldings, parquet flooring, and spacious living areas reign supreme. For a young family living in a classic Park Avenue building, the goal was to create a totally modern look, but one that didn't completely erase the property's heritage.
In came NYC-based architectural firm Michael K. Chen Architecture to rework the entire layout. Each room is now fully functional, and many spaces overlap, creating a more comfortable environment for the family. The firm connected rooms in places like the living room, which is separated from the dining room by a sleek glass partition, to create an even greater sense of grandeur and openness.
After the layout was finalized, the rest was all about playful details and textures, with funky light fixtures, courageous colors, and metallic finishes.