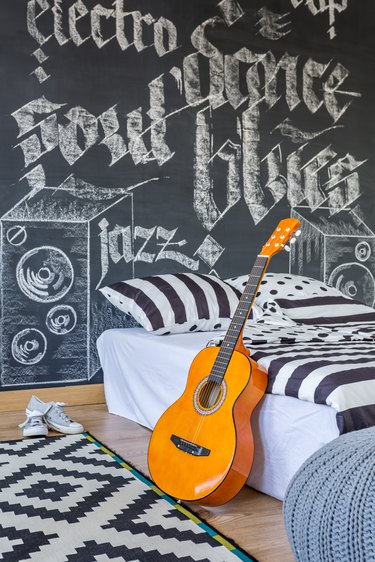 Why make your own chalkboard paint when you can buy it? Because it's a fun project to do, especially with kids. Besides, many stores only sell chalkboard paint in black and green — and while some manufacturers produce a tintable chalkboard paint, you can't always get a full range of colors. Make it at home and you can have any shade you want.
Below we offer two different recipes. Both contain only two ingredients. In each case, one of the ingredients is white, causing the color of the paint to lighten slightly. Neither one keeps for long, so paint them onto the desired surface soon after mixing.
Recipe #1
For this recipe, you'll find your ingredients at a home improvement store.
Things You'll Need
1 cup of latex paint, flat finish, any shade

2 tablespoons of unsanded grout (available wherever tile is sold)


Container for mixing


Paint stirrer
Combine the ingredients.

Pour the paint into the container and add the unsanded grout

Mix with the paint stirrer until smooth.

Recipe #2
Shop for the ingredients for this recipe at a craft or art supply store. This recipe calls for plaster of Paris, which dries out quickly, so make small batches as needed and paint it onto your surface without delay.
Things You'll Need
2 tablespoons plaster of Paris


1 tablespoon of water


3 tablespoons of acrylic or latex paint, flat finish


Container for mixing


Paint stirrer

Combine first two ingredients.

Put the plaster of Paris and the water together in the container and mix them to a smooth consistency.
Add the paint to the mixture. Stir until completely mixed.
Applying the Chalkboard Paint
Using a roller or a foam paintbrush and working in small sections, apply one to three light coats of chalkboard paint to a primed or painted surface, allowing the paint to dry for a few hours between coats.
For Recipe #1 only, let the paint dry completely, then sand it gently with 150-grit sandpaper. Wipe off any dust.
Conditioning the Chalkboard
You absolutely must condition any chalkboard to write or draw on it. If you don't, you'll experience one of two thing:. it will either seem like the chalk is sliding on a waxy surface without leaving behind a trail, or the chalk will write but it won't erase properly, leaving behind a permanent after-image.
Conditioning is super simple. Just rub the side—not the point—of a large piece of chalk over the entire surface, then gently wipe off all the chalk with a damp rag.