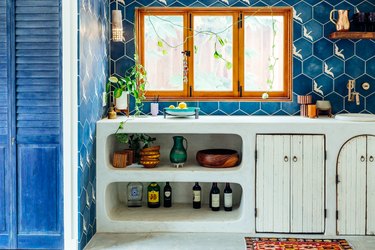 When everyone spends a lot more time at home, we have to get creative with space. That means guest rooms transform into home offices, and dining rooms become homeschooling headquarters. What's next for your garage, though? How about making happy hour even better with a converted carport that maximizes space and looks good to boot? These garage bar ideas will help you get just that.
1. Convert a garage into a hangout zone.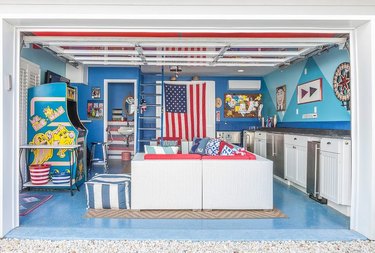 This garage goes beyond a bar — it's a full-on fantasyland escape for anyone young at heart. Mimi and Hill designed this ultimate hangout zone with a kitchenette, bathroom, and vintage arcade games. What more could you need? Perhaps just some carbonated beverages on tap and wine in the fridge.
2. Go for glass doors to enhance the indoor/outdoor atmosphere.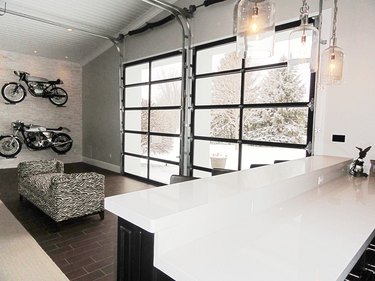 Think all carports are cramped and dark? Think again. This design by LCN Interiors is anything but thanks to large glass garage doors that let in heaps of light. The industrial bar space still feels practical especially with the motorcycle wall storage, but it's spacious and inviting enough to host all kinds of gatherings.
3. Get creative with colors, shapes, and materials.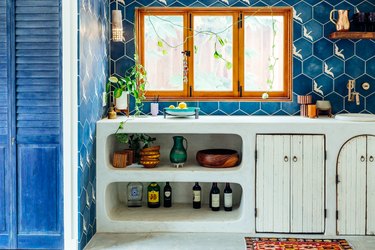 If there's anyone we'd trust to convert a garage into a functional bar, it's Justina Blakeney of Jungalow. Here, in her own detached carport, she blended the indoors and outdoors with colorful motifs and organic shapes and materials. This kitchenette space is begging for a margarita mixer.
4. Recreate the elements of your favorite bar at home.
One perk of a garage bar? You don't have to travel far for a good time. M House Development designed this fun space in a way that reminds us of our favorite out-and-about bars, from the white subway tile to the industrial barstools and sleek glassware. A hangout like this could be in any cool city escape.
To make your garage bar feel truly decadent, mount a television. In this sleek space, the TV has a prominent location — right behind the bar — so visitors can gather, drink, and watch the game or a good movie. If you go this route, be prepared to host forever.