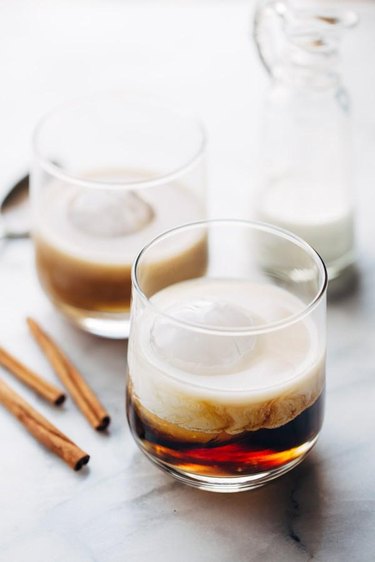 Wondering what drink goes in which glass? We've got the answers. Whether you fancy a frosty German beer or a spot of fine aged brandy, there's a proper vessel for each beverage — and all of 'em should be in your bar's arsenal. This handy guide will help you find the right type of glass for your tipple of choice. So the next time it's your turn to host cocktail hour, you'll be prepared for even the most savvy glassware aficionado (enter Dorit Kemsley from Bravo's The Real Housewives of Beverly Hills.)
Lowball Glass
The lowball, or old-fashioned glass, is a short tumbler used to serve spirits neat or with a few ice cubes, as well as certain cocktails — including the one it gets its name from. It typically holds 6 to 8 ounces of liquid and has a solid base for muddling ingredients (herbs, spices, fruit, etc.). Handmade by glassblowers, this violet-hued Simon Pearce ( $65 ) rocks glass will make savoring the flavor that much sweeter.
Highball Glass
A highball glass is ideal for "tall" cocktails and other mixed drinks that are poured over ice. Think: dark 'n' stormy, mojito, or sea breeze. It's taller than an old-fashioned glass, and slightly shorter and wider than a Tom Collins glass. Check out this dreamy, ombre option from Anthropologie ( $14 ).
Cocktail Glass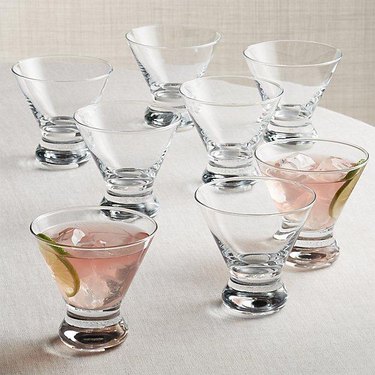 Planning to shake-up martinis or cosmos on the regular? Then your bar cart needs a classic cocktail glass that takes the form of an inverted cone, allowing for the optimal drinking experience. Prone to spilling? Opt for a stemless version like this one from Crate & Barrel ( $24.95 ).
Champagne Flute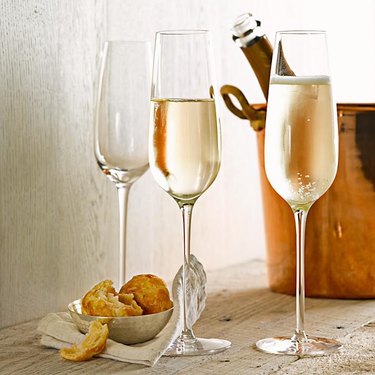 For champagne, a flute is a must. (Ditto for sparkling cocktails like mimosas and bellinis.) The tall, thin shape and narrow opening actually help to keep your libation from going flat too quickly. This elegant stemware from Williams Sonoma ( starting at $24.95 ) is just begging to be a part of your next celebration.
Coupe Glass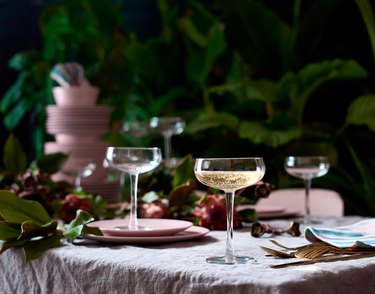 Craving some Gatsby-era glamour? In addition to a flute, you can also use a coupe for champagne. Just keep in mind that it won't preserve the bubbles quite as well. Although it was originally invented as a vessel for sparkling, it's also great for Manhattans and even margaritas. Grab a few of these reasonably priced stunners from Ikea ( $2.99 ).
White Wine Glass
Lovers of crisp sauvignon blancs and buttery chardonnays will want to sip out of a "white" wine glass. This just means that it has a less bulbous bottom and a smaller mouth, so the wine doesn't oxidize too quickly, or go flat if it's a sparkling wine. The long stem and smaller mouth are especially helpful for preventing your fave vino from getting too warm (the culprit in that scenario would be body heat). And we definitely don't want that! Add these handmade glasses from CB2 ( $5.95 ) to your bar entourage.
Red Wine Glass
Those who prefer a smooth pinot noir, bold malbec, or spicy cabernet, should select a wine glass with a larger, rounder bowl. This allows you to swirl the vino around, which in turn helps aerate it (fancy speak for open it up). Try a stemless option like this from Food52 ( $70 for a set of 2 ).
Snifter Glass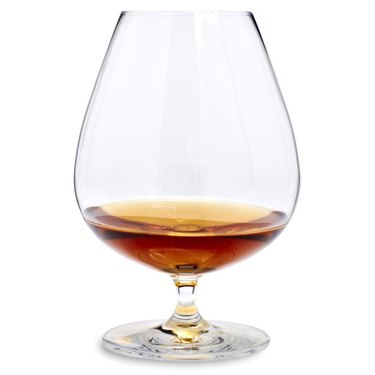 Love brandy, bourbon, and whiskey? Then snifter glasses must be an essential part of your stemware collection. This short-stemmed glass is wide at the bottom and tapers at the top — crafted for enjoying the full aromas and flavors of aged brown spirits. Like this sophisticated glass from Sur La Table ( starting at $15 ) that cups perfectly in your hand, ideal for enjoying a nightcap ... or two.
Pint Glass
Hard-core beer enthusiasts would probably say you need a whole collection of glassware. But for casual brew fans, the pint glass, which hold 16 ounces, is simply perfect. Take this handsome option from Anthropologie ( $16 ), made from soda lime glass. This iridescent drinkware is easy to hold and great to look at, beer goggles and all.