Think dealing with homework and hormones is bad enough? Try decorating a teenage boy's bedroom. Designing a bedroom for a teenager — older than a child, but not quite a full-fledged adult — is all about walking a very thin line between gentlemanly sophistication and childish wonder.
Trust us, it's not impossible: between the theme and furnishings, if you play your cards right, you can end up with a room you both think is cool. Go ahead, use these teenage boy-approved rooms below as inspiration.
1. Sophisticated Sports
Maybe your teenager is obsessed with all things sports. But just because he is a big sports fan doesn't mean you have to cover his room with posters and framed jerseys. Family-owned design firm CC + Mike gave this teenager's room an elevated flair by draping a sports-centric quilt over the bed. The picture of a retro football team on the nightstand completes the athletic theme without making the room appear cheesy.
2. Stark Palette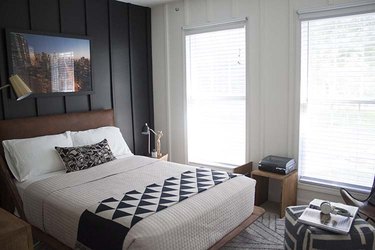 Buh-bye, baby blue. We love the hue as much as the next design enthusiast, but the idea that all boys' bedrooms should be blue (and all girls' spaces should be pink) is so yesterday. Kick this outdated rule to the curb and douse your teenager's space with some moody neutrals. For her One Room Challenge, Jamie of Southern Revivals paired midcentury furniture with a simple color palette of charcoal gray, black, white, and beige. The combination is versatile enough to grow up as he does, while the geometric accessories pack the space with a youthful flair.
3. Practical Pops of Color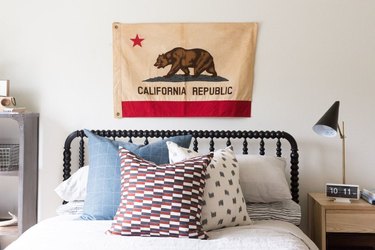 When it comes to decorating a teenage boy's bedroom, there can be such a thing too much color. While bold, over-saturated hues can run the risk of veering into juvenile territory, strategically placed pops can look youthful yet elevated. Take this room by Studio McGee, for example. The red, white, and blue throw pillows strike a balance between subtle and statement — all while complimenting the California Republic flag above the bed frame.
4. Smart Accents
As Hi, Sugarplum's take on a typical teenage boy's room proves, you can make a room feel inspirational and educational without being too on-the-nose. The map art above the bed doesn't feel like it was plucked directly from a classroom, and the chalkboard plays into the color scheme while also being practical.
5. Mixed Media Marvel
Think art-clad gallery walls are too mature for a teenager's bedroom? Take a cue from the Inspired Room and hang up various prints, flags, and, yes, the occasional garland. Not only does this give the typical gallery wall a cheery, personalized flair, but you or your teenager can easily change the layout as he becomes a bonafide adult.
6. Keep It Casual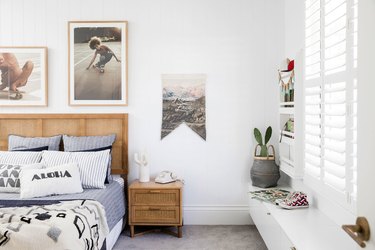 Once upon a time — you know, back when the teenager in question was just a kid — you'd fill the room with furniture that was stain-resistant, spill-friendly, and free of more delicate materials like glass and suede. Now that your boy is growing up, it's time to trade in the kid-friendly furniture for adult-approved alternatives. In this project by Three Birds Renovations, the caned furniture and nightstand look stylish, not stuffy.
7. Add Some Neon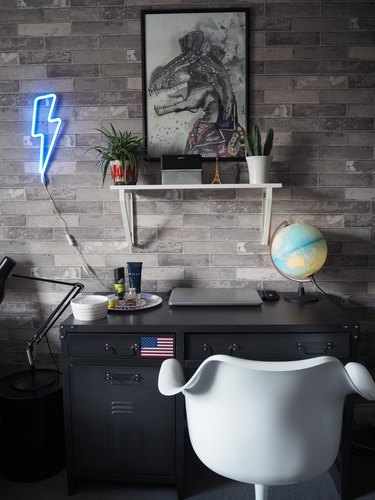 Behind every grand, 'gram-worthy room is an eye-catching "wow" factor, so why should a teenager's room be any different? Instead of making a splash with a flatscreen television or accessorizing the space with the latest gadgets, opt for a neon sign. In this room Lisa Dawson created for her son, the blue lightning bolt light makes a splash against the brick wall and muted color palette.
8. Homework-to-Hangout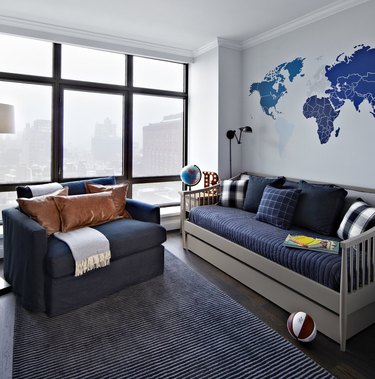 For most teenagers, a bedroom is a lot more than a place to sleep; it's their sanctuary. That's exactly why it's so important to create a space that can transition nicely from hangouts to homework. In this West Village project, design firm Chango & Co. made the most out of this bedroom with a chair-and-a-half pair with a sleeper sofa. Working with a small space? Nesting stools and ottomans with hidden storage will get the job done.