Gone are the days of the dull, rectangular futon frame (we've all owned one at some point) and clunky, pull-out sofa beds that took more time to set up than they were worth, with mattresses that barely competed with your floor in terms of comfort. The convertible sofa options of today will have your visiting guests and family ready for a good night's sleep in minutes. Your sofa bed no longer has to be that one piece of furniture in your home that was purchased out of necessity for its dual function versus enhancing your living space. Some convertible sofa designs are so eye-catching and plush that you may consider ditching your bed altogether. Take a look.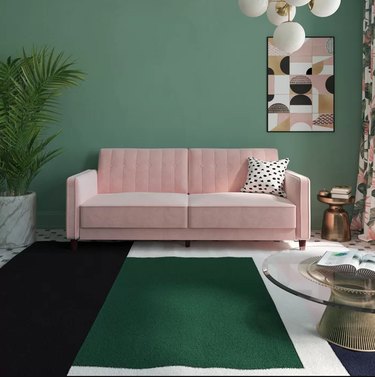 With more than 5,000 5-star reviews gushing over its high-quality fabric, ease of assembly, and attractive design — not to mention a price tag under $400 — the wildly popular Nia sofa is actually multifunctional: the split back allows you to lower one or both cushions into the lounging or sleeping position. And if pink isn't your style, choose from six other colors.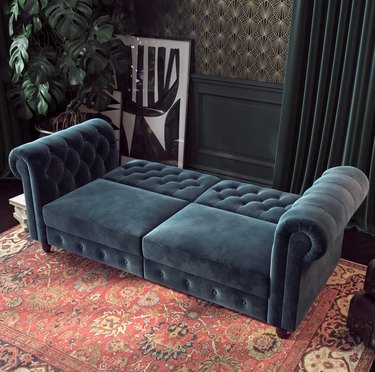 Another from Joss & Main, but we couldn't resist. If you enjoy firm, luxurious seating, this is it. The velvet upholstery is a showstopper in any room, and as with the other split-back sofas, provides three reclining positions. With help from a friend, this sophisticated piece could be assembled for your next cocktail party in an hour's time — and with a quick push and pull, a sturdy sleep area for those who had one martini too many.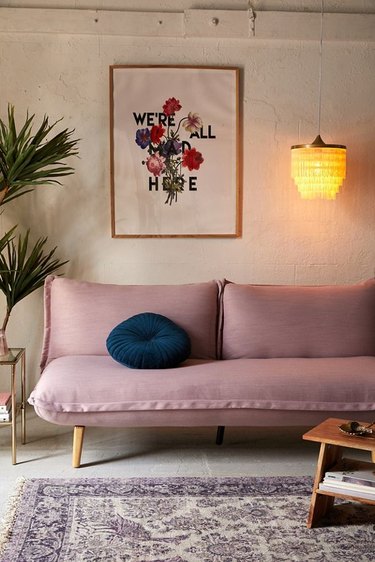 The cushions of the Henley look so full it's as if they are were inflated by air versus made of foam. Currently available in rose, its shape and color add a soft and inviting couch for visitors, while the back folds down easily for an overnight stay.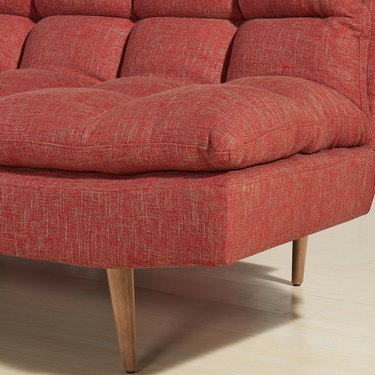 The square-tufted upholstery just screams for a day of reading on your stomach, with your bare feet kicked up behind you. (We're just going to ignore reports that it's not good for our posture for lengthy period of time.) It's perfect for two, or just you. Who knows, you may not want to share the Winslow with your guests at all — just give them your bed.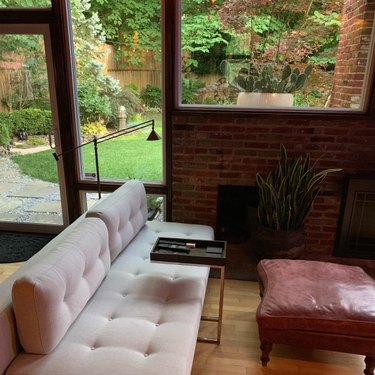 Easy to assemble and convert, as cozy as it looks, and firm enough for extended-stay guests — some owners use it as their primary bed — fans of this sleeper suggest purchasing the optional mattress topper or adding a feather bed for additional comfort. And cat owners may be pleased to hear that the fabric is durable enough to withstand your furry roommate's scratching without the unsightly snags that usually come with it.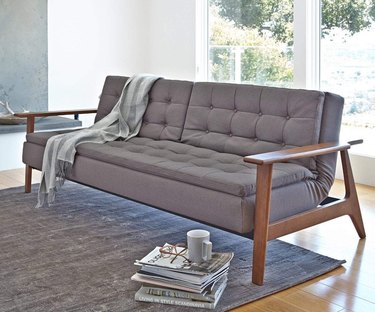 We love the walnut frame of the Tellima, but are especially attracted to its 7-inch mattress and tufted pillow top, a unique feature that also elevates the piece in terms of style and comfort. It also has a split back to allow you and your guest to adjust to three reclining positions.
Chic in shape and function, the highly-rated Hughes sofa is a keeper, with a pull-out bed people are raving about. Owners can't say enough about how comfortable and well crafted the sofa is: the memory foam mattress maintains its firmness after several guests and the seat cushions have survived daily use by kids and pets alike.
That bolster cushion and mechanical arm definitely piqued our interest. And depending on your age, this style may have also reminded you of the fold-out foam chair with cylinder back that was ubiquitous during the 90s. The Twilight is a hundred times better and at least 10 times more expensive, but so worth it. Ingenious in its simple mechanics and shape choices, designer Flemming Busk has created a sofa that offers many possibilities: three positions for the bolster pillow, not only allowing for multiple seat depths, but also superior lumbar support. And with the bolster back all the way, you can remove the seat cushion to create separate twin beds, or push them together for a bed that is more spacious than a queen, with a soft headboard. Sleeping on the floor never looked this good. Night, night.