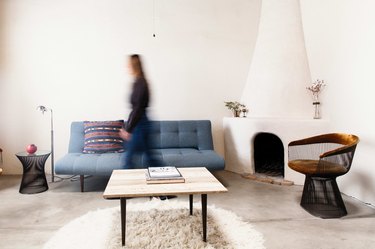 Who: Krysta Jabczenski and Joel Leshefka
Where: Barrio Viejo, Tucson, AZ
Style: 1890s Adobe Row House
"We lived in Barrio Viejo for years before we were ready to buy a home," Krysta Jabczenski explains. She's reflecting on what drew her and Joel Leshefka to the home they found in Tucson, Arizona in 2014. They loved the neighborhood because of its special pocket of historic architecture, featuring colorful, high ceiling adobe homes, and its close proximity to downtown. Built in the 1890s, the house at one point functioned as an ice cream and soda shop. "There's still a sign outside that says, 'Root Beer 10 cents,' which is why we now call it The Root Beer Adobe," says Jabczenski.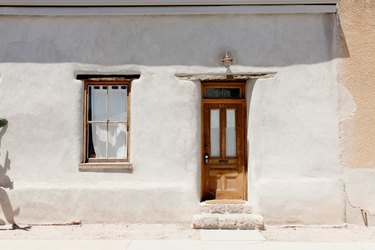 The property consists of a rowhouse building that's split into two residences. The smaller one, Adobe Libre, is a shotgun apartment that's about 800 square feet with one bedroom, one bath. The Root Beer Adobe is about 1,700 square feet, with two bedrooms and one bath. Both spaces have high ceilings, plenty of natural light, striking fireplaces, exposed beams, and raw adobe walls. Since the overall feel of the architecture is so warm and earthy, Jabczenski likes to keep the decor more modern and minimal to accent the bones of the home. "It feels reminiscent of Georgia O'Keefe's properties in New Mexico, which is interesting, because after working in those spaces, I learned she didn't have much furniture either," she says.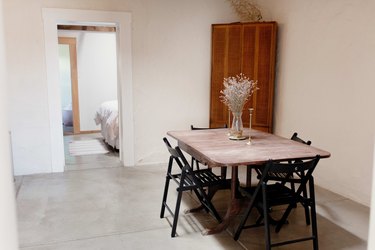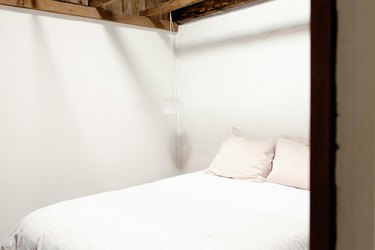 "For us, decorating was really more about color, space and using natural materials," Jabczenski says, reflecting upon some of the beautiful midcentury pieces from their collection. "We were lucky to inherit some of our furniture from Joel's grandparents. Most grandparents did not have such great taste." Since Joel re-sells vintage clothing for a living, the couple has the inside track on that world — they love to explore estate sales, antique fairs, and thrift stores for inspiration. "Rarely we buy something new, but we had a hard time finding couches, so we went to a Danish furniture store in Tucson," shares Jabczenski.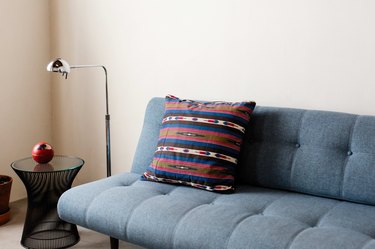 The living room is a favorite place for Jabczenski. "It just gets incredible light in the morning and feels so earthy because of the exposed vigas and raw adobe walls. There's nothing better than putting on a record, making coffee, and starting your day in there. I love to sip my coffee, answer emails, and watch people pass by walking their dogs or riding their bikes." The adobe walls throughout the residence are truly unique. Says Jabczenski, "They are such a stunning texture, and when it rains, it smells like the desert."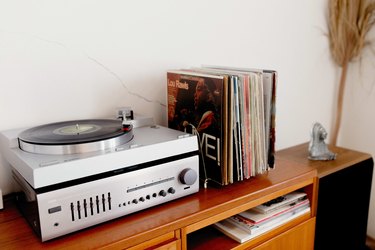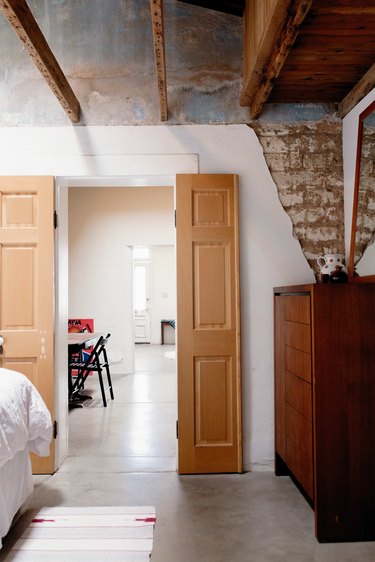 Jabczenski and Leshefka moved to Santa Fe, New Mexico a few years ago, but couldn't part with this one of a kind home in Tucson. So, for now, they list it on Airbnb, and hold on to their dream of spending summer/fall in Northern New Mexico and winter/spring in Tucson. In the meantime, Jabczenski continues her career photographing interiors, home objects, and clothing brands, while Leshefka co-owns Prism Boutique in Seattle and resells vintage clothing online.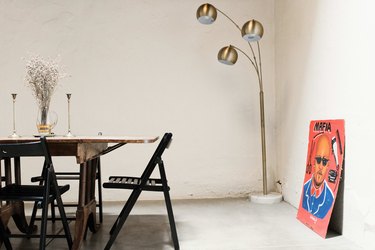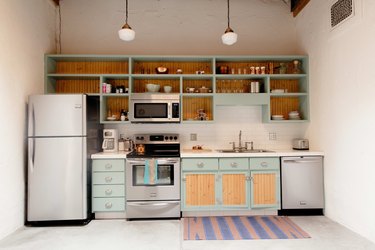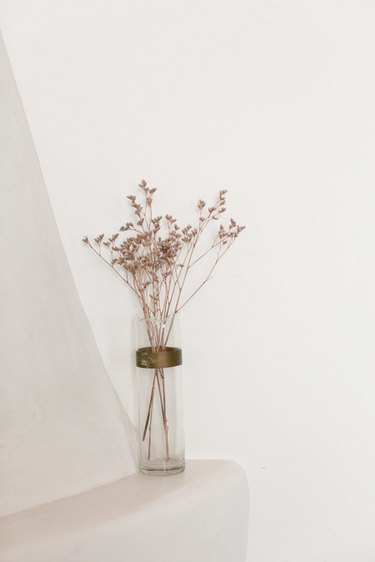 The Tucson home is never far from Jabczenski's thoughts. "I care about nature and using natural materials, not only because it's better for the earth, but it feels whole, connected, and alive. The home brings that out in me."
Locals Know Best
Happy hour: Exo Bar ("Their mezcal selection is not to be missed," Jabczenski shares.)
Cheap and cheerful restaurant: Taqueria Pico de Gallo ("Made to order tortilla chips and fruit cups with chile and lime, please!")