With Mother's Day coming up this Sunday, there's not a ton of time to plan something special. While in years past, it was easy to book a last-minute brunch reservation or spend the day with her at home, this year's social distancing requirements are presenting a bit of a challenge. But don't stress just yet. We racked our brains for brilliant ideas you can do virtually, six feet apart, or — if you're extra lucky — side-by-side.
Here, seven brilliant Mother's Day activities you can plan whether you're home together or apart.
1. Plan a Movie Night
Whether you're together or apart, there are plenty of ways to enjoy a movie together. The app Netflix Party allows you to watch a flick on the same screen and gives you a chatbox on the sidebar to ask questions, swoon over leads, and guess the ending — or you could always do that the old-school way and hit play on your favorite movie at the same time while chatting over the phone or FaceTime. If you're together, set up a projector — using either a coordinating projection screen or a plain white bedsheet — along with a cozy seat and enjoy the movie comfortably. All you need to enhance the scene is a couple of buckets of popcorn and some movie candy.
2. Schedule an At-Home Spa Day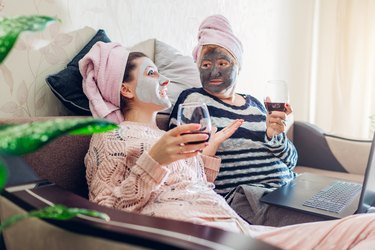 Everyone loves a good pampering and it's a perfect activity whether you're face-to-face or over FaceTime. We covered the at-home spa basics here, but focus on things that can be easily navigated with a group or alone, such as "facials" and mani-pedis. If you want to help make the atmosphere feel more spa-like for your mom, a diffuser is a no-brainer. All you need a few drops of essential oil and it will emit a scented mist that is instantly calming — just don't forget the spa music!
3. Host a Gardening Happy Hour
Chances are you're well-versed in the virtual (and in-person) happy hours at this point. Mix it up by hosting a gardening hour with your mama. Reserve an hour or so for potting and planting in the yard over FaceTime or in person. You can send her some seeds, throw in a cute pair of working gloves, or find a cute sun hat to keep her safe. (Oh, and, while not required, cocktails are also encouraged.)
4. Throw a DIY Paint and Sip Class
While this is best suited for adult kids and parents, children can skip the wine and sip on a juice box while painting. Order a few canvasses that prompt the artist or go rogue with a blank one and let the liquid confidence of wine help inspire your latest wall art. It's a simple but super-fun way to spend an afternoon and give your mom a memory that lasts. (Psst, you can order wine online for delivery in 30 minutes from Saucey.)
5. Complete a Family Scavenger Hunt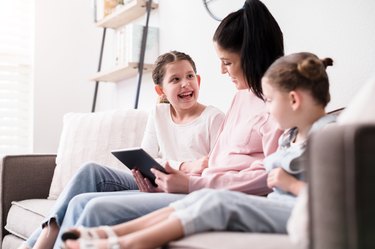 This is an especially great idea for those who can't be together on the big day. You can either whip up a DIY scavenger hunt that includes finding inside jokes and sweet mementos — it's helpful to tap an inside man for assistance — or use one of the incredible online resources. The interactive scavenger hunt app, Roam, includes everything you need for an at-home adventure and is releasing a special Mother's Day hunt this Sunday morning. Another option is to hit up an online Escape Room for a heart-racing virtual countdown game that you can attempt to solve together.
6. Surprise Her With Breakfast in Bed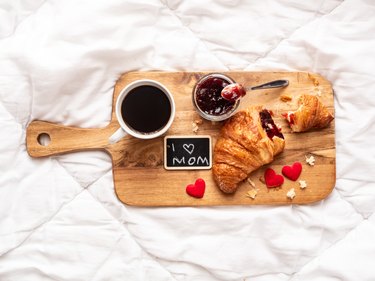 Mother's Day is no stranger to the idea of "breakfast in bed." Of course, if you're in person, your job is easy: Whip up some eggs and bacon, maybe even a mimosa, and throw it on her favorite bed tray so she can indulge in comfort. If your mom is sheltering elsewhere, fear not. There are ton of drool-worthy breakfast dishes you can actually have shipped straight to her door with minimal cooking on her part, including famous dishes from Goldbelly or fresh spreads from Harry and David.
7. Sign Up for a Virtual Cooking Class
This is an idea that works equally well whether you're together or apart. There are a ton of amazing cooking classes that you can find online — from MasterClass to Udemy. You can even surprise her by sending over all of the necessary ingredients ahead of time by ordering through Instacart or FreshDirect. Or, if she is already a phenom chef, schedule a time with your siblings to dedicate to a class on "Mom's Famous [enter her best recipe here]." She'll love that you all want to spend time learning from her and you'll all score a free lesson straight from the pro herself.