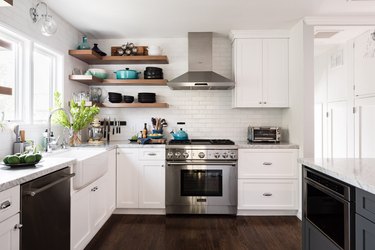 While we still love that look, we'd like you to dip your toe into some darker waters and try a different trend: dark wood kitchen flooring ideas. Whether they're glossy, showcasing a dramatic woodgrain, or practically black, we're on board with all of them. Plus, we think they look spot-on with white cabinets, adding a feeling of depth and drama. But thanks to the variety of wood grains, finishes, and installation methods, dark wood floors look good in just about any culinary space.
Intrigued? Here are 12 dark wood kitchen floors that will leave you feeling inspired.
1. Match the floor with other wood finishes.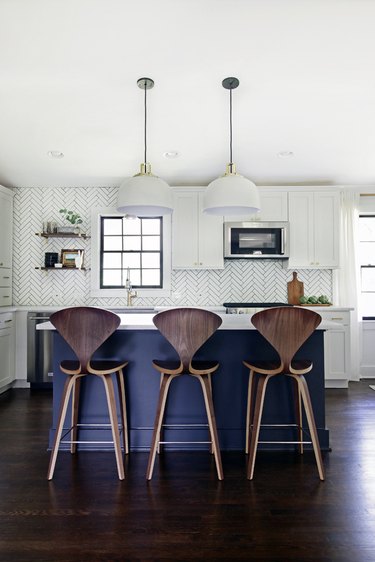 To really drive the dark wood floor look home in your kitchen, partner it up with other wood finishes throughout the space. For instance, in this design by Kristin of Hunted Interior, the bar stools and open shelving mirror the dark wood flooring beautifully.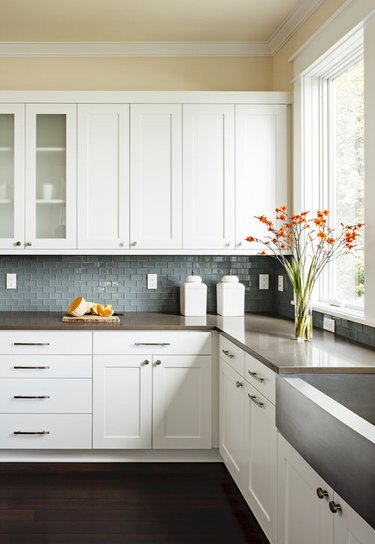 If you prefer dark kitchen flooring ideas with a bit of visual interest, look no further than glossy wood floors. Keep them oh-so-very-polished, or you can always dial up the finish with a coat of varnish. The dark flooring in this cook space designed by Jenni Leasia Design truly shines, both figuratively and literally.
3. Create balance with dark and light colors.
4. Go for white cabinets.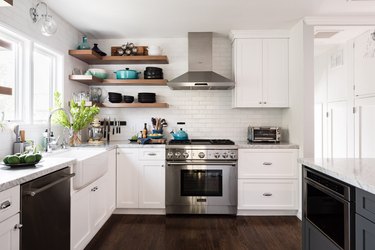 OK, so we aren't ​totally​ over white kitchens yet. In fact, they're still near and dear to our hearts. But we do think you should spice it up with dark wood flooring. A rich hardwood happens to look impeccable alongside white cabinets, as proven in this modern-meets-traditional design.
5. Herringbone is a home run.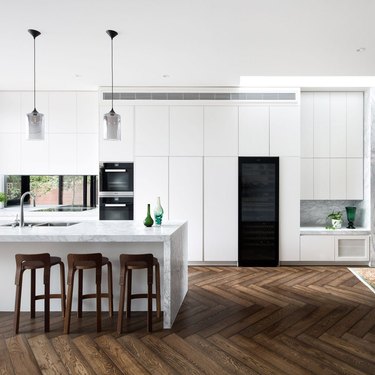 We know that a dark wood kitchen floor already has some heavy aesthetics going as a result of its rich coloration, but around here, we say go big or go home. That's why we're huge fans of herringbone installations, which look even better with a dark wood that really showcases the pattern. It's achieved perfectly in this modern space showcased by Kustom.
6. The grain creates subtle patterning.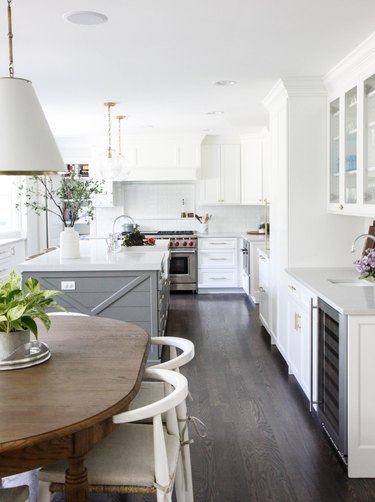 In this kitchen, Christina and Renee of Park & Oak Interior Design chose planks with a subtle wood grain. As a result, the finished product, while eye-catching, doesn't distract from the overall design — instead, the variation provides depth and a hint of pattern.
7. The more wood, the better.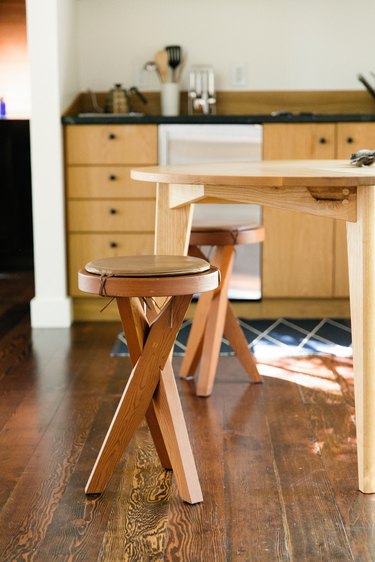 So, you've already installed your dark wood kitchen flooring. Way to embrace the trend! We say take it a step further by incorporating more wood throughout your space — think chairs, table, stools, cabinets, and decor. And don't worry — they can all have wood finishes in varying colors, an effect we are so enjoying in this home's culinary headquarters.
8. Set it apart from the wood floors in other spaces.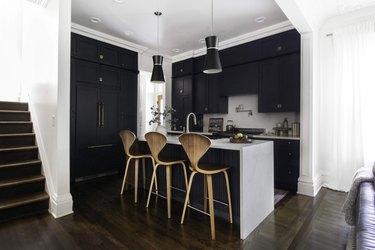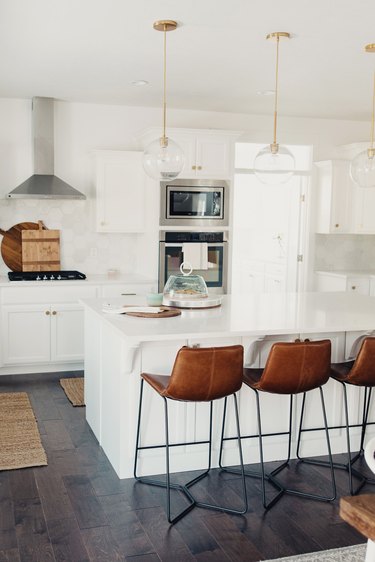 Sure, using long planks for a hardwood floor is a classic choice. But we advise shortening them up to create slightly more visual impact. Abby of Twist Me Pretty picked smaller planks for her dark wood kitchen flooring and we love how it looks.
10. Reclaimed is amazing.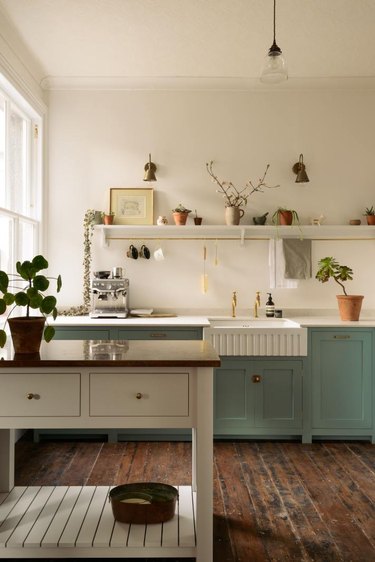 If you have been blessed with original hardwood flooring in your kitchen, congratulations. We definitely think you should keep it, but maybe make it darker with a stain or add a few carefully-placed nicks and scratches if there aren't already for that rustic, lived-in effect. deVOL Kitchens has made this aesthetic an art form, as seen in this charming cook space.
11. Emulate other dark colors.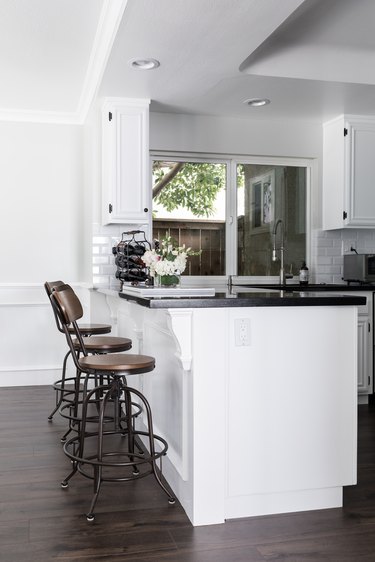 If you opt for a dark wood kitchen floor, you can continue the dramatic look with the help of other accents throughout your space, such as your counter stools and countertops — visuals that can be seen in this design, complemented by white details for balance.
12. Embrace a full-on vintage look.
Dark wood kitchen flooring already looks pretty vintage all on its own. But add an antique table, mirror, and cookware? Your scullery will look as if it stepped back in time. Get inspired by this storied space belonging to Victoria of SF Girl by Bay.