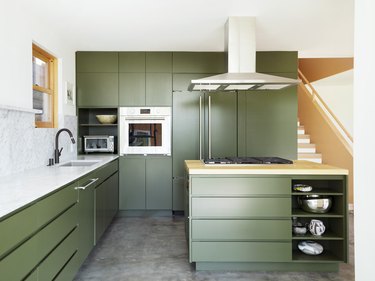 Located on the east side of Los Angeles, Echo Park is home to some of the steepest hills in the city, and set into one of these practically vertical hills is the home of graphic designer Jessica Fleischmann. To redesign her century-old bungalow, she hired Mexico-based architectural firm PRODUCTORA. Although the firm now has an office in L.A., this was their first U.S.-based project, and they took to the streets of Fleischmann's neighborhood to really understand the area's architectural history.
The 1920s tract bungalow appears virtually unchanged from the street view, but inside, the space gained much-needed square footage with an addition. As is the case with many renovations, cost was a factor, meaning the design team had to get creative in certain areas. One such solution included swapping shop-welded steel for tubular steel columns that were cut on site. But what we love most is the home's artful use of color: From the sandy-salmon exterior to the blue steel supports to the spruce-green kitchen, there's a playful mix of hues, but the scheme feels entirely subtle and natural.
Since many of the homes in Echo Park are low to the ground, the architectural firm made a decision not to add any height to the house. Instead of disrupting the home's original stature, the firm created an underpinning, adding an extra addition that serves as the more public area of the house, which now measures 2,370 square feet.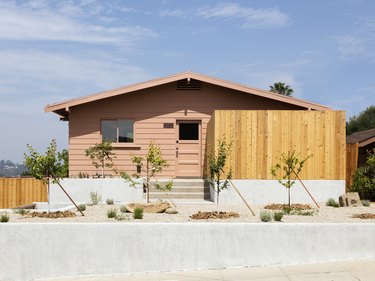 One of the challenges of the design was connecting the existing bungalow to the garden below. The team decided the best way to do this was to introduce the steel structure at the back of the house.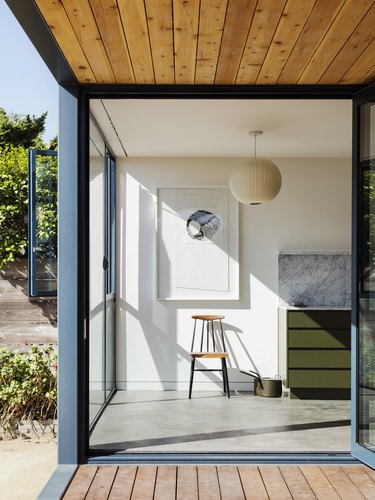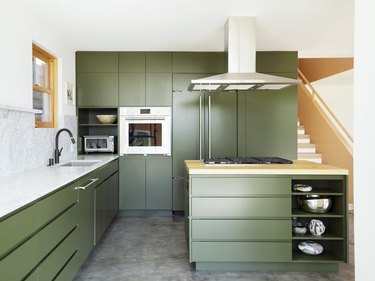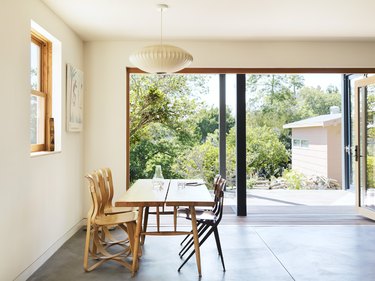 The green kitchen, with custom cabinets painted in Benjamin Moore's Windsor Green paint, stands out from the concrete floors and custom staircase. The staircase was built with steel, MDF, and painted hardwood.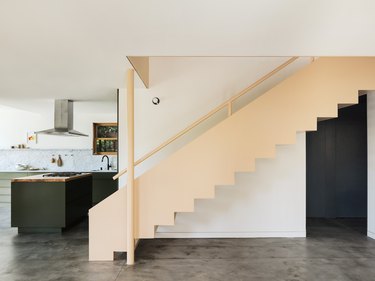 The railing for the top floor loft was created from tubular steel, welded on site. The top deck overlooks the neighborhood with the Hollywood sign in the distance.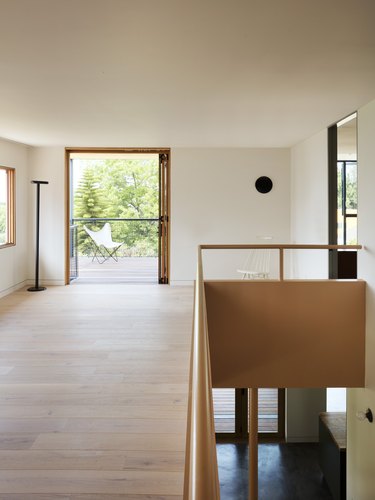 Large Fleetwood windows allow natural sunlight to flow through the bedroom. Half-inch engineered hardwood floors on the second floor give a naturalistic feel to the upper level.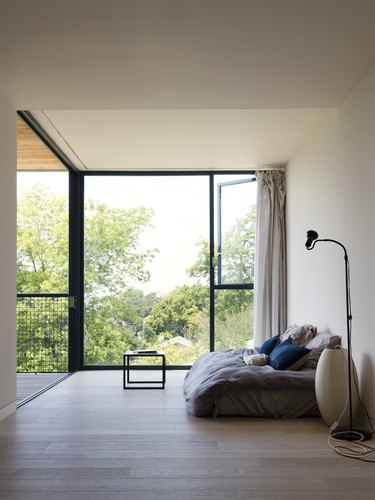 A wooden desk, inherited from Fleischmann's family, brings some antique flair to the home office where she sometimes works. Although the walls in the more public areas of the house are painted in lighter tones, the walls in the work area were painted in Dunn-Edwards' Nightfall — giving a library-like feel to the nook.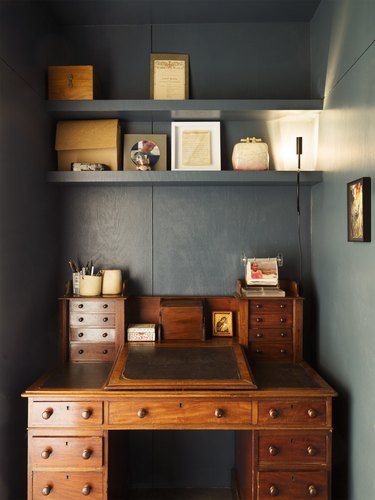 A large, customized Hydro Systems bathtub gives bathers a view of the outside with a new window carved out by the design team. The pale pink paint mirrors the dusty pink exterior hue.