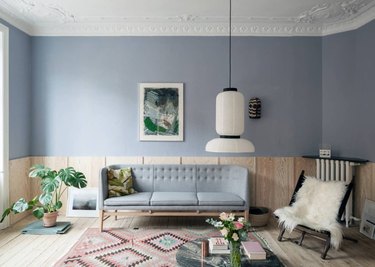 Scandinavian interiors are universally loved for their calming, less-is-more aesthetic. The style originated in, you guessed it, Scandinavia, and although it's been around for nearly a century, it has continued to gain traction stateside over the last few years. It offers a minimal approach to spaces, favoring practical pieces and pairing them with textural components for a design that's equal parts functional and welcoming.
Historically, Scandi interiors put a premium on white walls to emphasize light — scarce in Nordic countries during the winter — a neutral color palette, and natural wood accents, which all work together to create bright, no fuss spaces offering a refuge from dark skies. If you're partial to color, you can still achieve a look that's rooted in Scandi simplicity, but with a dose of of vibrancy. Read on to discover popular Scandinavian color combinations that we can't get enough of.
1. Opt for (almost) all-white everything.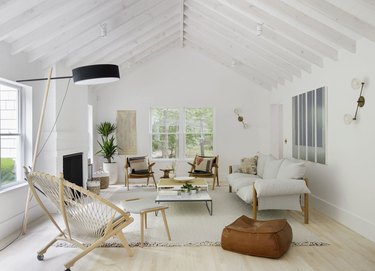 2. Tame bold hues with neutrals.
Can red work in Scandi-inspired interiors? You bet! It might not be the first color that comes to mind when considering popular Scandinavian colors, but when bold hues, like the crimson in this Moroccan rug, are balanced with plenty of white, textural moments, and wood finishes, they infuse color without taking over. Black architectural sconces add contrast and a modern note.
3. Embrace sunny palettes.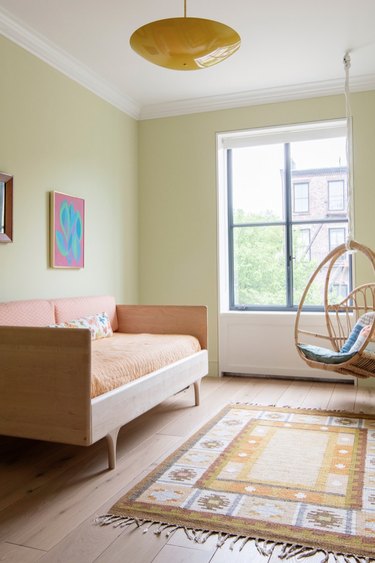 4. Bring the outdoors in.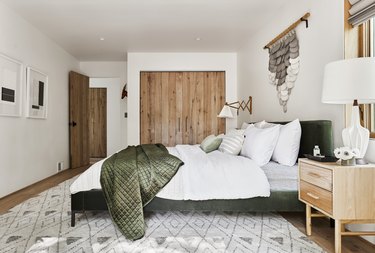 5. Balance moody colors with wood tones.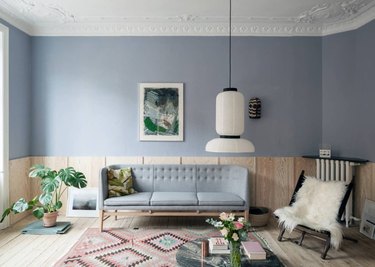 Moody hues, like this cool gray tone, add coziness and have a well-deserved place among the most popular Scandinavian color palettes. Balance the darker shade, as they do in this Airbnb's living room, with plywood wainscoting and a detailed white ceiling — for a look that's masculine yet welcoming. An ethereal pendant light adds a dose of whimsy while a traditional kilim rug adds softness and pattern.