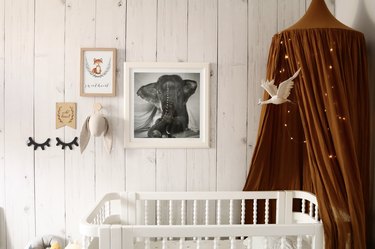 If you're expecting a baby or just welcomed a brand new little one to your family, you'll be spending a lot of time in the newest (or most recently updated) room in the house: the nursery. Might as well make it a soothing and design-forward space that's a little bit special — for you, mostly, but for baby, too. More often than not, people are designing their baby's room to be a sweet and thoughtful refuge that their little ones can grow into, instead of an overly-cutesy space that will need to be redone as soon as they turn three.
1. Warm Earth Tones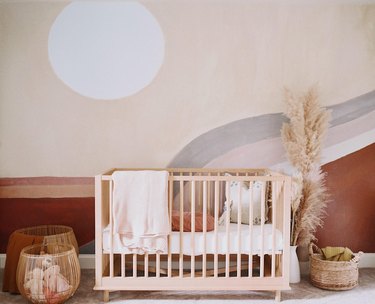 2. Stuffed Animal Heads
Looking for a gender-neutral nursery idea? Add some friendly faces to your baby's room. Sculptural wall-mounted animals of all sorts — particularly woodland creatures like foxes, bears, and bunnies, but lions and giraffes, too — are trending, especially when stuffed or made out of papier-mâché, like these whimsical friends from Crate & Kids. (Also? Add a mobile.)
3. Hanging Ceiling Canopies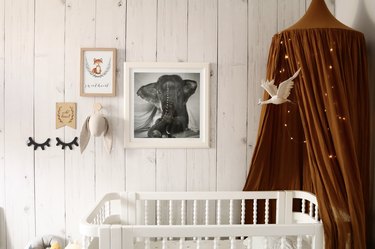 Soft, flowing canopies will add a special touch to any nursery idea (not just feminine styles). Hang them behind the crib or in a corner to create a cozy reading nook for story time or a magical fort for when baby gets older. (Pro tip: If you hang a canopy near the crib, be sure the fabric is hung securely and stays completely out of reach, for safety's sake.)
4. Vintage-Style Wallpaper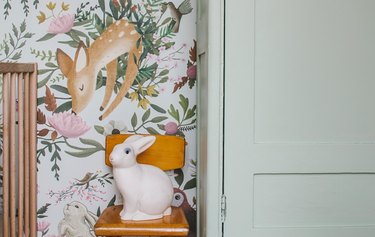 This year's most beautiful nursery ideas feature wallpaper in intricate, romantic patterns and palettes. Look for dainty floral designs, vintage-looking patterns, pastel hues, or papers featuring flora and fauna, like the print in this space designed by Room to Bloom.
5. Geometric Backgrounds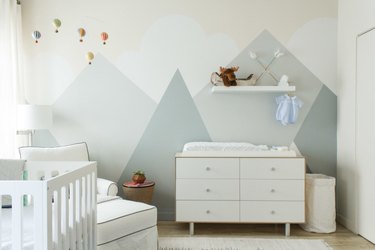 We're noting geometric accent walls all over, like the hand-painted mountainscape in this nursery by Touijer Designs. It's especially on-trend with Pantone's Color of the Year — the palest of blues, called Bleached Coral. It's neutral and restful enough to fit into any nursery.
6. Bentwood Day Beds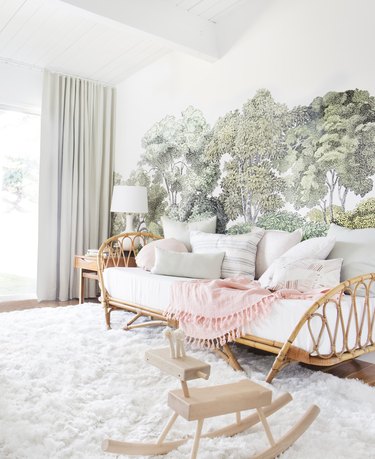 Bentwood and rattan daybeds are popping up in well-designed nursery ideas all over. A daybed in the baby's room provides a place for a sleepy parent to lie down while their infant naps; and as baby grows, it can also serve as a play area, a spot for bedtime reading, and — down the road — a toddler bed.
7. Darker Tones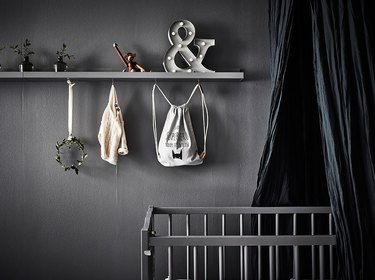 All-white or pastel nursery ideas might be the first thoughts that come to mind when decorating for baby, but this year, darker hues are in. Think deep blue, forest green, and charcoal gray paints and wallpapers (even chalkboard paint), and decor to match. Plus, as any parent will tell you, the darker the room, the better baby sleeps, which in turn helps your sanity. We'd say that's a win-win!