We might not even be halfway through 2019 yet, but Sherwin-Williams is wasting no time looking ahead to 2020. The paint brand has released its annual color forecast for next year, giving us a full six months to get excited to see these hues everywhere. There are 45 colors in the report, split into five different palettes that are all inspired by positivity and well-being. Discover the colorful categories below and learn about the inspiration behind each of them.
Alive
A navy blue is paired with warm-toned neutrals for a Southwestern influence in the Alive palette, which evokes "a satisfying and rejuvenating sense of community and living well," Sherwin-Williams wrote in its report.
Mantra
Riffing on the minimalist Scandinese aesthetic — where Scandinavian and Japanese styles collide — Mantra includes subtle pinks and mauves that work well as both accent colors and neutrals.
Play
As its name implies, Play is all about fun, meaning punchy hues, including pink, gold, and aqua. "Its mission is to add humor and warmth to all it touches — and to help us recall that deep down, we're still kids who love to play," Sherwin-Williams wrote in the report.
Haven
Haven is all about the place we call home — Earth. Greens and blues are the focus, offering a sense of calm and sanctuary.
Heart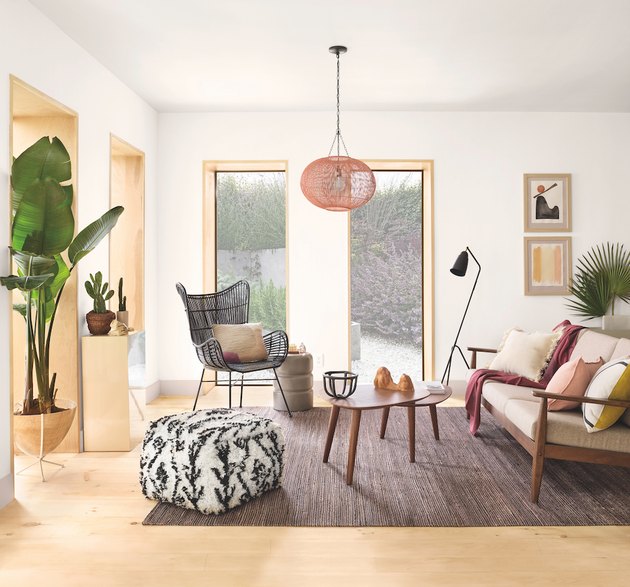 ---
Stefanie is a New York–based writer and editor. She has served on the editorial staffs of Architectural Digest, ARTnews, and Oyster.com, a TripAdvisor company, before setting out on her own as a freelancer. Her beats include architecture, design, art, travel, science, and history, and her words have appeared in Architectural Digest, Condé Nast Traveler, Popular Science, Mental Floss, Galerie, Jetsetter, and History.com, among others. In another life, she'd be a real estate broker since she loves searching for apartments and homes.
View Work