Green nurseries are great. They're not glaringly gendered. And green is a calming shade — a good idea for a nursery, considering new parenthood can be stressful. There are so many hues to choose from, ranging from pistachio to emerald, offering a wide variety of looks and themes. So below, 13 green nursery ideas to spark your imagination.
1. Grass green walls are the perfect match for an animal theme.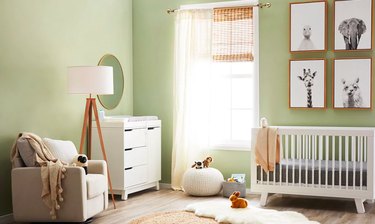 Grass green walls just work as the backdrop for animal art and sweet stuffed animals. Everything seen in this serene space can be purchased on Overstock.
2. Evergreen walls are a unique backdrop for a modern space.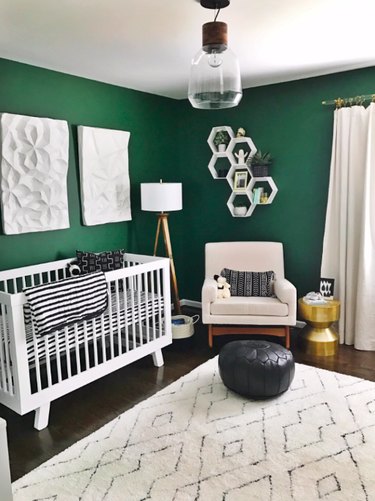 If your nursery gets plenty of natural light, why not opt for dark green walls? They make all of your lighter furniture pop, as you can see here. According to Megan from the blog Bloom & Bundle, the shade on these walls is Evergreens by Sherwin-Williams.
3. Wallpaper doesn't have to be outdated.
4. Go for an accent wall if you don't want to fully commit.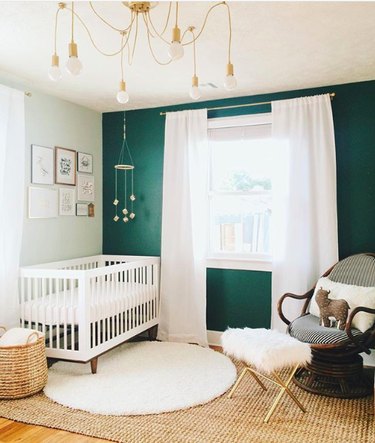 Blogger Heather Grimm's nursery offers the best of both worlds: a pop of color on one wall mixed with neutrals.
5. Green is perfect for a tropical theme.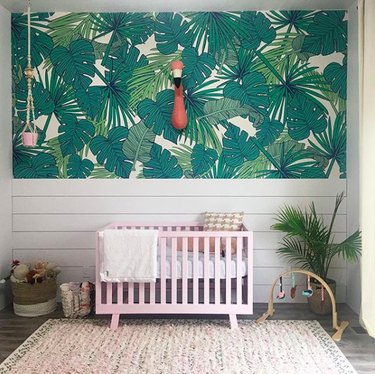 Just add a flamingo. This nursery by mom Amber Jensen is super cheerful, utilizing palm leaf wallpaper and stuffed animal wall art.
6. Don't take things too seriously.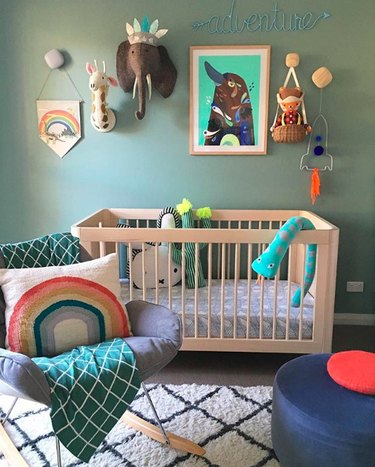 This nursery by interior stylist Ally Batties is designed with fun in mind. We love the smattering of silly wall art on a green backdrop.
7. Keep things fresh with mint.
The mint green walls in Tiffany from the blog Delightfully Chic's nursery are such a sweet match to the all-white furniture. This shade is Valspar's Mint Hint.
8. You don't have to commit to painting your walls.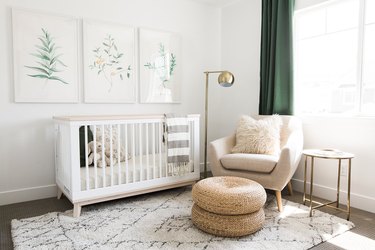 A nice botanical theme doesn't necessarily require green painted walls. If you're in a rental or just don't want to commit to painting your walls, accessories like curtains and artwork get the job done, too, as seen in this nursery by Akin Design Studio.
9. Green goes perfectly with a touch of vintage.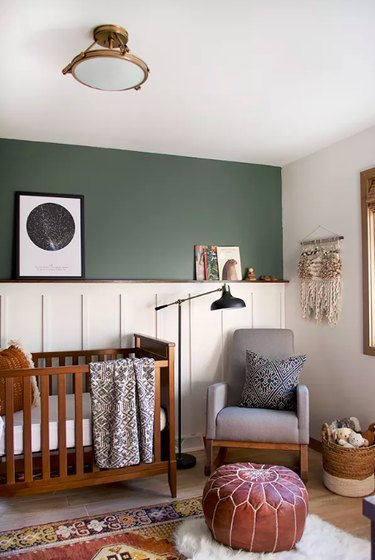 10. Don't shy away from bold wallpaper.
11. Mix warm and cool tones.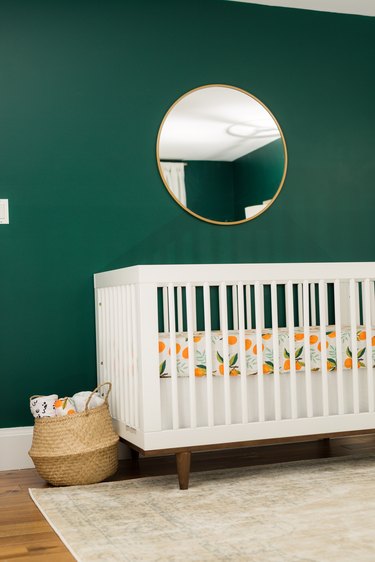 A fruity crib sheet is offset perfectly by green walls in Liz Braga of The Modern Mère's nursery. What's that shade of green? Hunt Club by Sherwin-Williams.
12. Embrace botanicals.
13. Opt for a natural look.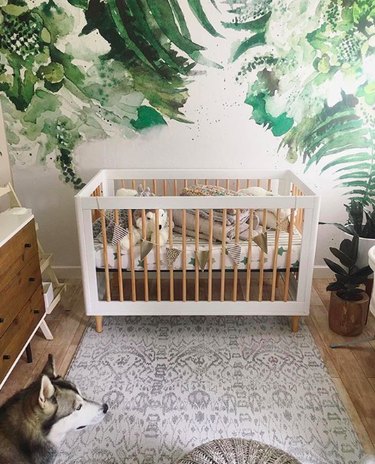 Light wood and stuffed animals (oh, and a real dog, too) go great with botanical wallpaper, as seen in mom Jentry Lee Hull's nursery.