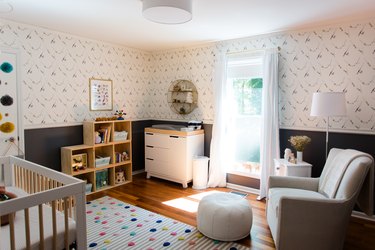 It's second nature for expectant parents to have unreasonably high nursery expectations. My husband and I purchased our first house when I was six months pregnant, full of a baby but also anxiety and hopes and dreams for the first space that would be his or her very own (we waited to find out the sex until birth). The world pointed us to soft, sustainable decorations and toys, untouched by the germs of the world. And Pinterest displayed calming color palettes to put baby — or at the very least ourselves — more at ease during the grueling months ahead. These ideas were all well and good, but without some personalized touches, we knew the nursery would feel generic and soulless. So here's what we did to create a comfortable space that felt like a natural extension of our home and allowed us to spend more on necessities (we're looking at you, diapers).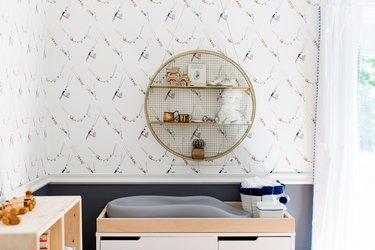 1. Scour your parents' basement for vintage decor.
Certain nursery accessories never go out of style: baby shoes, silver rattles, Beatrix Potter books. My mom unearthed a wooden wind-up toy from her basement that I actually remember from my nursery, as well as other decorative doo-dads like my sterling silver baby cup and brush. And my in-laws gifted us my husband's wooden toy train, plus vintage clothes and art from his nursery.
2. Childhood photos are a fun nod to the family tree.
There's little babies love more than pictures of other babies — especially when they realize the photos are of their own parents. Find and frame photos of both parents from a similar time in childhood and display them in the same space. Play a guessing game of what photo goes with which parent.
3. Chalkboard walls create a large canvas for self-expression.
By painting the bottom half of our daughter's room in dark gray chalkboard paint, we can allow her to color on at least a few walls in our home. An artist friend drew her name on the wall when she was a baby, which we kept up until she was old enough to use the chalk correctly (note: try not eating/breaking them at every chance).
4. Shop your own house for overlooked furniture.
You know that side table that gets very little action in your living room? Paint it white, add playful knobs, then drag it into your nursery where it'll provide more crucial support for endless coffee and middle-of-the-night snacks.
5. Commission other children in your life for custom art.
It's likely your baby isn't the first child you've loved. Ask a niece, nephew or friend's kid to draw your baby a welcome piece of artwork. My niece sketched a charcoal zebra that delights our daughter to no end. Just be sure to provide a bit of direction unless you're cool with penis-shaped spaceships and the like.
6. Try a little DIY.
I'm not saying to get in over your head here (didn't you learn anything from your wedding?), but a little project made with your own hands can go a long way. Find an pom-pom yarn mobile to craft in the final weeks of pregnancy or paint letter blocks that spell out your baby's name.
7. Get baby shower guests in on the action.
Skip those lame baby shower games in lieu of a little decorative craft. Ask guests to draw a little something, sign their names or write short notes on simple wooden blocks with paint pens in the nursery colors. Display the blocks as decor, and then when baby is older, use them as a way to describe all the people who've loved him or her since the very beginning.
Jourdan Fairchild is the founder of Spruce Creative Studio_, an affordable e-design studio and styling service based in Durham, North Carolina._