There's such a case to be made for white nurseries. They're fresh and clean, just like your new baby. They can remain pretty pristine, considering the kid isn't a crazy toddler yet. And to be superficial, they're Instagrammable as all get-out. So below, 10 white nursery ideas to get your creative juices flowing.
1. Neutral and Clean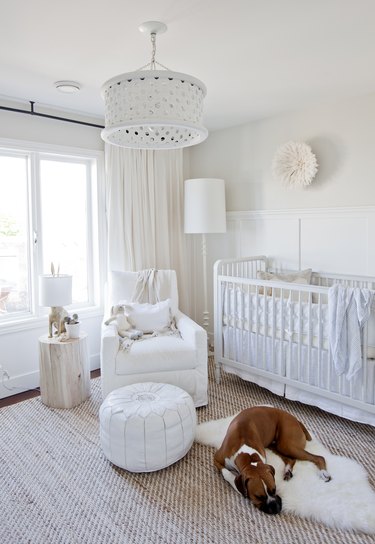 Jillian Harris' gender-neutral nursery turned out so beautiful. You can find the room's full product list here — we're deceased over that bunny table lamp from Anthropologie ( $398 ). Sorry, dog not included.
2. Touch of Boho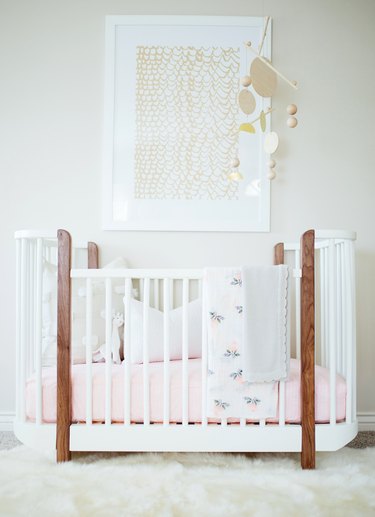 A white base is the perfect backdrop for boho accessories like a mobile and a floral blanket.
3. Accent Color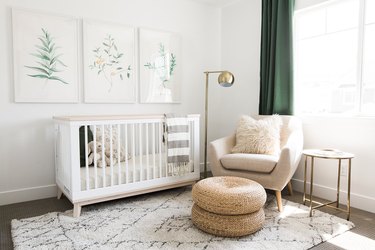 Just because you're going with a white theme doesn't mean you need to ditch color altogether. Hunter green works so well in this botanical nursery by the Akin Design Studio, and beige and gold accents don't hurt either.
4. Celestial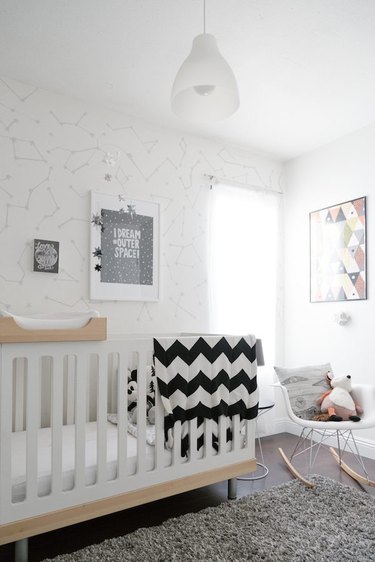 5. Artistic Mural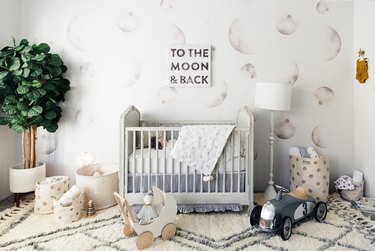 6. Soft and Feminine
White is the perfect backdrop for a super girly space. The garden theme of this boho nursery is accented perfectly by a DIY floral wall hanging. Find out more about it and everything else in this nursery here.
7. A Room That Grows With Them
This room by Studio McGee's Shea is beyond precious as a nursery, but most everything in the space could also carry over into baby's teenage years. Now that's a financial win.
8. Small Space Solutions
This nursery in Jodie Snyder Morel's home can also function as a guest room. The use of white really helps keep the space from looking cramped.
9. Bright and Airy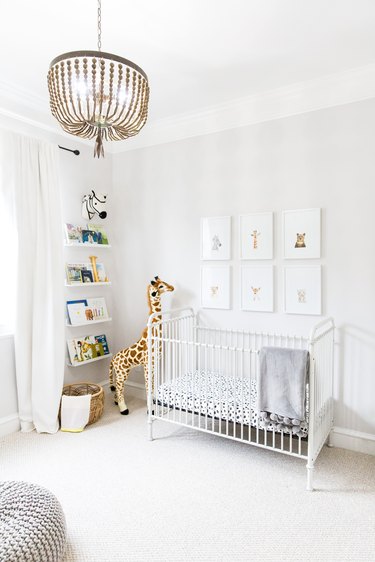 10. Gender Neutral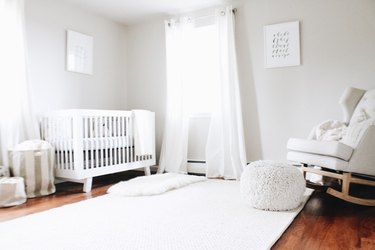 White makes for the perfect gender neutral base. Find out where everything in Allie Seidel's nursery is from here.