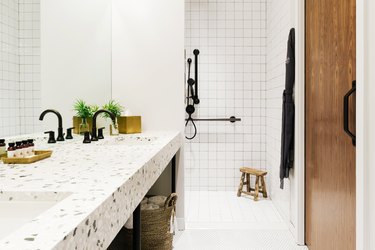 The essence of minimalism lies within simplicity, but don't confuse that with a compromise on style. When it comes to interior design, the concept is all about a thoughtful integration of a handful of key elements that can make an impact. In short, you want to pack a punch by using as few items as possible. In a minimalist bathroom, it's the shower that's often the center of attention — requiring little less than a note-worthy tile and subtly contrasting hardware — and a spot that's ripe with opportunity for making a statement.
It's worth noting that contrary to popular belief, minimalism does not necessarily equate to a strictly modern scheme or a black-and-white one at that. You can freely introduce splashes of color, rich textures, and even vintage accents where you deem fit. It's all about moderation and erring on the "less is more" side. When in doubt, take a piece out. While in contemporary or boho spaces, it's the decorative items that set the tone, a minimalist vibe requires a bit more creativity and out-of-the-box thinking. In lieu of traditional bathroom decor (like colorful bath mats or a thriving plant) we're encouraged to take a different approach, such as highlighting the architectural elements of a room. Case in point: A large picture window with vibrant views of the outdoors can be significantly more impactful than painted walls or even art.
To help you get started we compiled a shortlist of the minimalist shower ideas you need on your radar.
1. Embrace colorful materials.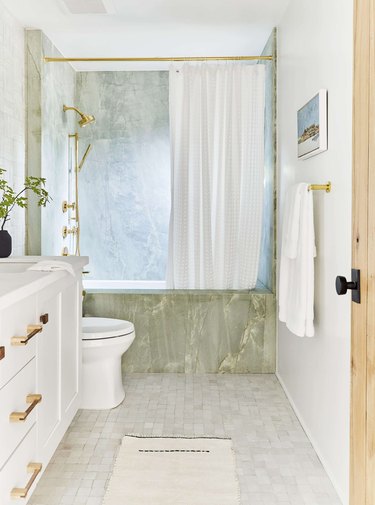 Polished green onyx and brass hardware may not exactly read minimalist on paper but Emily Henderson certainly made it work in her mountain house remodel. Gray zellige tiles, with their perfectly-imperfect edges, were designated for the flooring and vanity backsplash as a refreshing layer against the smooth, white walls. By sticking to a palette grounded in neutrals, the designer managed to keep things subdued, allowing the effortlessly cool shower to remain at the center of attention.
2. Stick to a timeless hue.
3. Swap curtains for glass doors.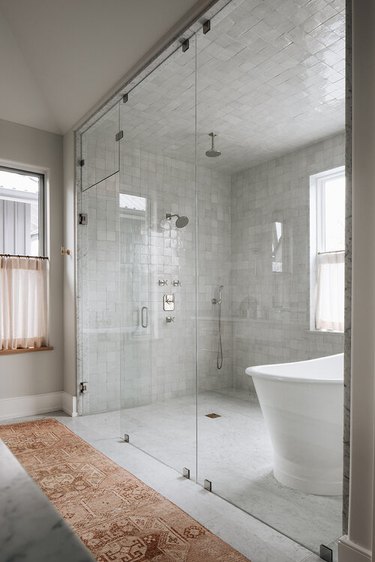 Minimalist design is all about clean lines and when it comes to the shower, a sleek glass enclosure may often feel more on-theme versus a billowing curtain. Naturally, a wall-to-wall glass door installation is right on par and this stunning modern bathroom from Kate Marker Interiors is a prime example of how impactful the large-scale display can be.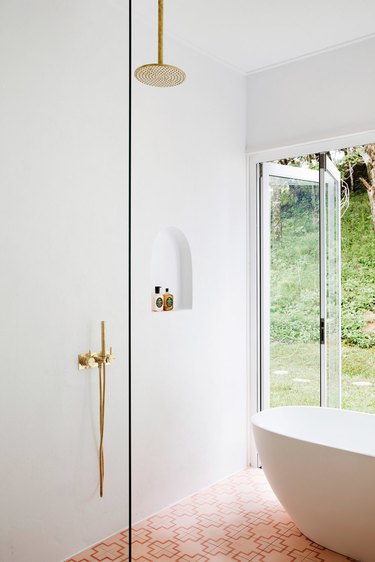 Adding an element of interest to an all-white minimalist shower can be as simple as embracing a vividly patterned floor tile. In this light-filled walk-in shower, designed by Three Birds Renovations, the pink and red tile is the undisputed focal point, which manages to please without overwhelming the space.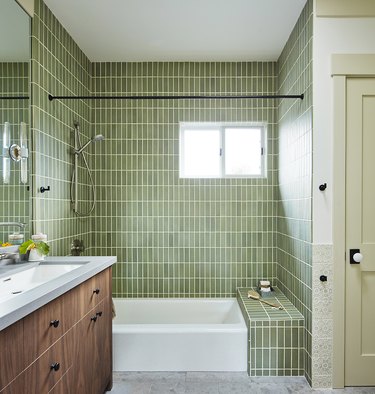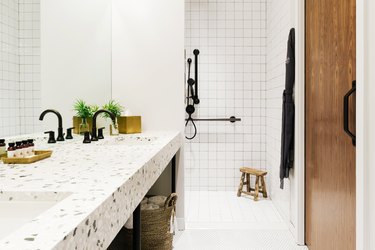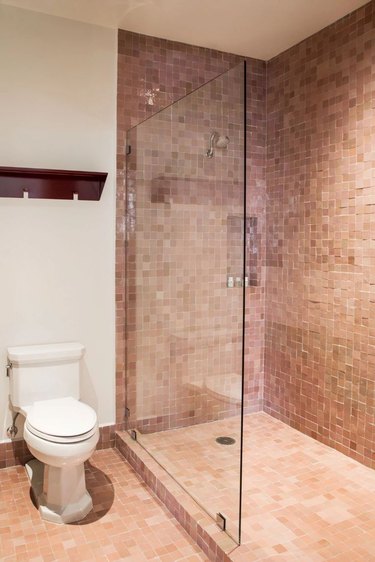 When designing a minimalist bathroom or shower, select one decorative element as your prime feature, and avoid anything that clashes with it. Case in point, these stunning zellige tiles from Clé, which are so dynamic in color and shape that their floor-to-ceiling installation requires very little else on the decor front. A frameless glass partition provides functionality without taking anything away from the tilework.
Making a white bathroom feel distinct and unique means departing from expected materials (such as standard tile) and modern design ideas, in favor of a more austere approach. And yes, said aesthetic can still be minimalist. Cue this dreamy shower spotted at The Joshua Tree House, where earthy hues and rustic materials pair with contemporary finishes to evoke a spa-like ambiance. The bundle of greenery hanging from the showerhead seals the deal.