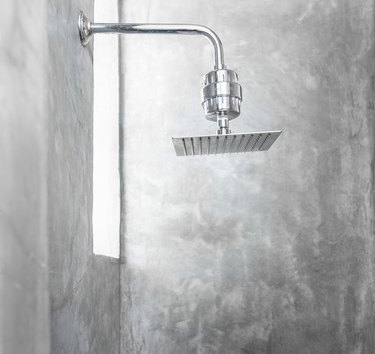 As far as we're concerned, choosing a showerhead is one of the most — if not ​the​ most — important decisions for your bathroom. If you want to find a showerhead that's practical ​and​ gives your bathing session a spa-like feel, you might want to consider a rain showerhead.
Popular in five-star hotels and modern, spa-like bathrooms, a rain showerhead is one of the most luxurious shower ideas around — and for good reason. Designed to mimic the feel of rain, this model features a handful of settings so you can adjust your shower pressure from a light mist to a robust downpour.
On the one hand, a rain showerhead is a gift that keeps on giving. Not only do rain showerheads feel incredibly soothing, but many models also boast water-saving features, which will give your time in the shower Mother Nature's seal of approval. Since most rain showerheads are larger than other models, you can make the most of your time bathing.
However, there are a couple of drawbacks. For starters, rain showerheads can be expensive. The average rain showerhead can cost a few hundred dollars alone — and that's without factoring in the installation fee. Rain showerheads might be larger than traditional models; however, they are known for offering a lower water pressure than their traditional counterparts. And since rain showerheads are usually placed at a 90-degree angle, they're difficult to add to, say, a rental bathroom.
That being said, there is more than one way to install a rain showerhead. While many rain showerheads are affixed to the ceiling, a wall-mount can make swapping out your showerhead all the easier.
Types of Rain Showerheads
Rain showerheads come in many different styles when it comes to shape, design, and finish. But there are a few standard forms the rain showerhead takes, including: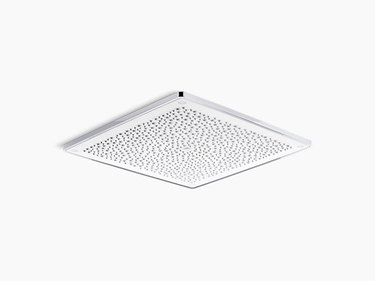 This modern look is great if you really want to streamline the look of your bathroom, or if your shower area is already a bit short of height, a panel built into your ceiling won't take up extra space.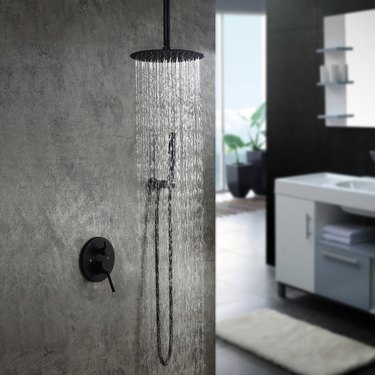 This popular option extends from your ceiling for a luxurious feel.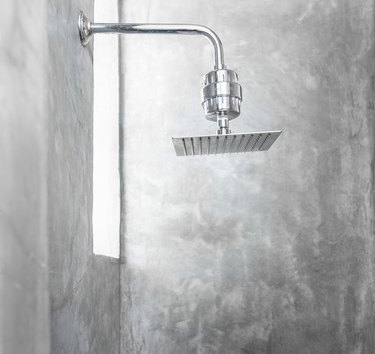 Rain Showerhead Design Inspiration
Ready to add a rain showerhead to your bathroom? Now all that's left to do is find the right model for price and lifestyle, and decorate your bathroom to suit your new fittings. Below, check out five shower ideas that marry form and function, plus how to get the look in your own space.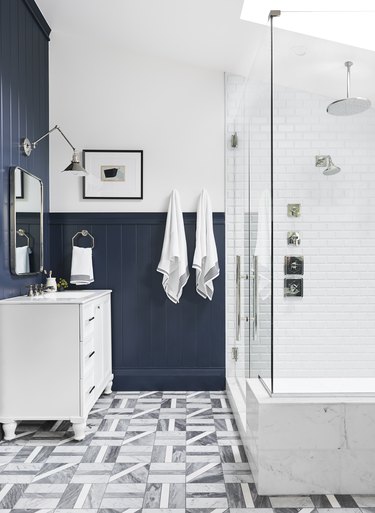 In this Portland-based home, interior designer Emily Henderson channeled a well-appointed spa by pairing the chrome, ceiling-mounted rain showerhead with crisp white subway tiles, a built-in bench, and a sun-drenched skylight.
A ceiling-mounted rain showerhead might ​sound​ fancy, but installing a shower above can require a lot of money, time, and patience. Instead, take a cue from Dabito of Old Brand New and install a wall-mounted nozzle, which is a happy medium between a traditional shower and the oh-so-luxurious rainfall style.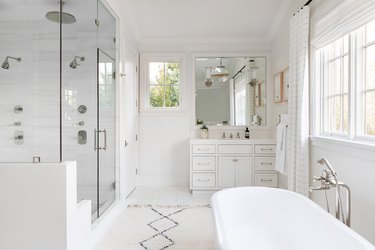 Why settle for one showerhead when you can enjoy a few? If you like the idea of a rain showerhead — but want a little more pressure — consider adding a few more nozzles to the mix. Not only will the extra nozzles give your shower some extra 'oomph, but the multiple directions will give you a thorough, 360-degree clean. Let interior design firm Chango & Co. show you how it's done.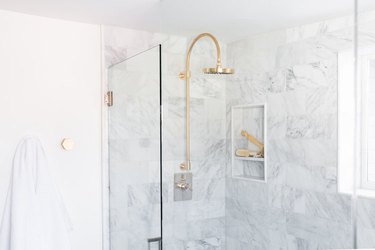 Believe it or not, a showerhead ​can​ look good. If you want to add some pizazz to your bathing quarters, take a cue from Studio McGee and opt for a style that marries form and function. Between the curved arm and golden finish, this showerhead is just as pretty as the marble backsplash.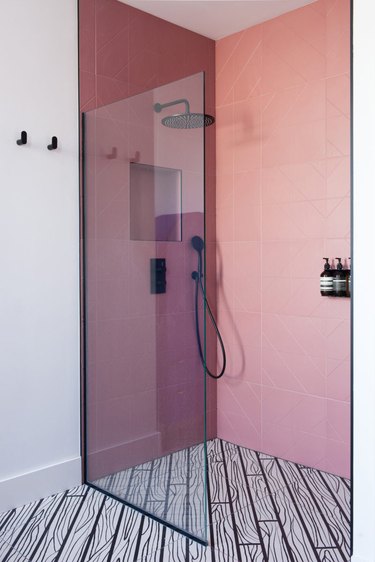 Whoever said a rain showerhead can't pack a punch hasn't seen this bathroom from 2LG Studio. The British-based interior design firm make this fancy feature a maximalist's dream by pairing a matte black showerhead with pink tile and patterned flooring. The result? A bold bathroom that oozes a covetable cool.