Minimalism began to rise in popularity a few years ago, and today, it continues to be alive and well. With gurus like Marie Kondo leading the way, many homeowners adhere to the "less is more" approach within their dwellings. From kitchens to bedrooms to entryways, the decor is simple and straightforward, highlighting only a few cherished objects and well-appointed storage solutions. The colors tend to be neutral and unfussy, gravitating toward blacks, whites, and grays. Patterns and designs are modern and uncomplicated. All of these characteristics easily apply to minimalist flooring, too. It should act as a quiet backdrop, lending just enough style without going overboard.
Here are seven minimalist flooring options to complete your understated interior.
1. Concrete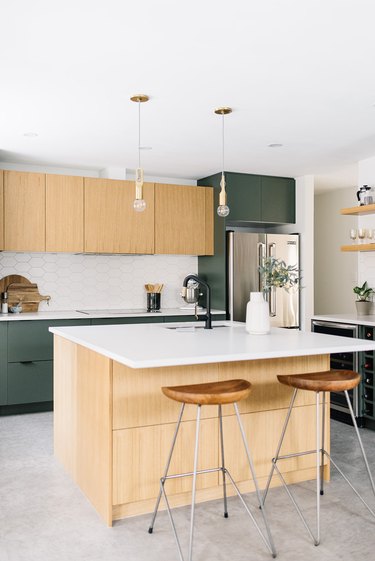 Concrete is an ideal choice for minimalist flooring. Gray and unassuming, it also happens to be oh-so-popular at the moment. It can be used throughout an entire home, but we particularly enjoy seeing it in the kitchen. The team at Kresswell Interiors nailed the look in this bright, open cook space.
2. Wood Planks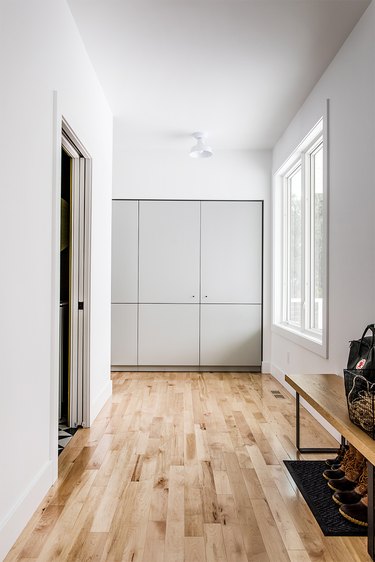 Although a hardwood floor can work with a variety of styles (farmhouse, bohemian, and midcentury, to name a few), it also happens to perform flawlessly in minimalist spaces, too. Using short planks with natural, varying wood grains can bring visual interest to a floor without overtaking the aesthetics, something that's ideal if you prefer a less is more approach. The warm flooring in this home styled by Megan of Fresh Exchange is spot on.
3. Black Tile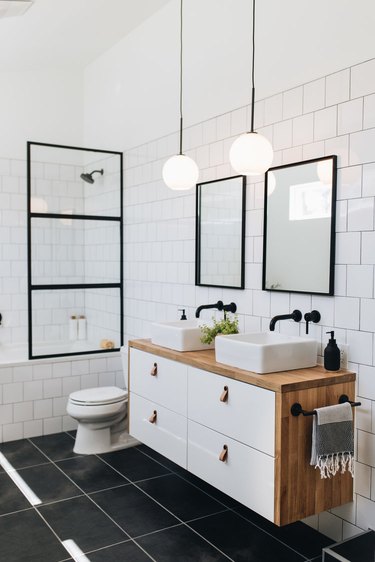 Black tile is a can't-go-wrong classic, and it's especially great for minimalist spaces. It really shines in black and white bathrooms, like in this modern sanctuary belonging to Stacy of Mountainside Home.
4. White Tile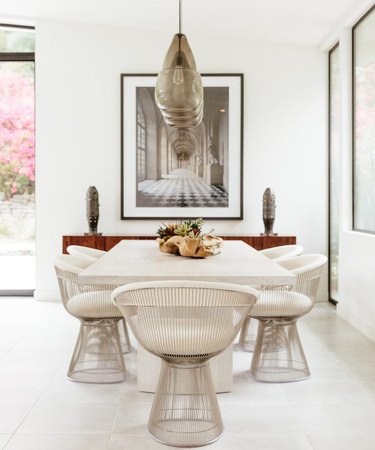 When it comes to minimalist flooring, we say go beyond bathrooms and kitchens and add some white tile to other spaces, like the dining room. In Bri Schulz's home (showcased on the Jenni Kayne blog Rip & Tan), refined white tile sits serenely below a rectangular table and Platner arm chairs. Swoon!
5. Marble
If you prefer more of a subtle approach when it comes to interior design, we're betting that you value quality over everything else, and that goes for minimalist flooring, too. Let us recommend marble flooring, both in the bathroom and beyond. This bath designed by Kristina Lynne is a lovely example showcasing the luxe material in a herringbone pattern.
6. Geometric Tile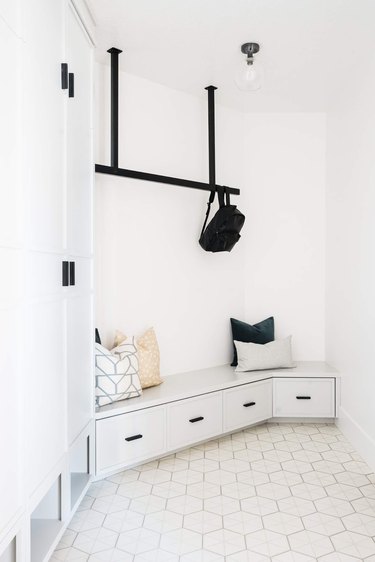 For a smidge of visual intrigue (but not too much, of course), we love geometric tile as a minimalist flooring option. But don't take our word for it: Jalynn of The Red Closet Diaries turned to hexagon-shapes for her mudroom and the result is simply striking.
7. Painted Black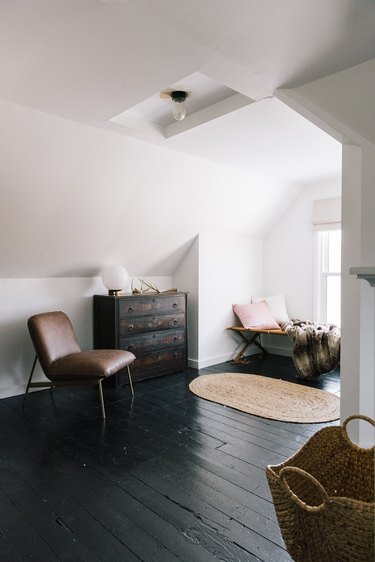 If you'd prefer something other than white for your minimalist space, black is always a viable choice — even if you've been blessed with hardwood floors. You can paint your wood planks black (if you dare) for an added bit of drama, something that Lisa Przystup did in her home spotted on the West Elm blog Front + Main.