For years, using dark paints, particularly in small spaces, went against mainstream design conventions — beige bedrooms were all the rage. Common knowledge said that painting a room a dark color would only make it seem smaller. Fortunately, though, we realized this idea is simply untrue. Particularly in bedrooms that receive a lot of sunlight, inky colors can make the space seem larger by adding interest and depth.
It makes sense then that using dark tones in a bedroom can create a truly cozy and unique space. The distinctiveness of shadowy paints means these rooms don't need much decor to be visually fascinating, which makes them perfect for minimalists.
How do you get the look and make your own space pop? Cover your walls in dusky blues, greyish greens, and even shades of black to maximize the coziness with minimal decor.
1. Use dark colors to complement pastel tones.
By pairing dark walls with equally dark curtains, designer Hannah Cork made her bed the center of attention. And somehow, the colorful bedding works too. The more grounding colors help the light blues, seafoam greens, and blush pinks stand out. Copy this style in your space and limit yourself to a modern floor lamp and industrial ceiling pendant.
2. Let your bedding make a statement.
The stylists at CA Design paired this greyish-blue paint with a midcentury spindle bed and cream-colored carpet, and the resulting feng shui feels harmonious. To get a dark minimalist bedroom that's just as eye-catching, go for contrasting white bedding and a simple nightstand lamp and houseplant.
3. Dusky blues complement light wood.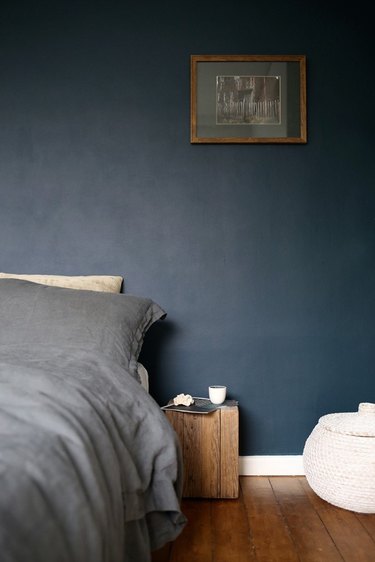 Helen Powell of Design Hunter knew blue paint would work perfectly in her south-facing, Scandi bedroom. Because the space receives so much natural light and has stunning wood floors, the moody color seems effervescent. If you, too, have a well-lit room, use bold paint to make a statement with minimal decor.
4. Don't be conventional.
This room could have gone the more conventional black and white route. But instead, the accent wall is a shocking deep green. Plus, the layout is obviously so functional. Want to replicate it? So do we. Find white bedding and a colorful blanket that will be the room's focal point. Add a fiddle leaf fig in the corner to bring out the lush tones in your dusky paint. And if you have a window as large and impactful as this, feel free to skip the artwork altogether.
5. Use your bed as a point of interest.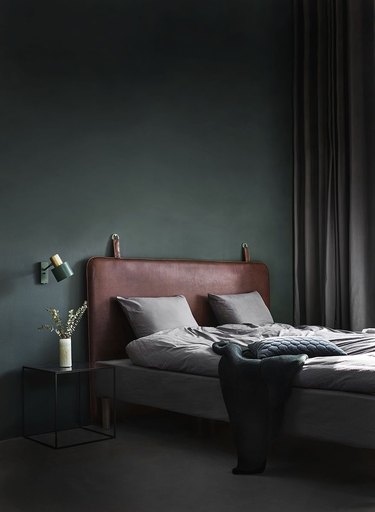 The natural lighting in this chic modern room from Stillstars just seems so much more dramatic because of the deep green paint. And because the bedding, curtains, and flooring all match in shades of muted gray, a few select pieces of decor really stand out. In fact, the only eye-catching visuals this dark minimalist bedroom room needs are a leather headboard, a modern wall sconce, and a striking vase.
6. One bright color can work in an otherwise neutral space.
Editor Alana Broadhead at The New styled this dark minimalist bedroom. And her white bedding and dark paint selections let all those mustard yellow items really shine. As it turns out, you ​can​ incorporate boho decor pieces with minimal ones. We especially love the gorgeous rattan side table and plant combo. They're additions that can spruce up any bland sleeping quarters.
7. Darker shades work particularly well with high ceilings.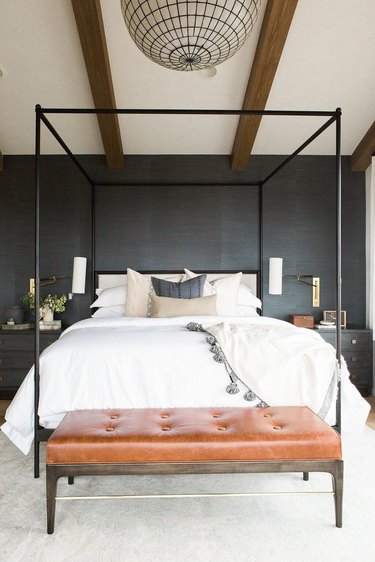 Thanks to those high, sloping ceilings, the black paint in this bedroom by Studio McGee doesn't shrink the space at all. And if you want to replicate this minimal farmhouse style, we certainly wouldn't blame you. Grab a pendant lamp with black accents to accompany the room's dark tones, but stick with a light or neutral rug.
8. Paint the ceilings, too.
Laura Muthesius and Nora Eisermann of Our Food Stories coated their entire bedroom —including the ceiling — in a dusky gray tone. And is it just us or does the neutral color scheme feel bold somehow? The warmth envelops everything, creating a cozy space set apart from the rest of the home. Don't be afraid to paint your own ceiling to emulate a cocoon vibe; just keep things balanced with a lighter window treatment.
9. Use a mirror to open up the room.
Here, not one, but two dark hues are featured in the same space. And we dig this dark minimalist bedroom idea. The rustic floors perfectly contrast this two-tone color scheme. To keep the look fresh in your own home, go for white bedding. A gold lamp and unique nightstand can be your finishing accents.