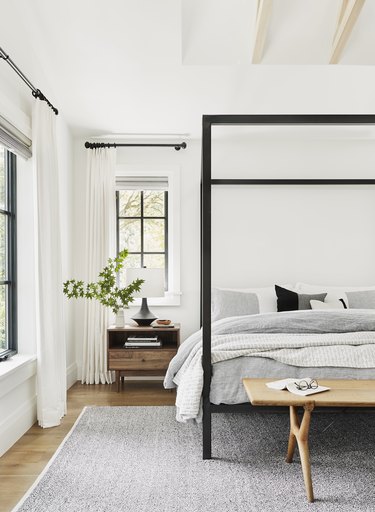 Though we consider ourselves something of interior design experts here at Hunker, there are certain decorating challenges that call for consulting the pros (aka interior designers). Chief among them: Determining how to layout a bedroom. "There isn't a whole lot you can do in a bedroom in terms of furniture layout because first and foremost, it has to function as a sleeping space," says interior designer Emily Henderson of Emily Henderson Design. "You don't need to get creative for the sake of getting creative — but, depending on how much space you have to work with, and the orientation of your room, there are a few things you can do."
To demonstrate how it's done, we asked some of the industry's leading interior designers to share the functional bedroom layout formulas they swear by for upgrading a space — and they did not let us down. Keep scrolling to see the genius bedroom layout ideas we're stealing from Emily Henderson of Emily Henderson Design, interior designers Nate Berkus and Jeremiah Brent, interior designer and Queer Eye design expert Bobby Berk, and Shea McGee of Studio McGee. (Spoiler alert: There was a clear consensus on the number one bedroom layout to try — and you can make it work regardless of the size of your space. We promise.)
Bedroom Layout Idea #1: Center the Bed to Elevate the Room
Always center the bed, advises Emily Henderson. "If you have the space, find a wall wide enough that you can center your bed on it (i.e., don't smoosh it into a corner if you can help it)," says the designer. "If the only wall you have also has a window on it, it's okay, I promise. Use a spindle bed or something with an open frame to let light through — it's what I had to do in my room, too."
Next, create symmetry by adding a nightstand to either side of the bed — but, don't worry, they don't necessarily have to match. "It really depends on the design vibe you're going for, but just be sure there's something on each side of the bed," says Henderson. "I believe there should always be lighting near the bed, whether that means table lamps, sconces, or even pendants."
Bedroom Layout Idea #2: Create a Sitting Area With Statement Chairs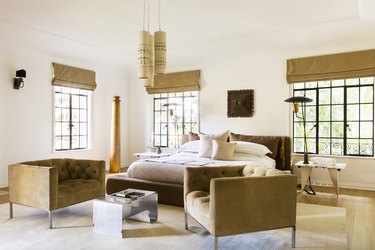 In a space with ample square footage, "I love a bed with two chairs at the end or a bench," interior designer, not to mention Target designer, Nate Berkus tells Hunker, referencing his own Los Angeles bedroom as an example of this layout in action.
Interior designer Jeremiah Brent agrees: "Most people like to have a bench or storage at the end of their bed — I like to shake things up a little with a small table and two great chairs. It completely changes the dynamic of the room and creates an additional moment that you can enjoy while in your bedroom where you can hang out, work, and connect," he explains.
Bedroom Layout Idea #3: Add Seating With a Bench at the End of the Bed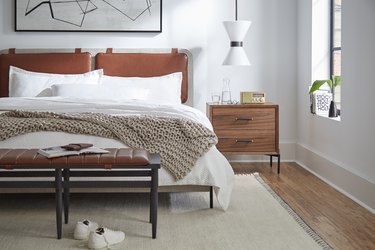 If you're short on space, use a tried-and-true bedroom layout that always works, offers Bobby Berk. "Every bedroom needs a little bit of extra seating, but not every bedroom has the room for a side chair or a stool," he says. So what's a small-space dweller to do?
"I remedy the situation by adding a bench at the foot of a bed," offers the interior designer. "Not only does it give you a place to sit, but [it] also has a very small footprint which keeps the floor plan open. My trick is to have the bench be at least two thirds the width of the bed so that it feels proportional."
Bedroom Layout Idea #4: Or, Opt for a Settee to Upgrade the Space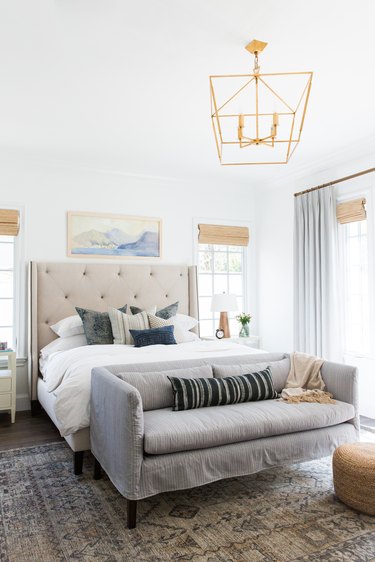 Interior designer Shea McGee advocates for upgrading from a bench to a settee if you have room to spare. "Not only is it a place to help put on shoes, or lay out clothes, but it elevates the feel of the room," says McGee. "Look for a piece with a low profile so it doesn't dwarf your bed. You can also achieve the same look with a pair of stools or ottomans side-by-side."
Bedroom Layout Idea #5: Incorporate a Small-Scale Living Room
If you have the luxury of space, Henderson recommends setting up a seating area to really make your room feel like a suite. "We did this in the Portland project with a sofa, comfy chairs, side tables ... anything you'd build out a living room with but just at a smaller scale," the interior designer elaborates. "Oh, and of course, do not forget the rugs as they give you cushy toe moments but also provide visual 'zones,'" she adds.