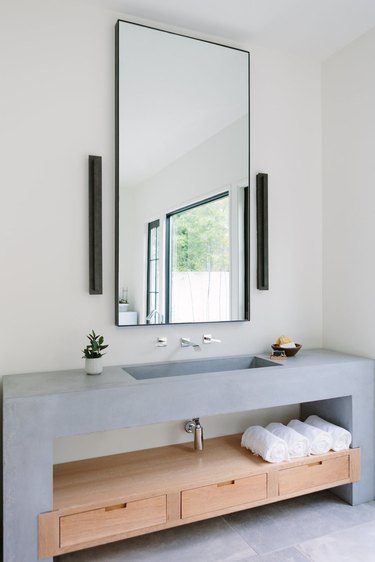 Why do we love minimalist bathroom storage? Well, managing clutter in any room is a challenging task. But it's especially difficult in the bathroom, where square footage is usually limited and every single decor decision matters. Having toiletries and accessories all over the place just won't work for someone looking for a clean aesthetic. Period.
Here are nine minimalist bathroom storage ideas to get you started in a large or small bathroom.
1. Hide your storage with a wall niche.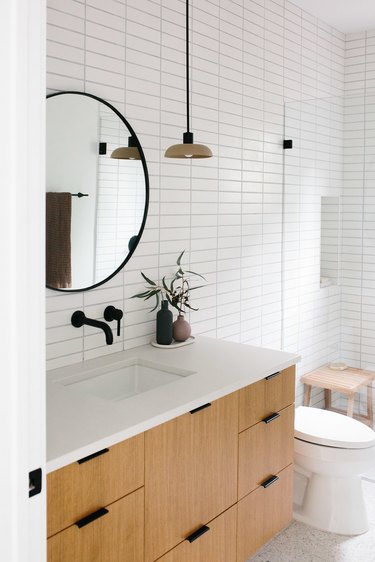 2. Embrace the open vanity.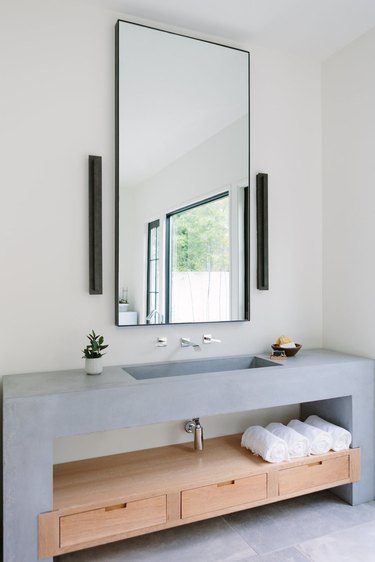 Our love for open bathroom vanities knows no bounds. And luckily for us, this slick storage option works well in a minimal bathroom setting without countertop storage. Just make sure to fold your towels neatly.
3. Opt for a sink with clever storage.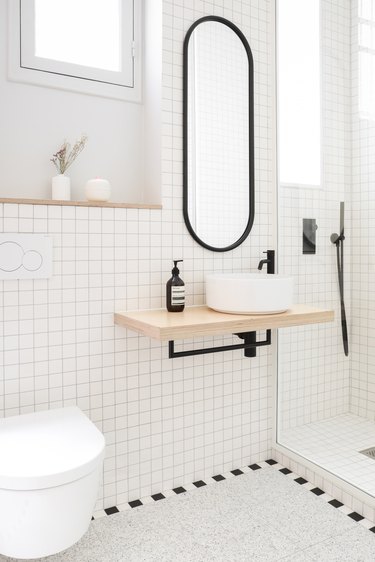 It's true, floating sinks create the illusion of more space and don't typically involve much storage. But this design by Heju Architecture is more than just a place to wash your hands. The minimalist bathroom storage also features a rail underneath to hang hand towels. If you incorporate this and a small shelf above the toilet, you'll have more than enough room in a tiny bathroom.
4. Use every inch.
If you're short on space or have an awkwardly shaped bathroom, look at every inch of the wall with fresh eyes. Septembre Architecture made use of a skinny wall in this minimal bathroom by hanging shelves to store the essentials. If you go this route, consider black steel racks that contrast with gold bath fittings.
5. Choose multifunctional decor.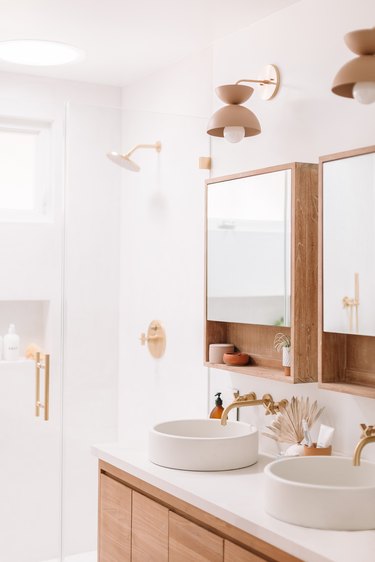 Double-duty decor is the way to any minimalist's heart. Beautiful storage that hides your toiletries? It's a yes from us! In this bathroom, function meets form with sleek medicine cabinets. they're gorgeous and complement the lighting. And they also hold so much.
6. Make your minimalist bathroom storage a design feature.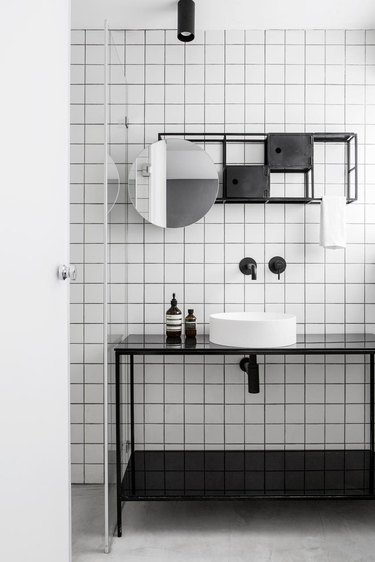 When you select your decor, opt for storage that works as a statement design feature too. The modular shelving here works to house a mirror, toiletries, and face towels. Plus, the contrast against the stark white tile is magnificent.
7. Show off certain products.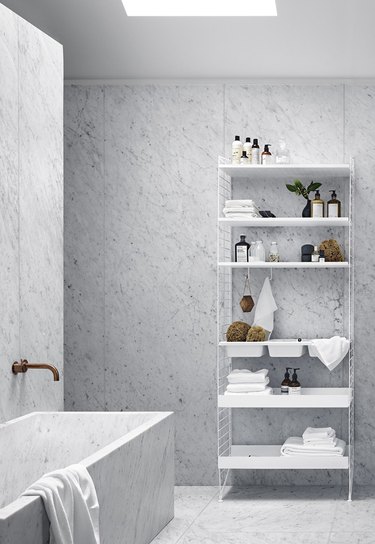 Chances are that, as a minimalist, you already have a beautifully curated selection of beauty products and toiletries. So don't try to hide everything! A chic, tall shelving unit, such as this one from String Furniture, will show off your wares. Swedish studio Lotta Agaton styled the unit with simple items that work in a marble space, but don't be afraid to do the same thing in a colorful bathroom as well.
8. Stay simple.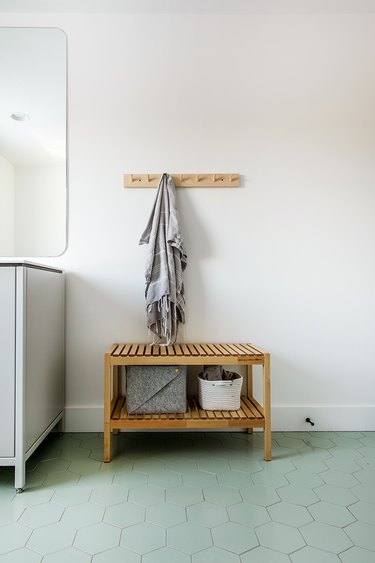 If you have the floor and wall space, bring a simple storage bench and wall hooks into the bathroom. The additions will look classic when paired with the right floor tiles (we like this green hexagon pattern). And you'll gain some bathroom seating too.
9. Make the most of small spaces!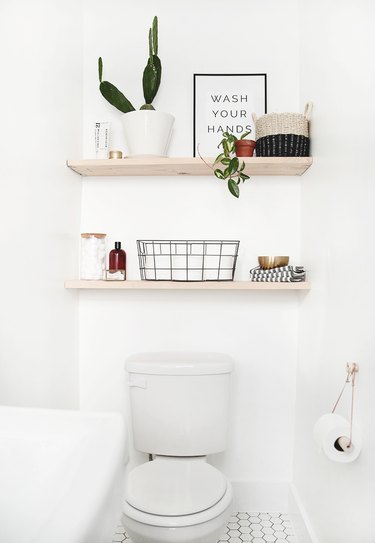 The area above a toilet is normally dead space. So opt for open shelving to make the most of every crevice. Don't let them go to waste! Create DIY bathroom shelves like these ones from The Merry Thought. And don't forget to add in woven baskets to house your toiletries and plants to create an earthy vibe. Pro tip: You can do this in a rental bathroom and remove all traces of the upgrade when you leave!