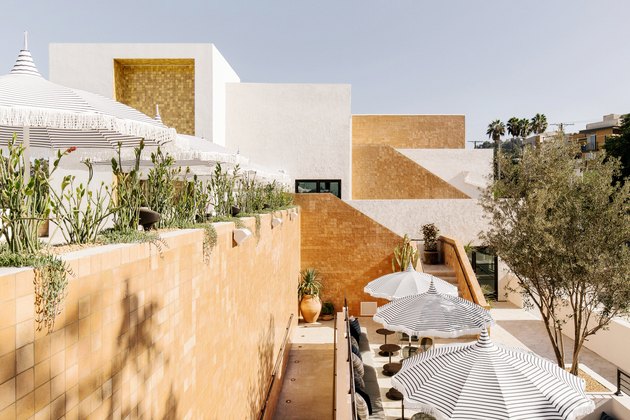 Los Angeles designer Lucia Bartholomew drew inspiration from the colorful architecture of Mexico City and the midcentury modern sensibilities of L.A. design for her latest endeavor: the newly minted Silver Lake Pool & Inn in the city's uber-hip Silver Lake neighborhood.
"The design of the hotel was influenced by Mexico City architecture, specifically Luis Barragán, old Hollywood/midcentury modernism, and the creative community of Silver Lake itself," says Bartholomew, co-founder of the design firm Electric Bowery. Of course, it's just another day at the office for a designer who's accustomed to taking on major hospitality projects. In fact, Bartholomew's sought-after Venice Beach-based design firm is the creative force behind some of the city's hippest hot spots, such as Erewhon Market, Superba Food + Bread, and NeueHouse.
Today, the former motel (which was originally constructed in the 1980s) exudes Cali-cool vibes, complete with mustard yellow zellige tile statement walls, patios shaded by striped fringe-trimmed umbrellas, a coastal Italian eatery boasting an Instagrammable art deco interior, and art-filled guest rooms.
1 of 9
Exterior
"We wanted to pay homage to Mexican influence on Southern California design and architecture," says Bartholomew, who was tapped by the real estate development and hospitality group Palisociety to bring the motel-turned-inn to life with a little help from Timberlane Partners. "For example, the stucco exterior is complemented with handmade tile feature walls throughout," explains the designer, pointing out just one of the inn's many mustard yellow zellige tile accent walls.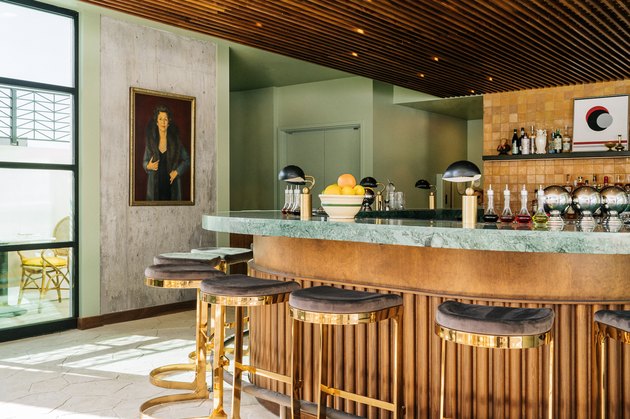 2 of 9
Bar
The Silver Lake Pool & Inn boasts 54 guest rooms and suites, an elevated pool deck, as well as Marco Polo Trattoria, a coastal Italian restaurant and bar. The trattoria, as you can see here, recalls Old Hollywood, art deco design with a rich, moody color palette, glossy finishes, and metallic accents. A mustard yellow zellige tile backsplash — which, as Bartholomew noted, is a recurring design motif throughout the property — recalls the hotel's colorful facade.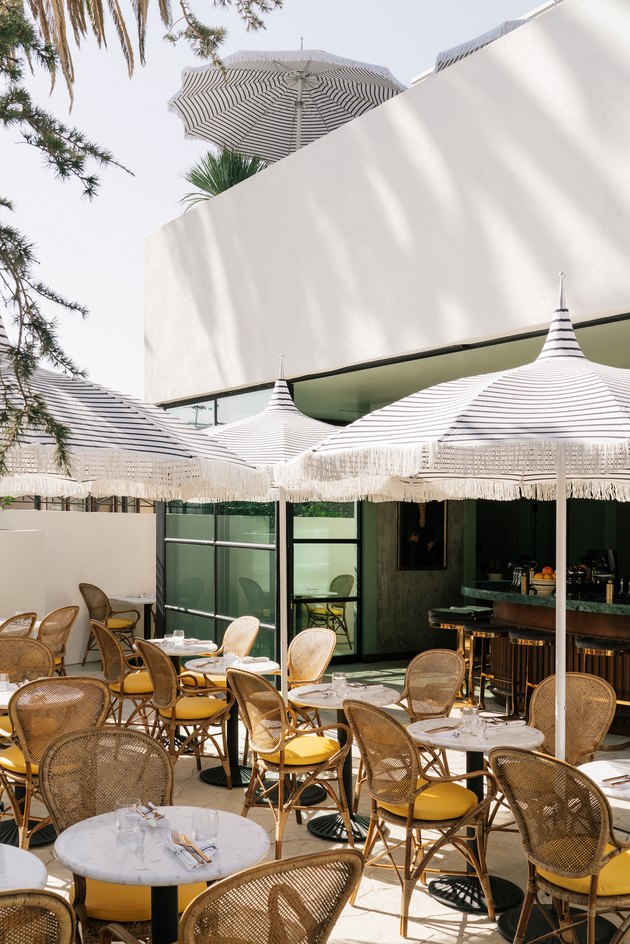 3 of 9
Patio
"The original building was a motel, constructed in the 1980s, which we extensively renovated," notes Bartholomew. "The spaces that now house the restaurant, exterior courtyard, and pool decks were added on during the renovation." Today, marble-topped tables and rattan dining chairs with saffron cushions dot the trattoria's alfresco patio.
4 of 9
Pool
The pool deck — lined with chic chaise lounge chairs and stripped fringe-trimmed umbrellas — is a veritable urban oasis complete with sweeping views of the Hollywood sign and Griffith Park.
5 of 9
Guest Room
"Our goal was to design spaces that feel like an extension of your living room," says Bartholomew of furnishing the inn's 54 rooms and suites. "We took cues from residential spaces, with art, textiles, and vintage rugs. The art and furnishings are all very composed and contribute to a warm tonal palette."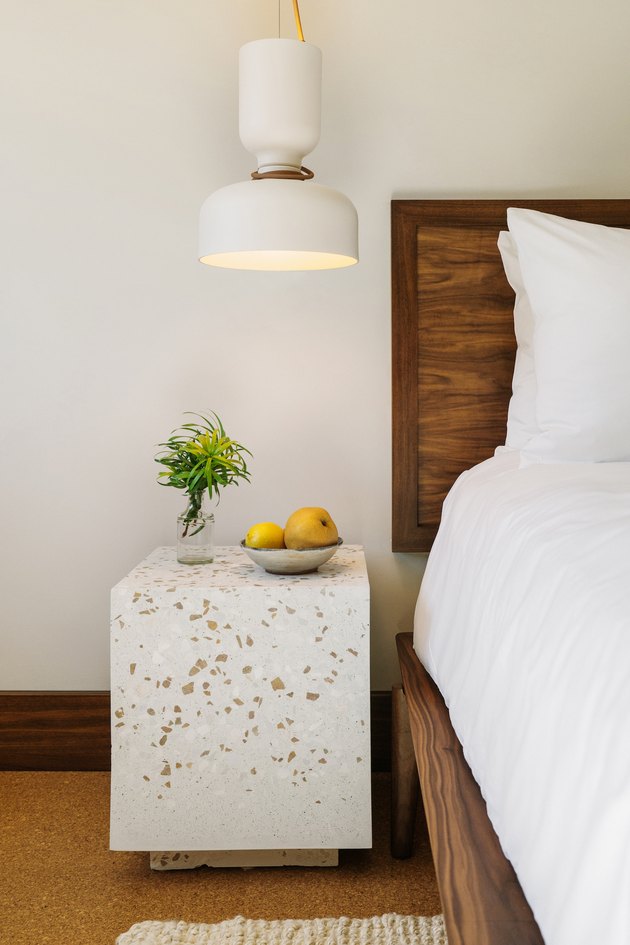 6 of 9
Guest Room
Bartholomew made a point to source furniture, light fixtures, decorative objects, and textiles locally. "It was important to us to incorporate work from local L.A. makers and artisans, including custom Block Shop woodblock prints, Jason Koharik lighting, Atacama Home textiles, and Concrete Collaborative terrazzo," divulges the designer.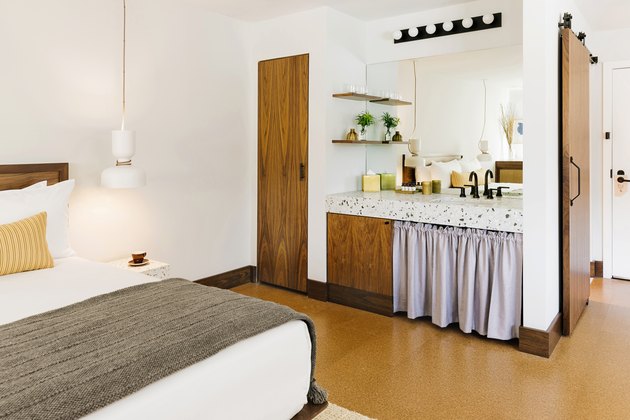 7 of 9
Guest Room
The designer also incorporated old-school materials, including factory-style windows and steel doors, cork flooring, and terrazzo countertops as a nod back to the inn's retro bones.
8 of 9
Guest Room
"When it came to furnishings, we were able to save a lot by designing custom pieces in-house and fabricating them locally," notes Batholomew. "We sourced vintage decor from flea markets and secondhand stores, and we were able to achieve a balance by combining high-end materials like walnut, leather, and marble with lower-cost jute, cork, and concrete."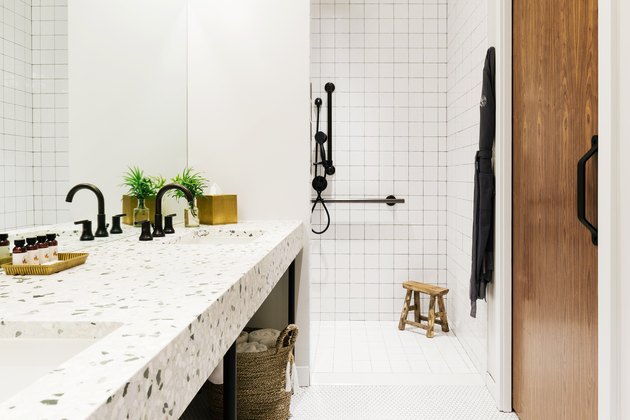 9 of 9
Guest Room Bath
The bathrooms boast penny tile floors, square tile-clad walk-in showers, and terrazzo countertops. The final result is a charming, Cali-cool inn that's an Instagrammable fever dream.
---
Megan Beauchamp is a writer and editor in Los Angeles. Her writing has appeared in MyDomaine, House Beautiful, Bustle, and Brit + Co., among others.
View Work